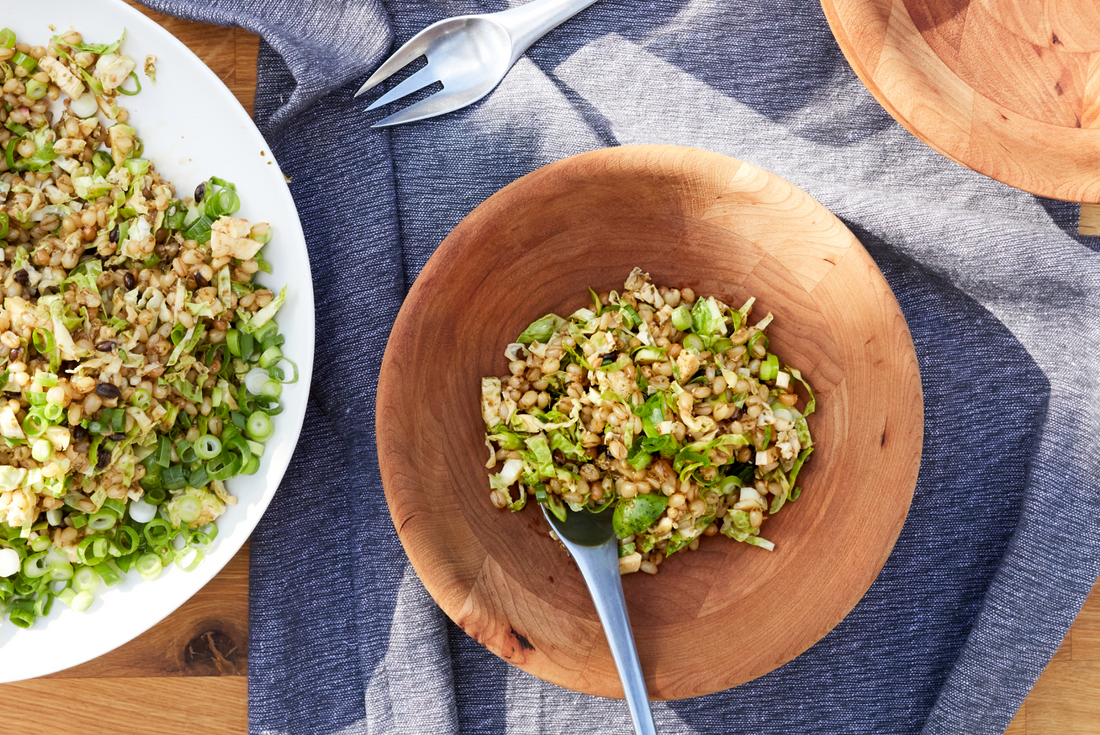 Naked Barley & Shio Koji Brussels Sprouts Salad with Miso Ponzu Dressing
20 minutes prep + 4-12 hours rest
45 minutes active cooking
1 hour + 5 minutes total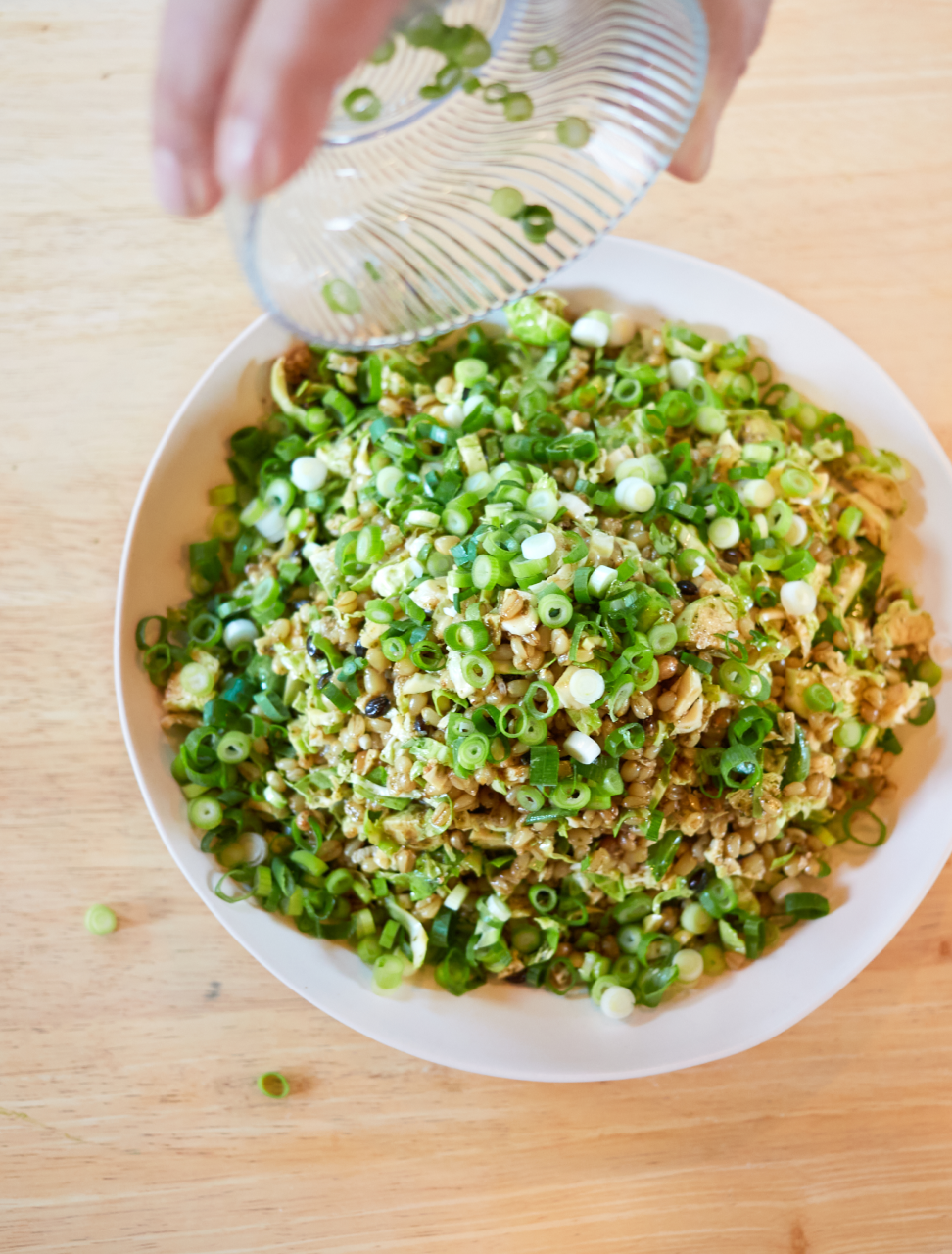 We first made this salad for a holiday party for our friends at Sugarpine Drive-In to demonstrate how shio koji can lightly ferment vegetables.
Shaved Brussel sprouts are tossed with salt and shio koji, then left at room temperature overnight (the same approach works great with cabbage, too). Then they're tossed with cooked naked barley and green onions. A dressing inspired by Japanese flavors combines citrusy ponzu, umami-packed miso, briny dried kelp, rice vinegar, and extra virgin olive oil.
What You'll Need
Ingredients
For the shopping list
1/2 pound of naked barley
1 pound of brussel sprouts*
3 green onions, sliced
2 tablespoons of rice vinegar
1 tablespoon ponzu
*substutute 1/2 head green cabbage, finely chopped
Equipment
From the kitchen
1 Chef's Knife
1 Cutting Board
1 Large Sauce Pan + Lid
1 Mixing Bowl
Measuring Cups
Measuring Spoons
Plant researchers at Oregon State University Barley World are working to reintroduce eaters to naked barley.
Varieties that easily shed their tough outer hull, naked barleys have been around forever, but not widely cultivated as a food crop. Similar to wheat berries like freekeh and farro, naked barley offers a rich, nutty flavor and a slightly chewy texture. Use it wherever you need a flavorful, nutritious grain.
What you'll have to do
Step 1
Cut the Brussels sprouts in half lengthwise, then slice thinly crosswise. Put the sliced sprouts in a bowl, sprinkle with 1 teaspoon of fine sea salt, and add 2 tablespoons of shio koji. Use your hands to mix well, squeezing to lightly crush sprouts and allow the salt and shio koji to penetrate. Cover the bowl and let it rest at room temperature overnight or for at least 4 hours.
Step 2
Put the barley into a pot with a lid, stir in a good pinch of sea salt, and add enough water to cover the grain by a couple of inches. Bring to a boil, reduce the heat, cover, and simmer for at least 45 minutes, adding water as needed to keep the barley covered. Keep tasting and when it's slightly soft but still chewy, remove from the heat, cool, and drain.

(You can cook the barley ahead of time and store in the refrigerator for a week or so.)
Step 3
Make the dressing by blending 2 tablespoons of miso (red or white; red is aged longer and has a slightly stronger flavor) with 2 teaspoons of kelp, 2 tablespoons of rice vinegar, 1 tablespoon of ponzu sauce, and 4 tablespoons of olive oil.
Step 4
Combine the barley, brussels, and onions, and toss with the dressing.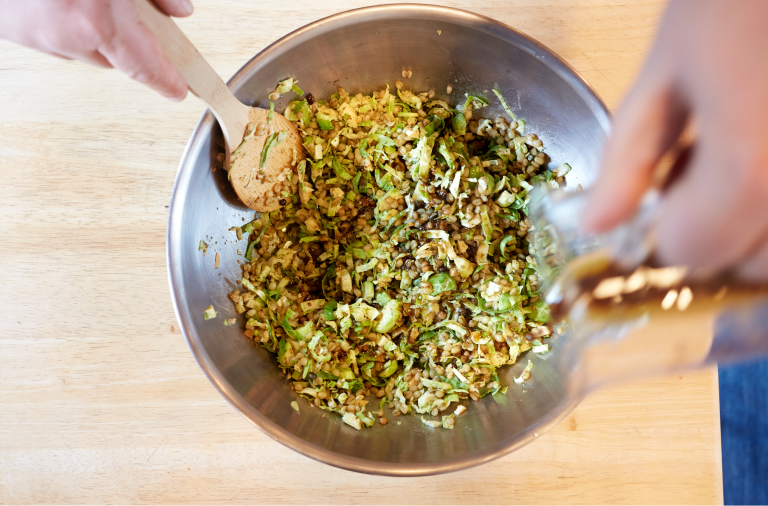 Step 5
Best served at room temperature.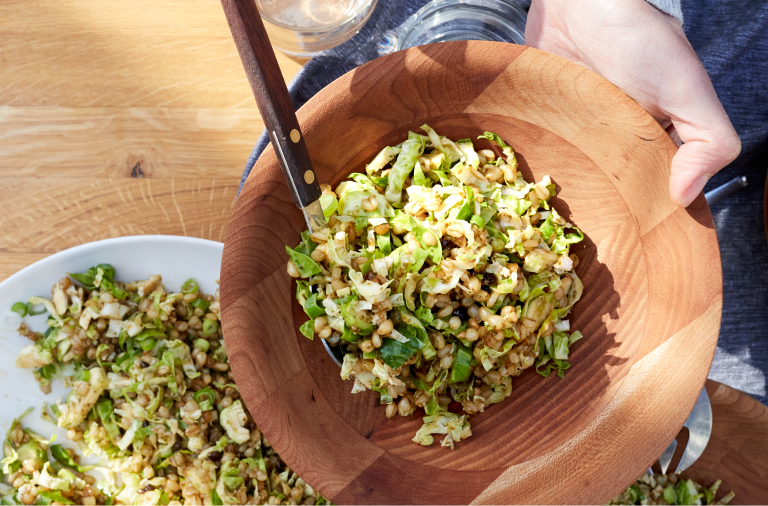 Shop this recipe
Out of stock
Sauces & Condiments
Vendor:
Hanamaruki
Nagano - Japan
Sale price
$10
Regular price
Unit price
per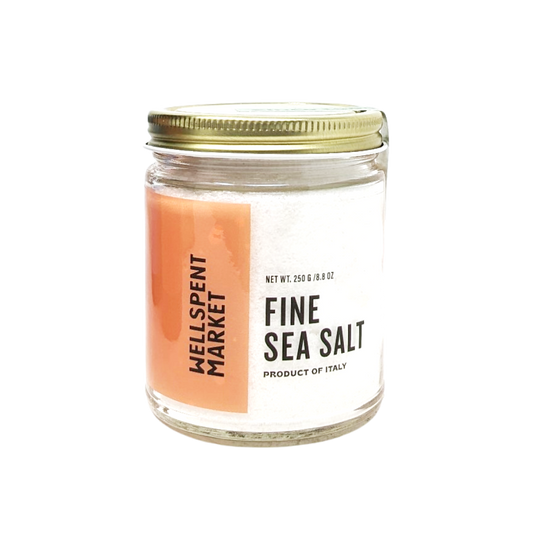 Salt, Herbs, & Spices
Vendor:
Gucciardo Vincenzo
Trapani - Sicily
Sale price
$7
Regular price
Unit price
per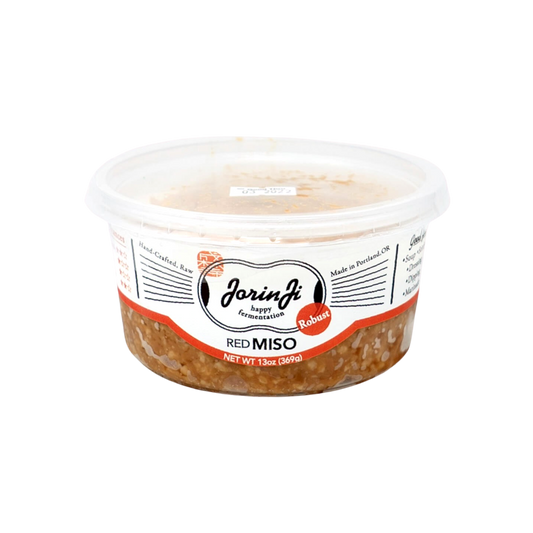 Sauces & Condiments
Vendor:
Jorinji
Portland - Oregon
Sale price
$12
Regular price
Unit price
per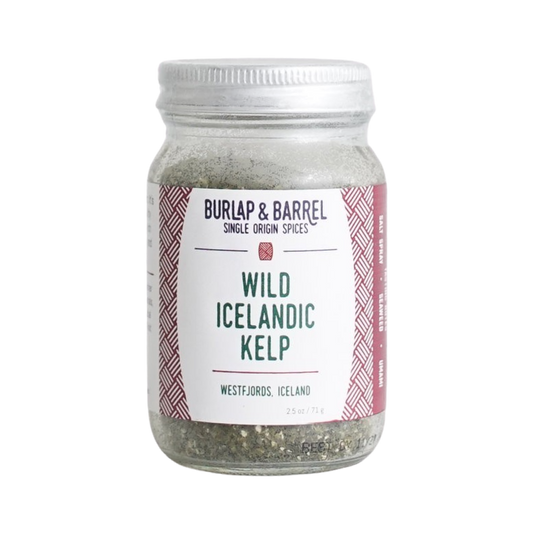 Salt, Herbs, & Spices
Vendor:
Burlap & Barrel
North Atlantic Ocean - Iceland
Sale price
$10
Regular price
Unit price
per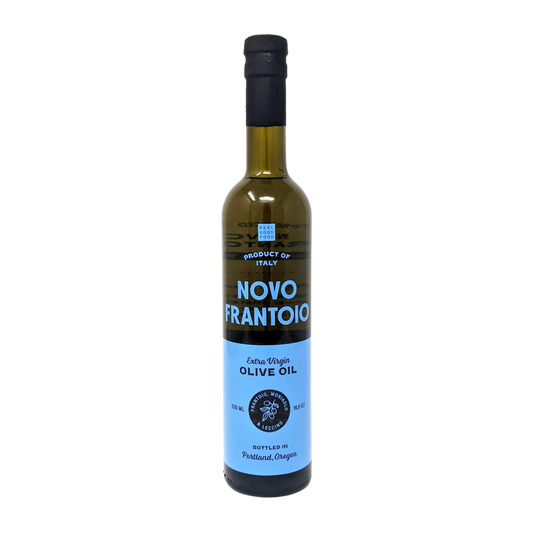 Olive Oil
Vendor:
Novo Frantoio
Tuscany - Italy
Sale price
$27
Regular price
Unit price
per
More recipes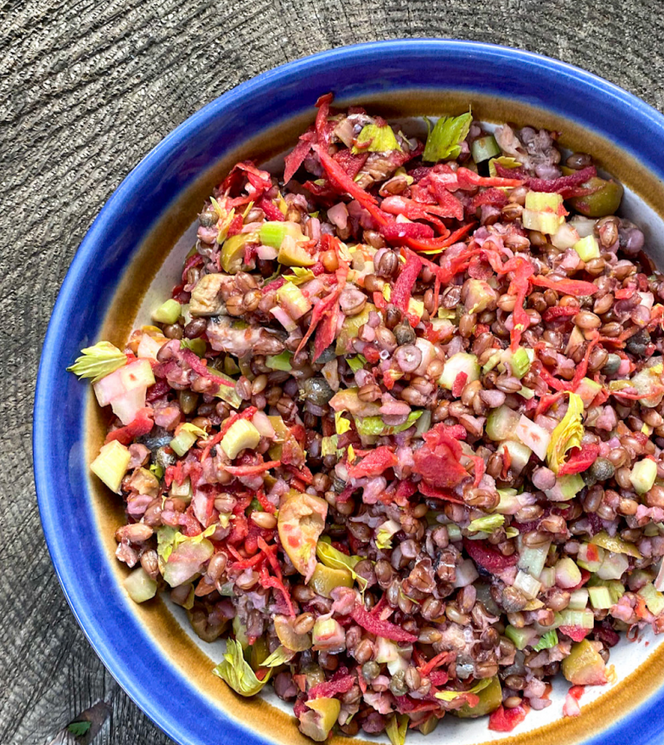 Purple Valley Barley Salad with Pickleez in Purple
Naked barley, spicy Haitian-style pickled cabbage, and Portuguese sardines make this salad a little different.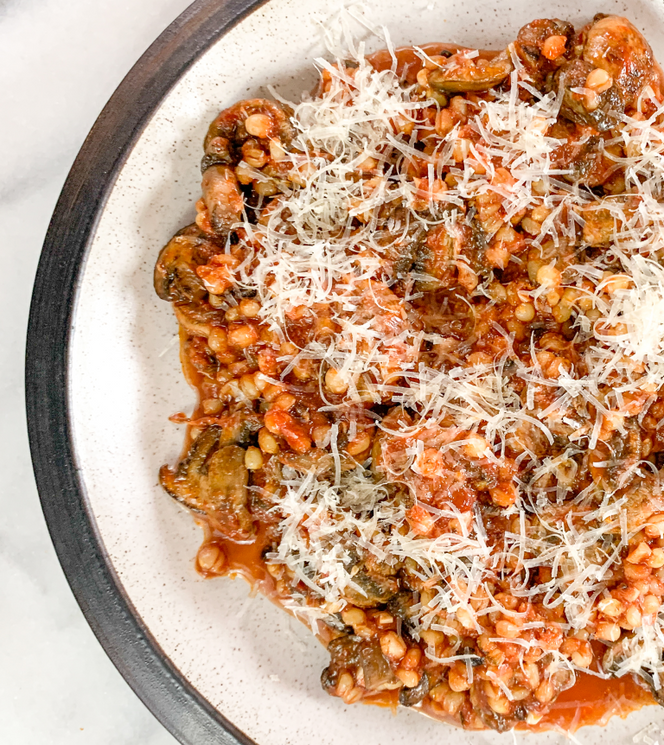 Naked Barley with Mushroom Ragu