Great Grains: Farro with Short Rib Sugo
Foodist Jim Dixon
By Deena Prichep
A Non-traditional Pairing Perfect for Winter Meals
Jim Dixon lives by a simple philosophy: "My basic approach in picking products is whether it's something I want to eat a lot of." Since 2006, that has meant selling fine Italian and Californian olive oils, artisan vinegars, and sea salts out of his ActivSpace warehouse in Southeast Portland. And a couple years ago, Dixon's appetite turned toward farro grown at Bluebird Grain Farms in northern Washington.
"Farro, a cousin of our common wheat, has been cultivated since the earliest stirrings of agriculture."
Farro, a cousin of our common wheat, has been cultivated since the earliest stirrings of agriculture. These days it's primarily grown on the hills of Tuscany, where it's often pearled and simmered in a soup. Bluebird's farro has the bran intact, giving it a longer cooking time, an al dente texture, and a nourishing, whole-grain healthiness. Dixon loves its rustic and earthy quality—the assertive, nutty flavor that elevates it beyond the neutral side dish.

Dixon supplies farro to some of the finest restaurants in town (Nostrana, Ned Ludd, Laurelhurst Market), but he also reserves some for cooking at home. He'll incorporate it in a soup, prepare a pared-down pilaf with leeks and olive oil, stew it with tomatoes, or (his new favorite) pair it with a long-simmered short-rib sugo. This old-school Italian meat sauce is rich and hearty, fortified with red wine and a surprise shot of espresso, and cooked until the tender beef falls apart. Dixon concedes that it's not a traditional pairing for farro, but he discovered that the nubby, wheaty grains stand up beautifully to the full-flavored sugo. "I'm not sure why I hadn't tried this combination before," he muses, "but it's going into the regular rotation." It just may end up in yours as well.
Farro with Sugo
(serves 4-6)
INGREDIENTS
2 tbsp extra-virgin olive oil
1 ½ pounds short ribs
1 onion, chopped in a medium dice
2 stalks celery, chopped in a medium dice
1 carrot, chopped in a medium dice
Salt to taste
½ bottle dry red wine
1 shot espresso (or ½ cup strong coffee)
28 oz canned diced tomatoes
2 cups farro
Parmigiano-Reggiano, grated
SUGO
(1) Preheat oven to 200 degrees.
(2) Heat olive oil over medium-high heat in a heavy, over-safe skillet.
(3) Add short ribs to skillet and cook until browned evenly on all sides.
(4) Add onion, celery, carrot, and a sprinkling of salt.
(5) Lower heat to medium and cook a few more minutes.
(6) Add wine and espresso, cover, and bake in the oven for three hours.
(7) Take the skillet out of the oven and remove the short ribs, let cool, and pick the meat off the bones.
(8) While the ribs cool, reduce the braising liquid in the skillet.
(9) Chop the meat coarsely, return it to the pot, and add tomatoes.
(10) Raise the heat until it's just high enough to maintain a simmer, and cook for another 20 minutes or so, adding salt to taste.
FARRO
(Let sit overnight in water before cooking.)
(1) 45 minutes before the sugo is done, bring a large pot of salted water to a boil.
(2) Add farro and simmer until tender but al dente (about 45 minutes).
(3) Drain and top each portion with sugo.
(4) Drizzle with olive oil, sprinkle with Parmigiano-Reggiano, and serve.
Vendor:
Regular price
$19.99
$

19.99
Sale price
$19.99
Regular price
Unit price
per
Liquid error (snippets/card-product line 396): product form must be given a product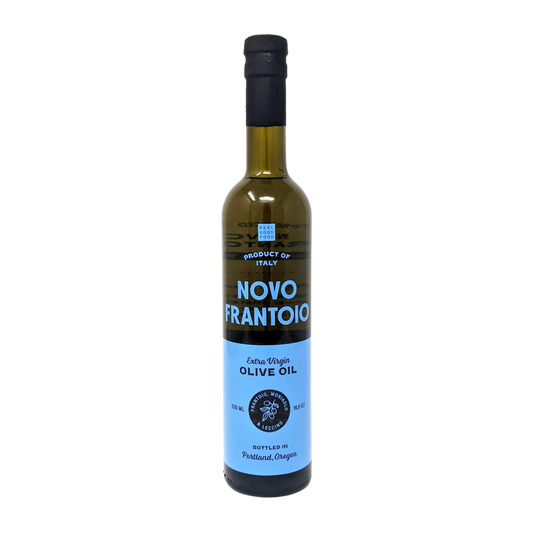 Olive Oil
Vendor:
Novo Frantoio
Tuscany - Italy
Sale price
$27
Regular price
Unit price
per
Pasta & Tomatoes
Vendor:
Bianco di Napoli
Yolo Valley - California
Sale price
$7
Regular price
Unit price
per