Umami Rapini with Capers
15 minutes prep
30 minutes active cooking
45 minutes total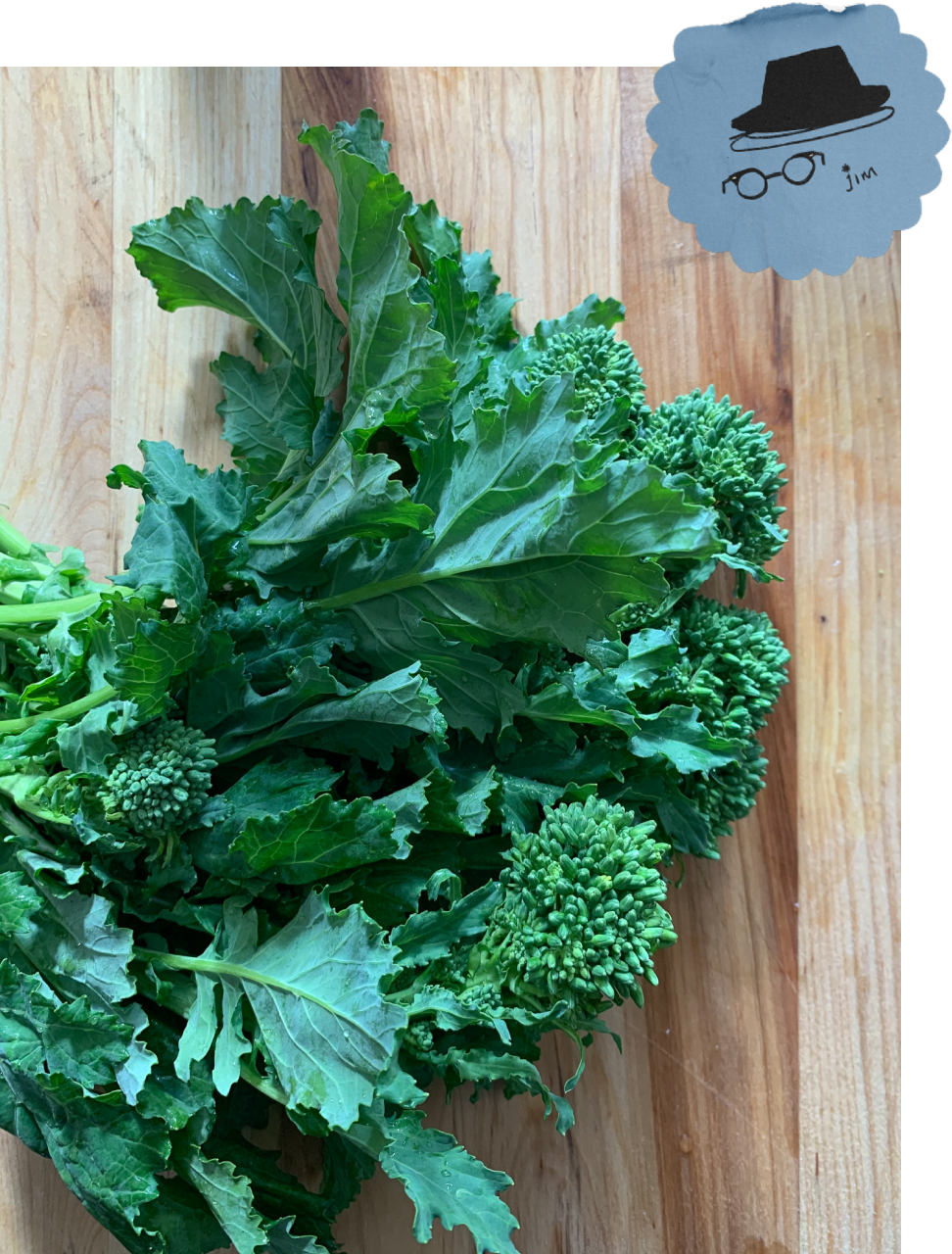 Rapini is the slightly bitter turnip greens better known as broccoli raab.
I'm infamous at the farmers market for my cranky diatribes about the overuse of the word raab, but this one is legit. (Without going into the curmudgeonly details, just know that the German raab derives from the Latin rape - pronounce it the Italian way: rah-pay - which means turnip.)
What You'll Need
Ingredients
For the shopping list
1 bunch of Rapini
2 cloves of Garlic
Equipment
From the kitchen
1 Chef Knife
1 Cutting Board
1 Stock Pot
1 Tongs
1 Bench Scraper
1 Small Bowl
Measuring Spoons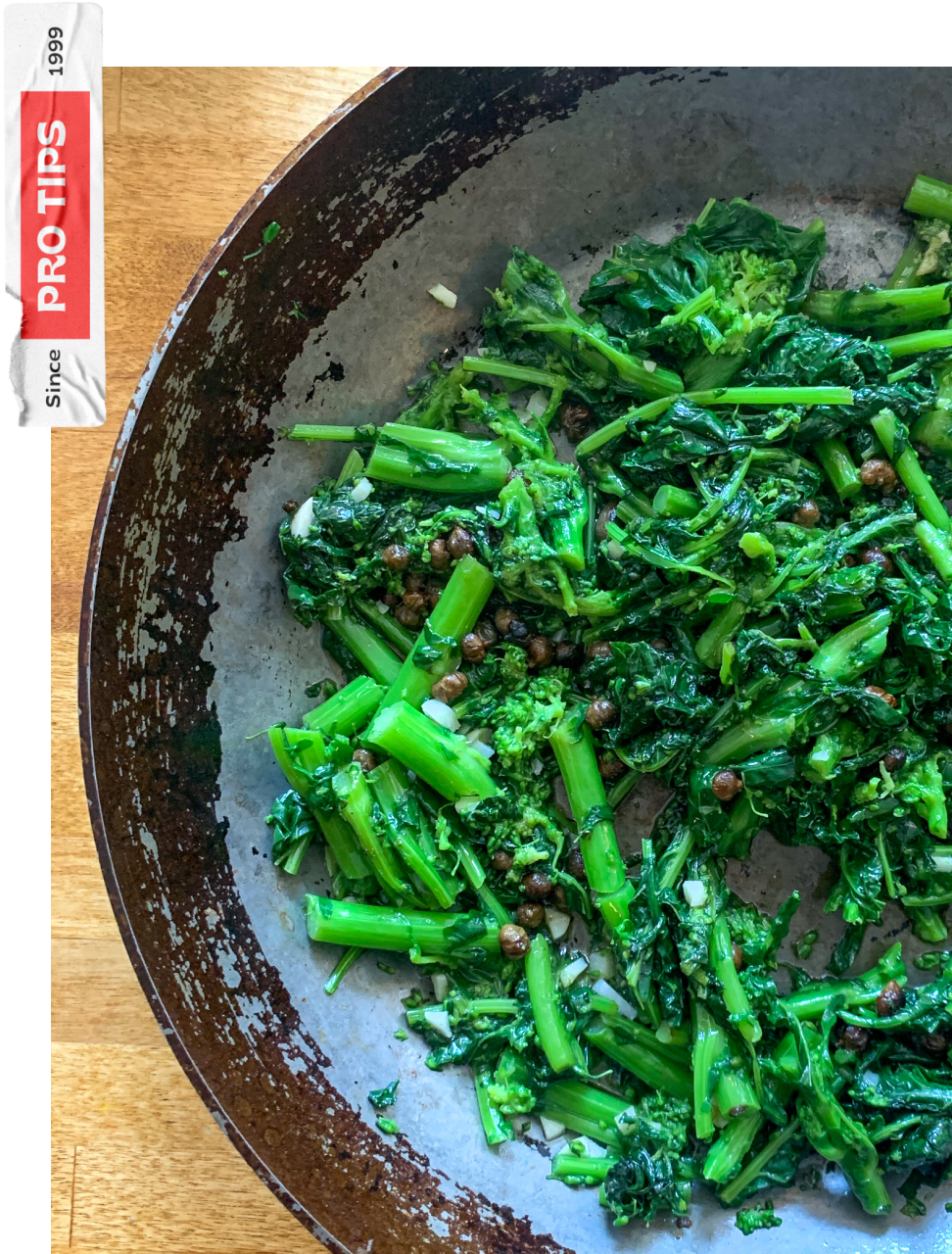 As with most bitter greens, a quick bath in well-salted, boiling water mellows the tang.
What you'll have to do
Step 1
As with most bitter greens, a quick bath in well-salted, boiling water mellows the tang. This parboiling also helps render the rapini tender and luscious. Get a few quarts water bubbling away, add a handful of sea salt, and gently lower the entire bunch of rapini into the pot, stem end first.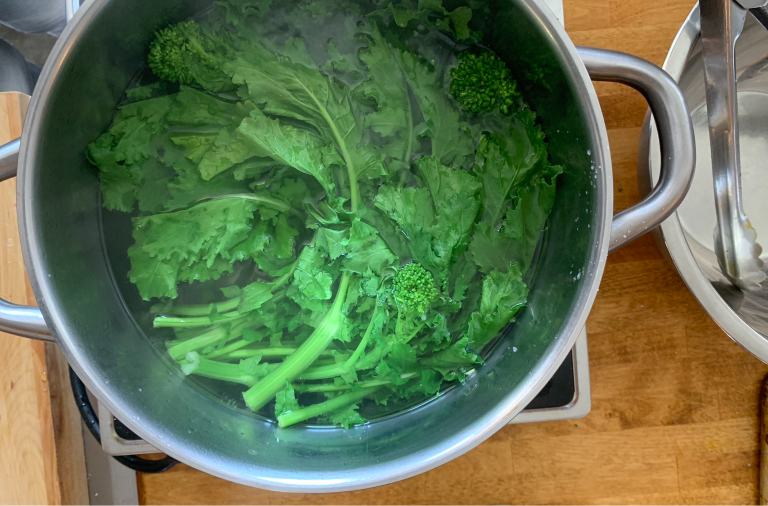 Step 2
After about 2 minutes (that's 2 minutes total in the water, not after it returns to a boil) set tongs to lift the greens from the pot. You can save the water to cook pasta or vegetables if you want. Let the rapini cool a bit, then cut it into roughly 2-inch pieces.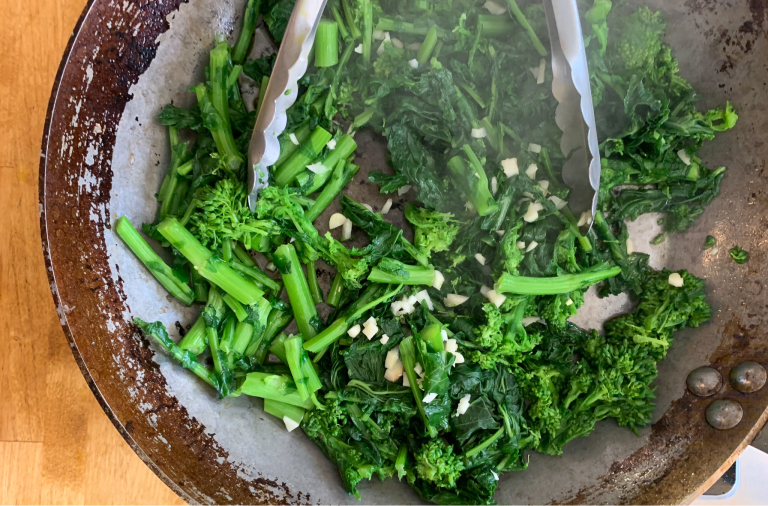 Step 3
Soak a couple of tablespoons (or more if you want extras) of Pantellerian salt-packed capers in water for about 15 minutes. Drain and pat dry with a towel. Cover the bottom of a skillet with extra virgin olive oil, heat it until it shimmers, and fry the capers over medium-low until they're crispy about 10 minutes.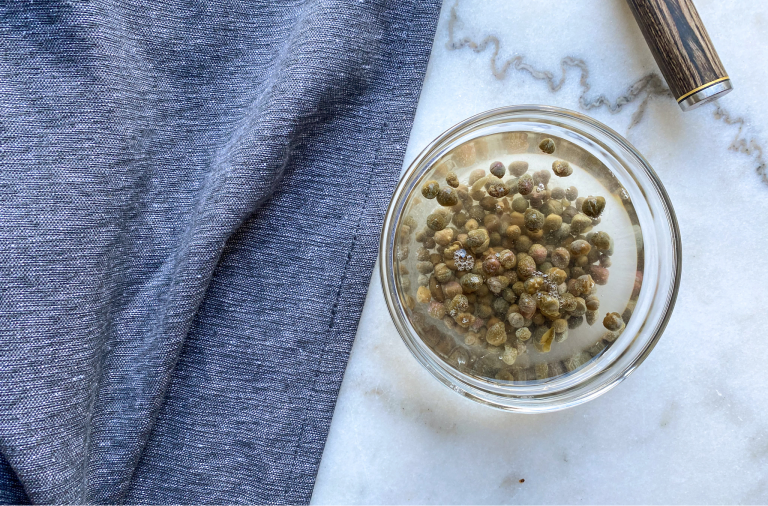 Step 4
Use a slotted spoon to remove the capers from the skillet and set them aside. Add the rapini (it's okay if it still got some cooking water clinging to it) and a few cloves of chopped garlic. Cook gently for about 10 minutes, then add the capers and a tablespoon of Son fish sauce. Taste and add salt if needed.
Step 5
Spread the stuffing about an inch and a half thick into oiled baking pans or skillets, cover with foil, and bake at 350F for 45 minutes or so. Remove the foil and bake until the top is brown and crispy, about 15 minutes more.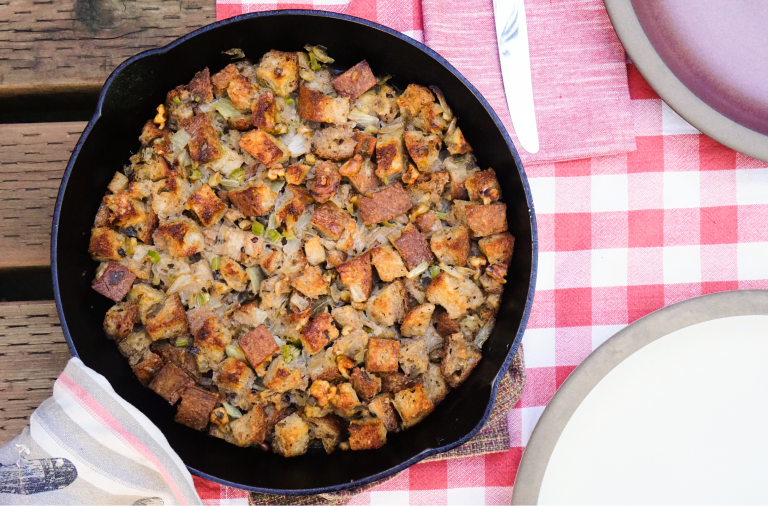 Shop this recipe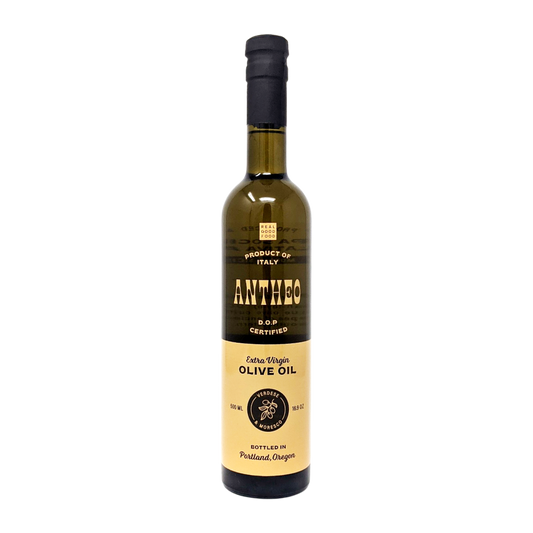 Olive Oil
Vendor:
COPA Società Cooperativa Agricola
Sicily - Italy
Sale price
$32
Regular price
Unit price
per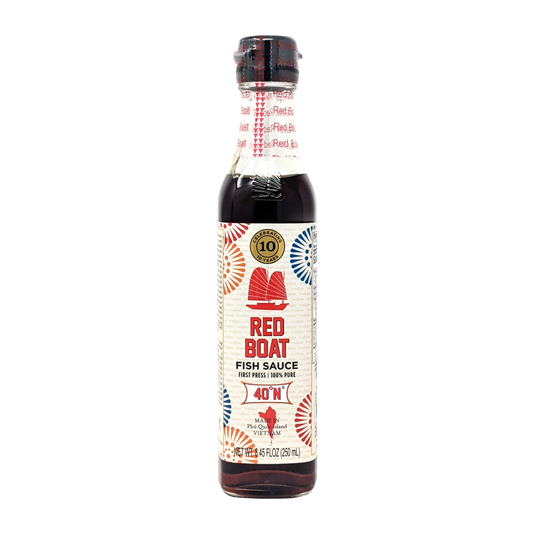 Sauces & Condiments
Vendor:
Red Boat
Hayward - California
Sale price
$8
Regular price
Unit price
per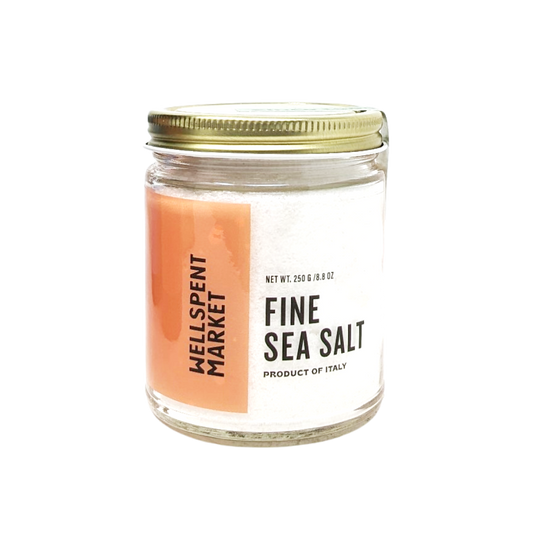 Salt, Herbs, & Spices
Vendor:
Gucciardo Vincenzo
Trapani - Sicily
Sale price
$7
Regular price
Unit price
per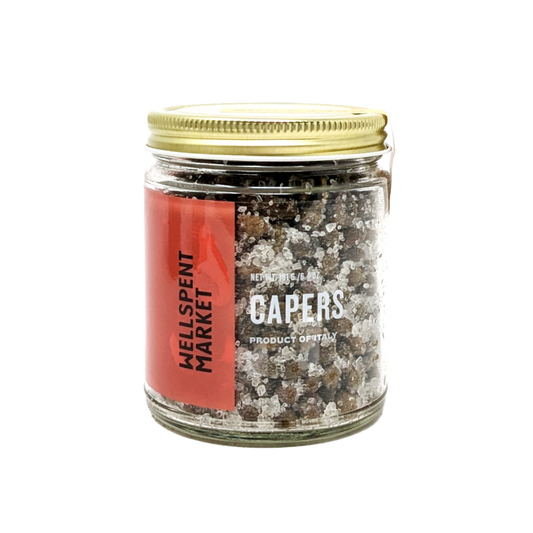 Capers, Pickles, & Peppers
Vendor:
Bonomo and Giglio
Pantelleria - Sicily
Sale price
$17
Regular price
Unit price
per
More recipes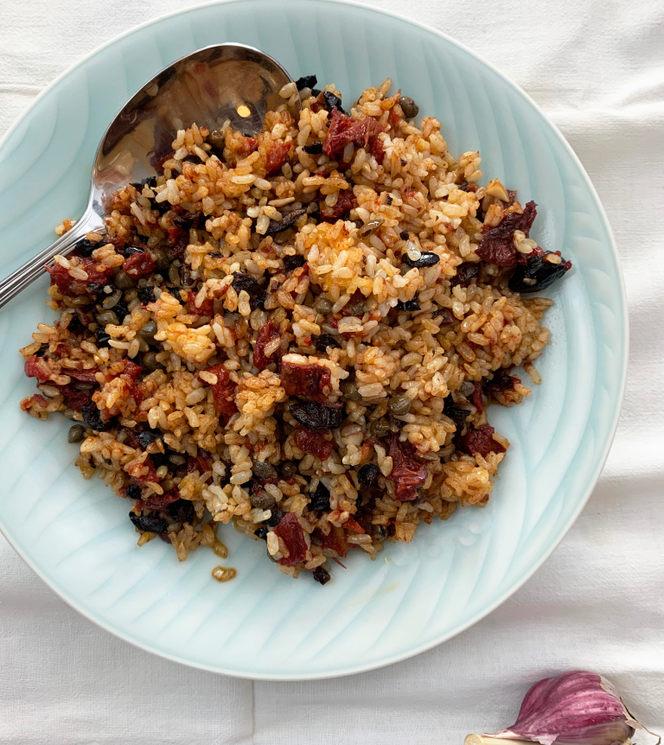 Puttanesca Fried Rice
Italian flavors meet Asian technique with tasty results. And thanks to Portland chef Tommy Habetz for the inspiration.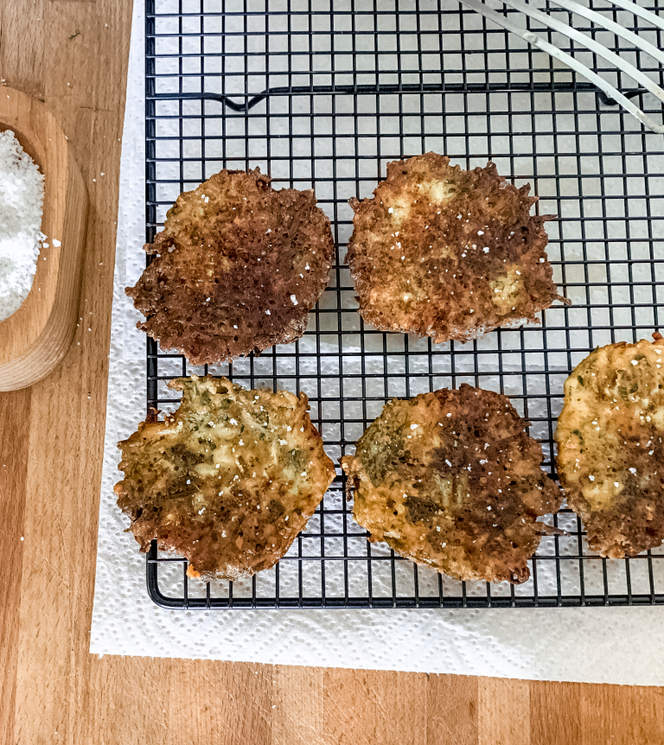 Frittelle di Zucchini
We love fritters. Make a big batch of these classic Italian frittelle flavored with mint because they disappear quickly.