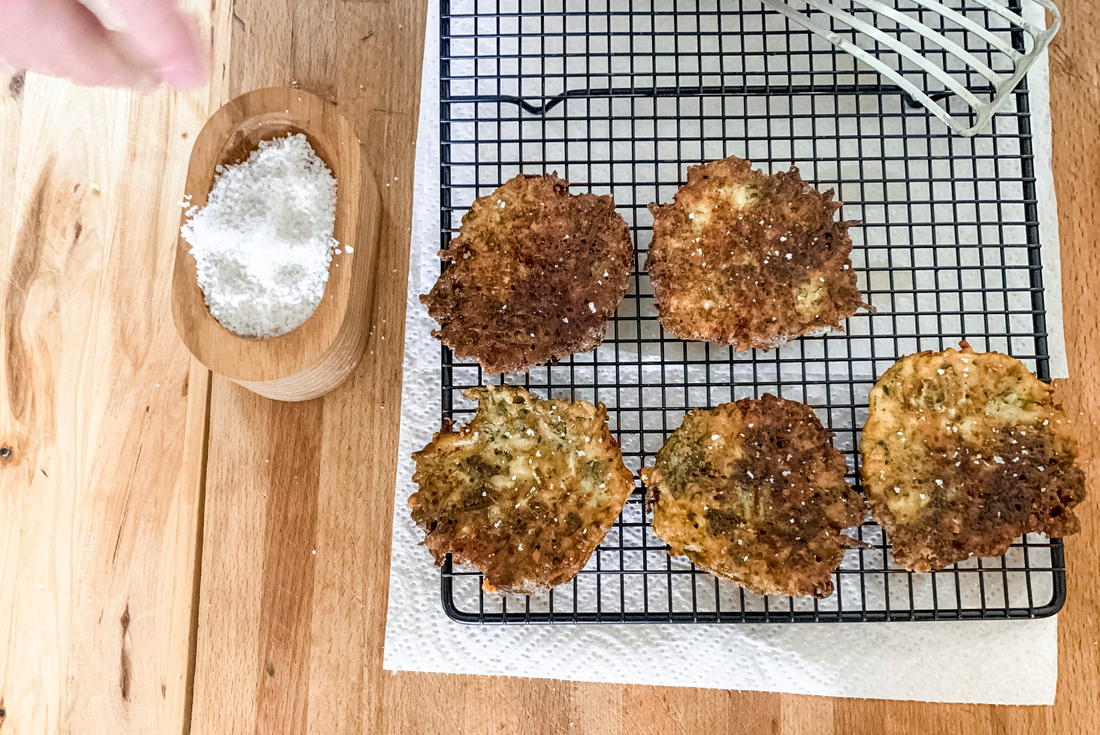 Frittelle di Zucchini
15 minutes prep
15 minutes active cooking
30 minutes total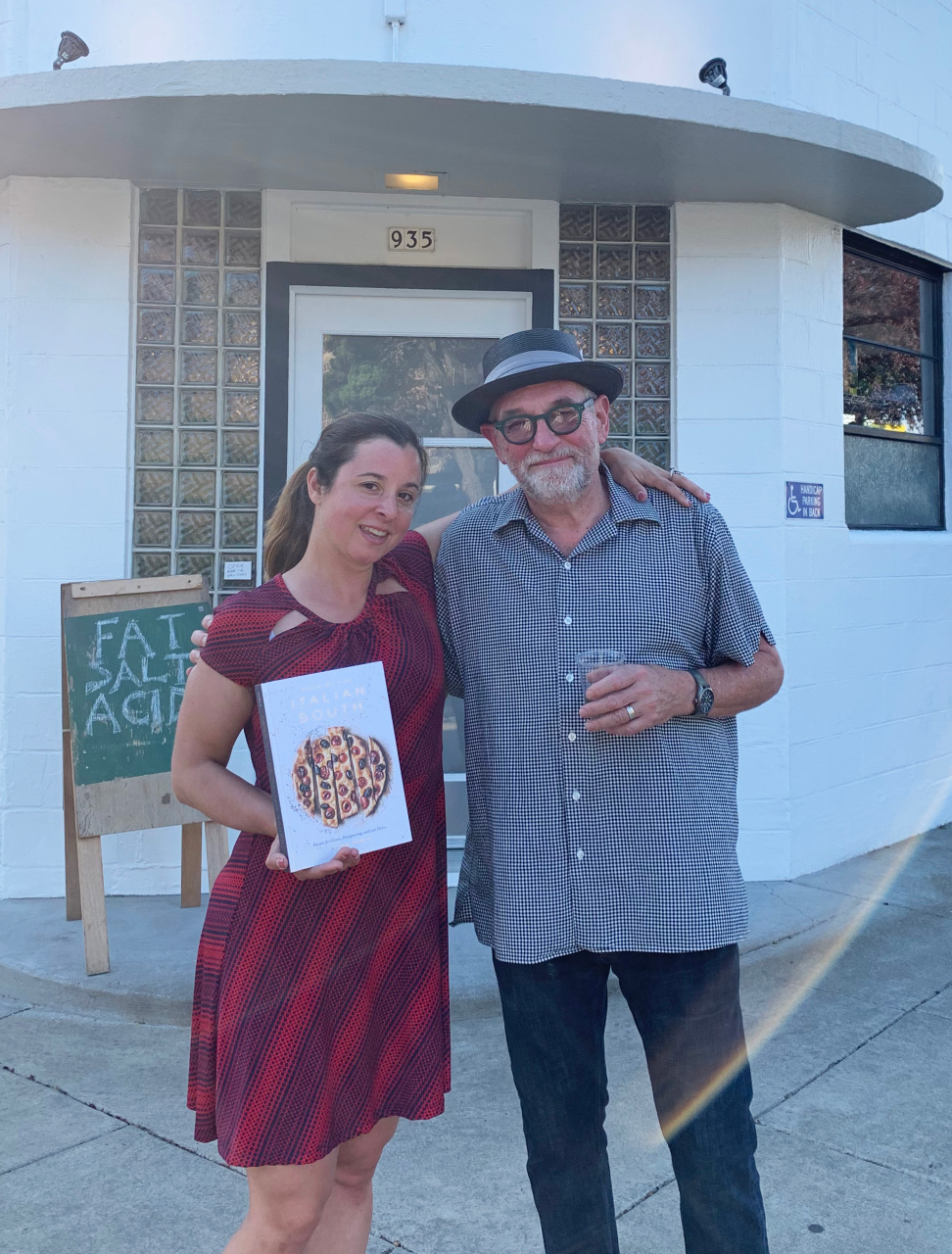 Once I made a batch I never looked back.
I blame my fritter jones on Faith Willinger. She's an American writer, married to a Tuscan, living in Florence, and the author of Red, White, & Greens, The Italian Way with Vegetables. One of my favorite cookbooks, it includes a recipe for subrich (soo-brick), traditional Piemontese fritters that use egg and stale bread to bind vegetables together while they're pan fried in extra virgin olive oil.

This Calabrian version from Katie Parla's Food of the Italian South combines the ubiquitous summer squash with mint using the same technique.
What You'll Need
Ingredients
For the shopping list
3 cups of Summer Squash, grated
1 cup of Fresh Mint Leaves
3/4 cup of All Purpose Flour
Equipment
From the kitchen
1 Chef Knife
1 Cutting Board
1 Mixing Bowl
1 Spatula
1 Frying Pan
1 Wire Rack
What you'll have to do
Step 1
I like to use smaller zucchini; the big ones are a little older and can be slightly bitter. The light green, striped version called romanesco are also good. Grate enough with your food processor or box grater to yield about 3 cups of grated squash. Chop a big handful of fresh mint leaves, at least a cup but more is fine.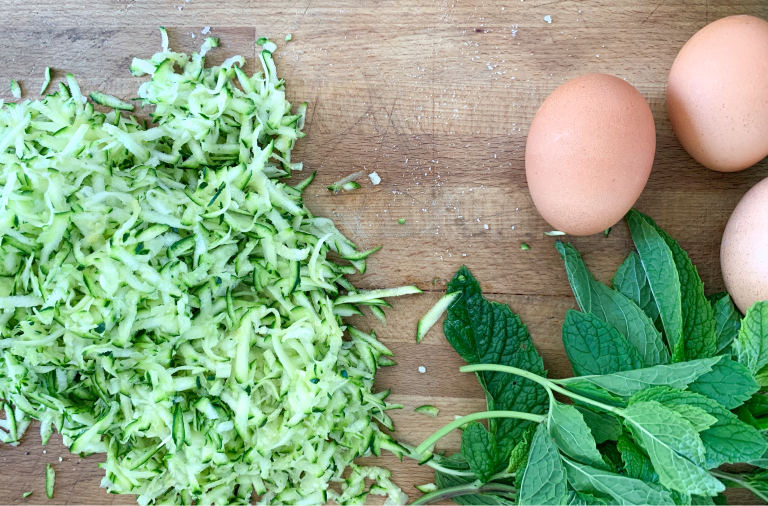 Step 2
Combine the grated zucchini and chopped mint with 3 eggs, about 3/4 cup flour, and a half cup of grated Parmigiano Reggiano cheese. Add a good pinch of salt, too.
Step 3
Heat enough extra virgin olive oil to cover the bottom of a heavy skillet over medium heat. When it's shimmering, carefully spoon the zucchini mixture into the hot oil to make fritters about 3 inches across.
Step 4
Working in batches, cook the fritters for about 3 minutes or until you see the edges beginning to brown. Flip them over and cook for a few more minutes, then let drain on a wire rack.
Step 5
Spread the stuffing about an inch and a half thick into oiled baking pans or skillets, cover with foil, and bake at 350F for 45 minutes or so. Remove the foil and bake until the top is brown and crispy, about 15 minutes more.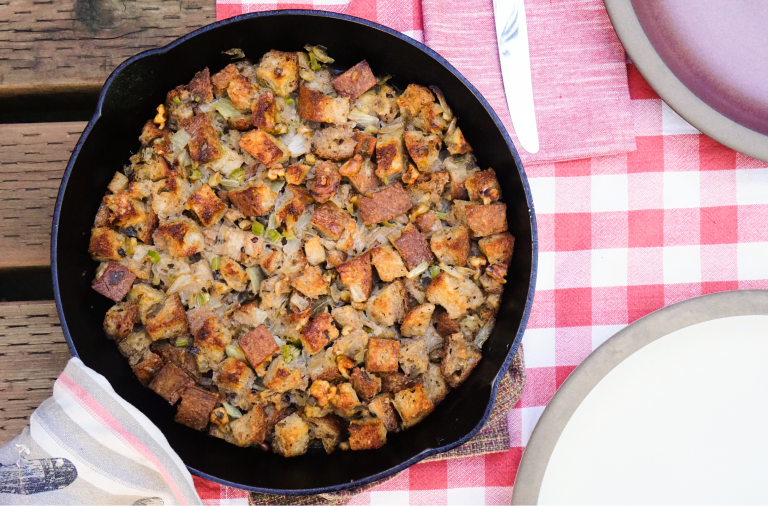 Shop this recipe
Out of stock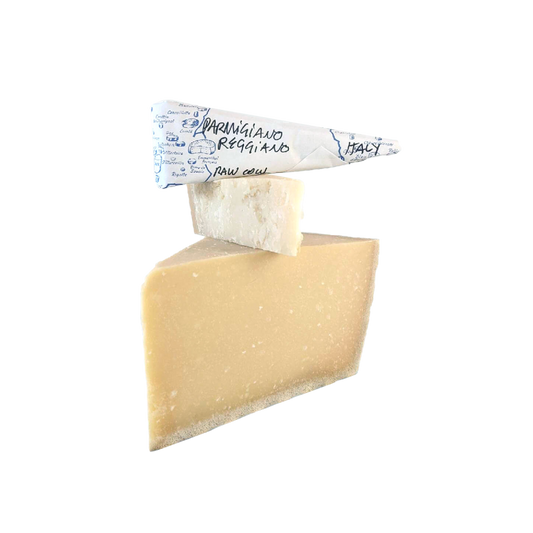 Cheese
Vendor:
Bertinelli
Reggio-Emilia - Italy
Sale price
$10
Regular price
Unit price
per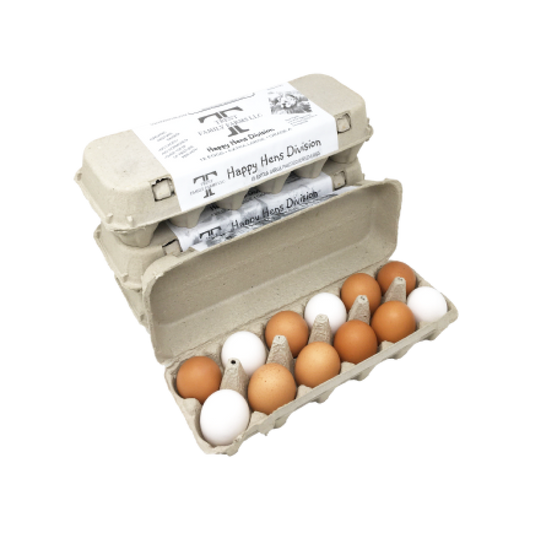 Dairy
Vendor:
Trent Family Farms
Cloverdale - Oregon
Sale price
$5
Regular price
Unit price
per
Olive Oil
Vendor:
California Olive Ranch
Chico - California
Sale price
$16
Regular price
Unit price
per
Salt, Herbs, & Spices
Vendor:
HAVSNØ
Gossen Island - Norway
Sale price
$16
Regular price
Unit price
per
More recipes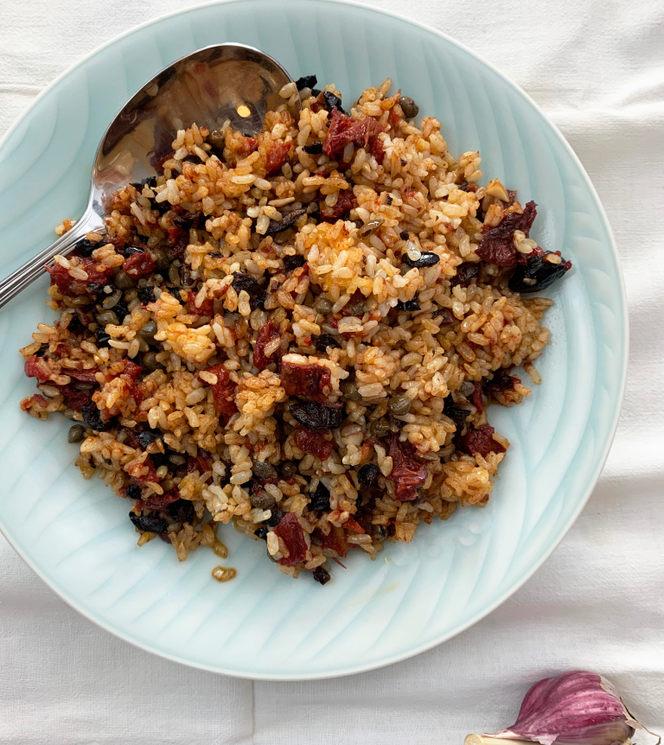 Puttanesca Fried Rice
Italian flavors meet Asian technique with tasty results. And thanks to Portland chef Tommy Habetz for the inspiration.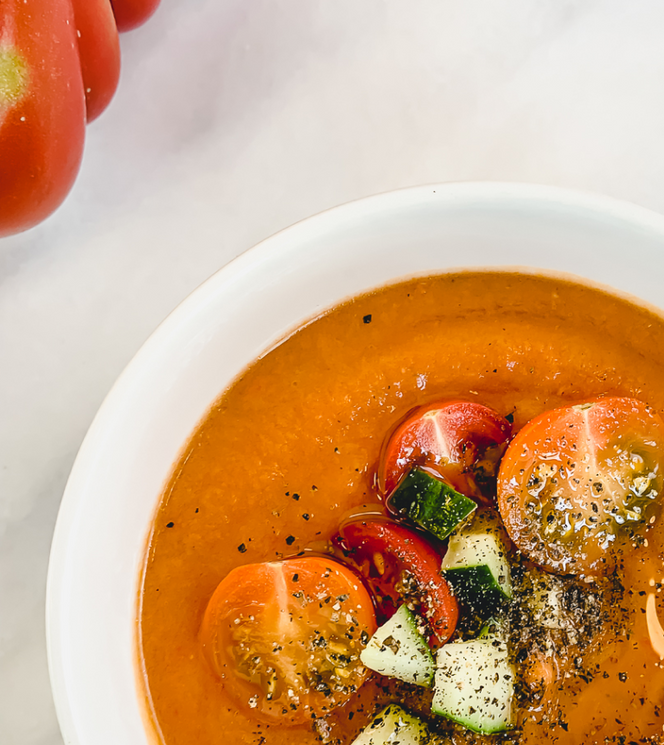 Gazpacho Sevillano with Peaches
Acidic and sweet like tomatoes, peaches make this shockingly refreshing.