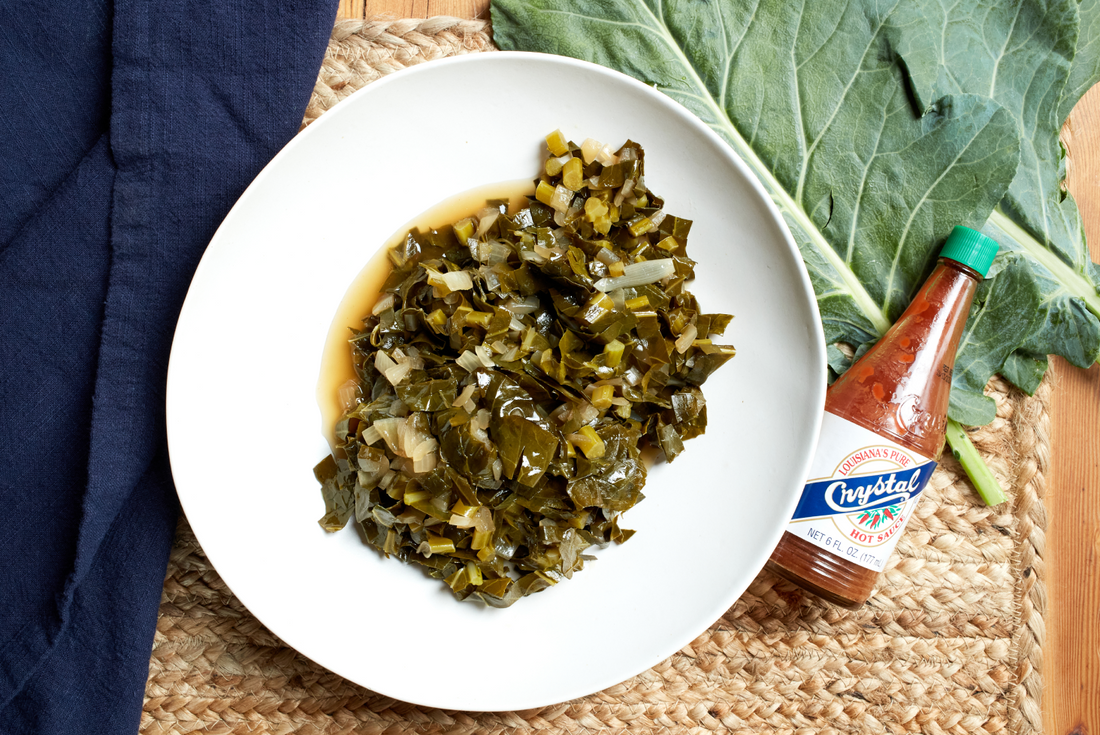 Smothered Collard Greens
15 minutes prep
45 minutes active cooking
1 hour total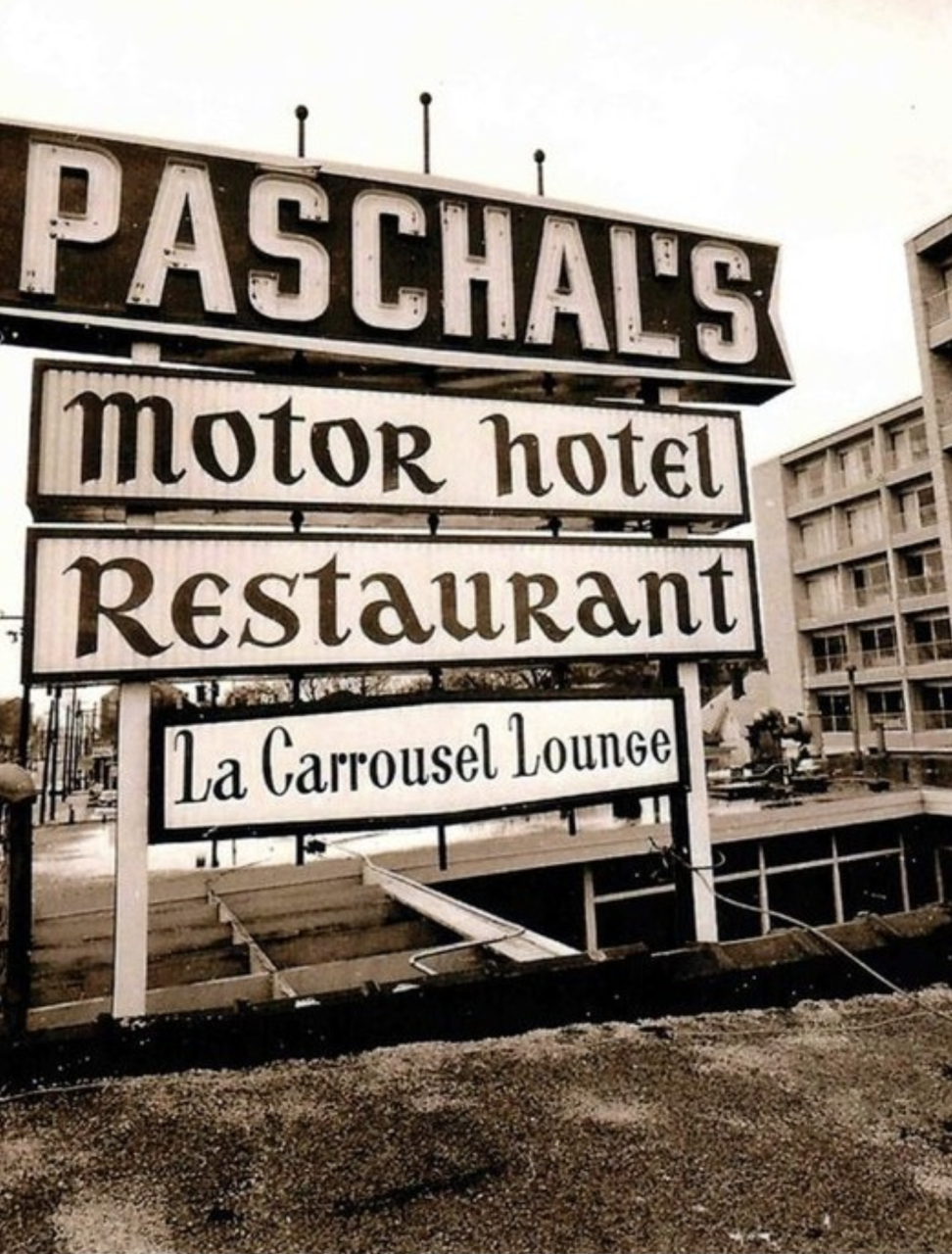 Proponents of a healthful diet regularly exhort us to eat more leafy greens. Packed with vitamins, minerals, and fiber, their purported benefits might reduce the risk of obesity, high blood pressure, heart disease, and even mental decline! While all of that is fine, Jim eats greens because they're delicious. Here's how he makes them, inspired by some greens he ate at the airport.

I first tasted Southern-style collard greens years ago during a long layover in the Atlanta airport. Back then airports didn't have Shake Shack, Texas-style barbecue, or James Beard award-winning chefs, so I was thrilled to find real vegetables alongside southern classics like fried catfish at a place called Paschal's.

Opened in 1947 by brothers James and Robert Paschal, sons of sharecroppers intent on not picking cotton, the restaurant became a meeting place for the leaders of the civil rights movement in the 1960s. Activists would gather to decompress at Paschal's after demonstrations, and the brothers kept the restaurant open all night so any protesters getting out of jail would have a place to meet their families. They would often post bonds and serve free meals for demonstrators.

Paschal's moved years ago, and the original building is crumbling, but its historic importance has saved it from the wrecking ball so far. You can still get collard greens at the new restaurant and the multiple locations in airports around the country.
Photo via @paschalsrestaurant
What You'll Need
Ingredients
For the shopping list
1 bunch of collard greens
1/2 yellow onion, chopped
1 tablespoon of soy sauce
To serve Crystal hot sauce
Equipment
From the kitchen
Large Skillet
1 Chef's Knife
1 Cutting Board
Measuring Cups
Measuring Spoons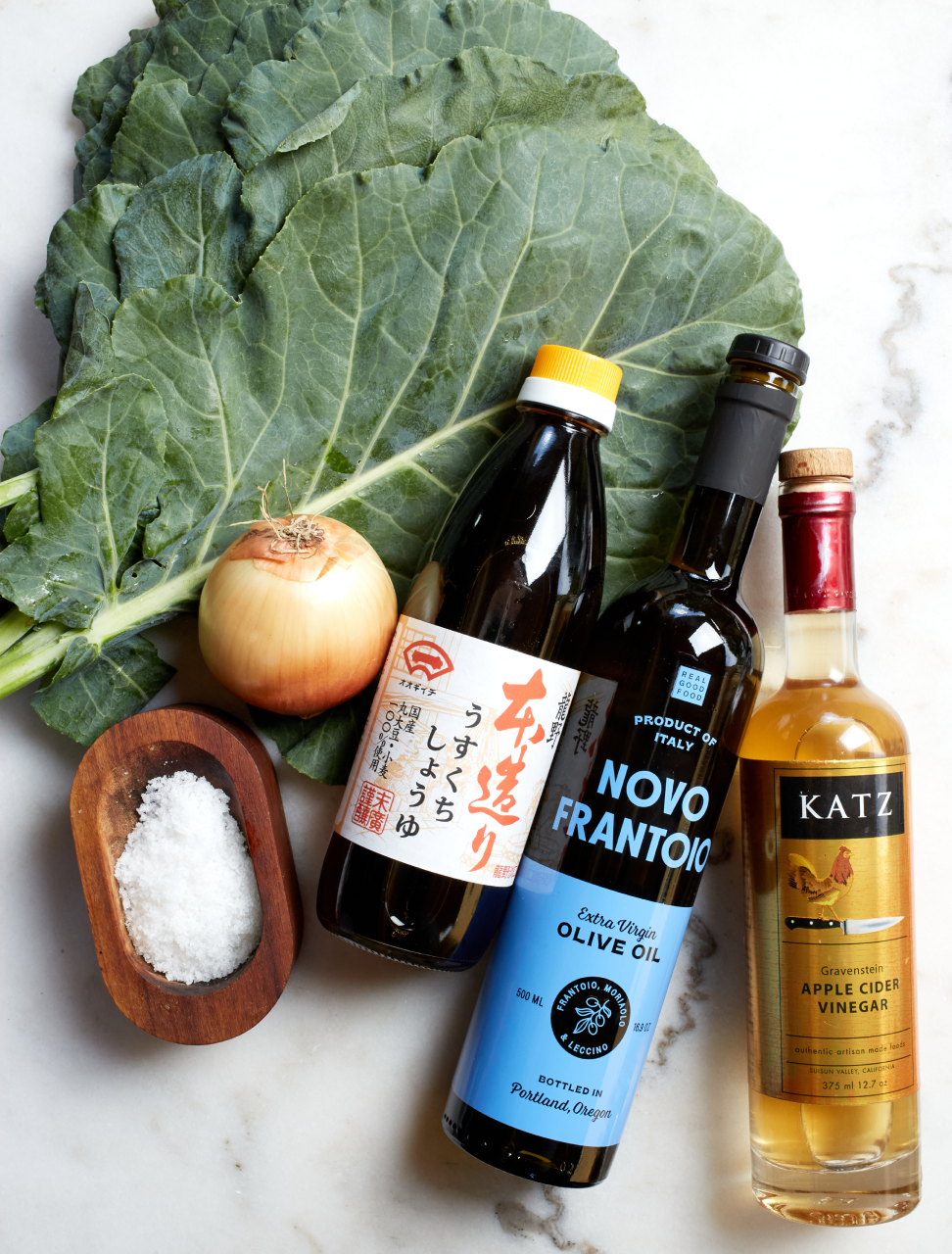 "Smothering is the Southern cooking technique of slow, brothy simmering, a form of stovetop braising.
Smoky meat traditionally boosted the flavor of smothered collard greens, but most of the time I cook greens without meat, using onion, olive oil, soy sauce, and vinegar to make the bright, umami-filled broth they call pot likker in the South."
~ Jim Dixon, founder Wellspent and Real Good Food
What you'll have to do
Step 1
Roll 3 or 4 collard leaves together in a tight bundle, then slice crosswise into roughly 1/2 strips, a technique called chiffonade. Cut the rolled ribbons again at a right angle so the pieces aren't too long.
Step 2
Cook the onion with 1/2 teaspoon of salt in 3 tablespoons of olive oil for a few minutes, then add the greens. Add at least 2 cups of water and up to 4 if you want more of the cooking broth.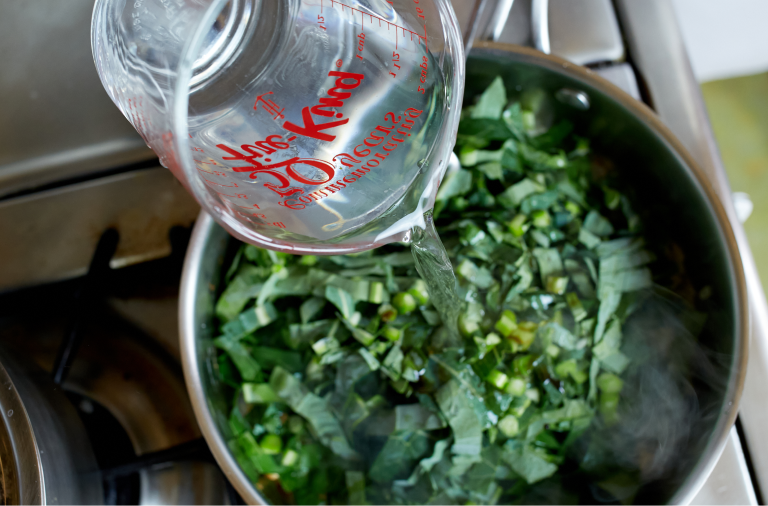 Step 3
Add 1 tablespoon of soy sauce and 1 tablespoon of vinegar, stir well, reduce the heat, cover, and simmer for 30-40 minutes. Serve with Crystal hot sauce.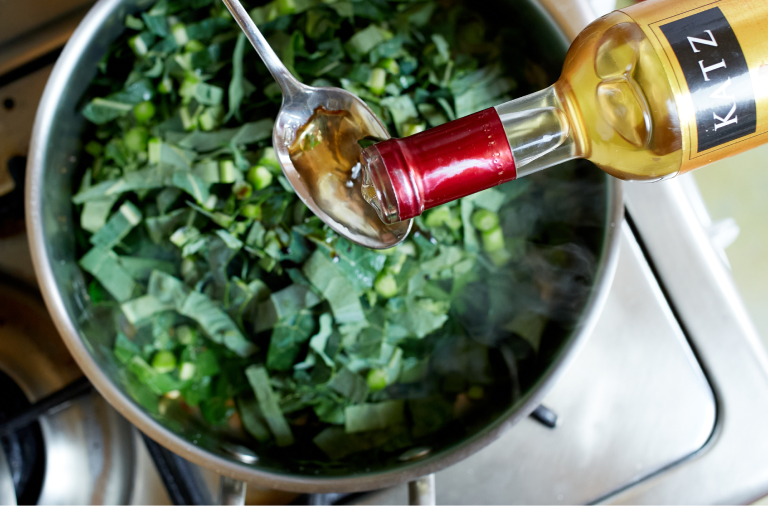 Shop this recipe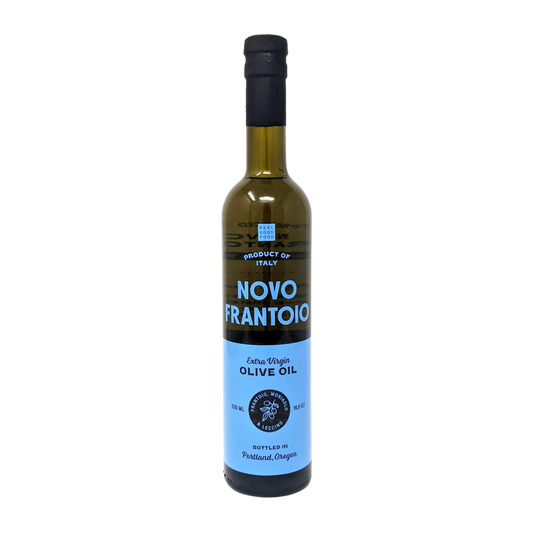 Olive Oil
Vendor:
Novo Frantoio
Tuscany - Italy
Sale price
$27
Regular price
Unit price
per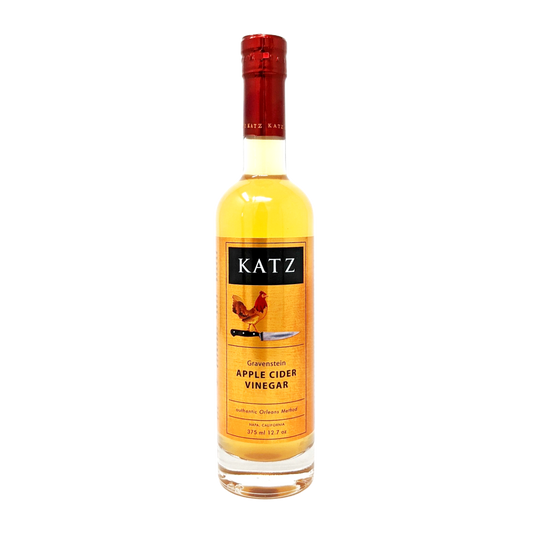 Vinegar
Vendor:
Katz Farm
Napa - California
Sale price
$16
Regular price
Unit price
per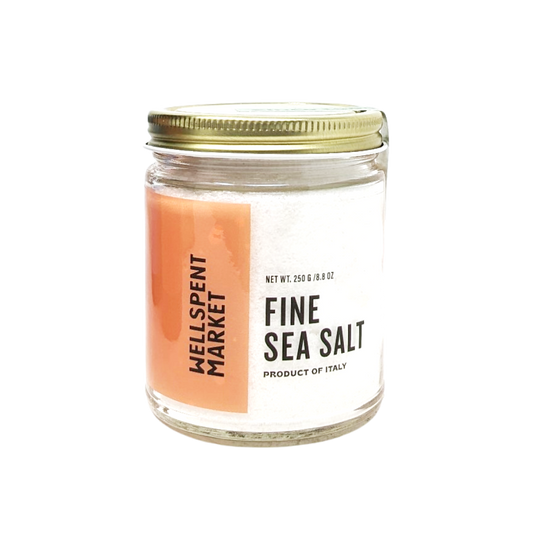 Salt, Herbs, & Spices
Vendor:
Gucciardo Vincenzo
Trapani - Sicily
Sale price
$7
Regular price
Unit price
per
More recipes
Red Beans with Nong's Khao Man Gai Sauce
These three-ingredient beans taste like the best barbecue beans ever, but they've got a secret.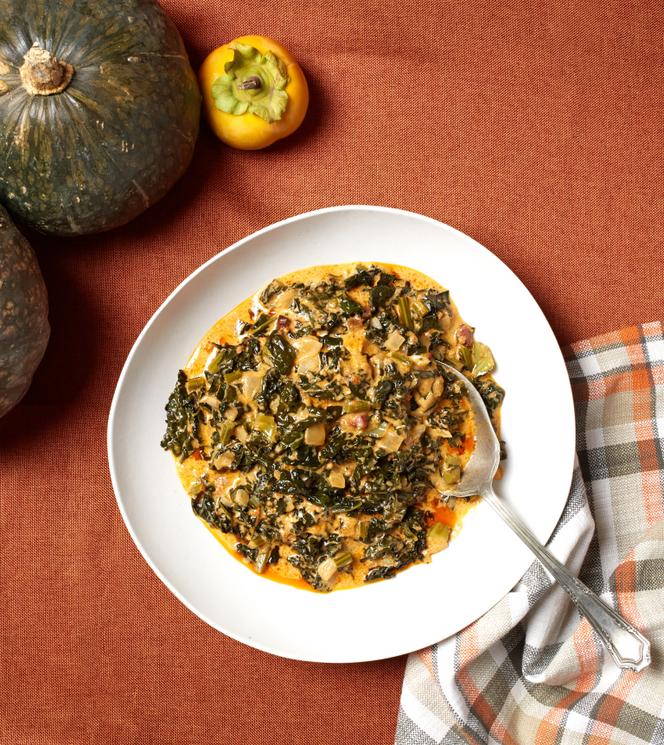 'Nduja Creamed Greens
It's easy to eat your greens when they're swimming in a creamy sauce spiked with the southern Italian salami called 'nduja.