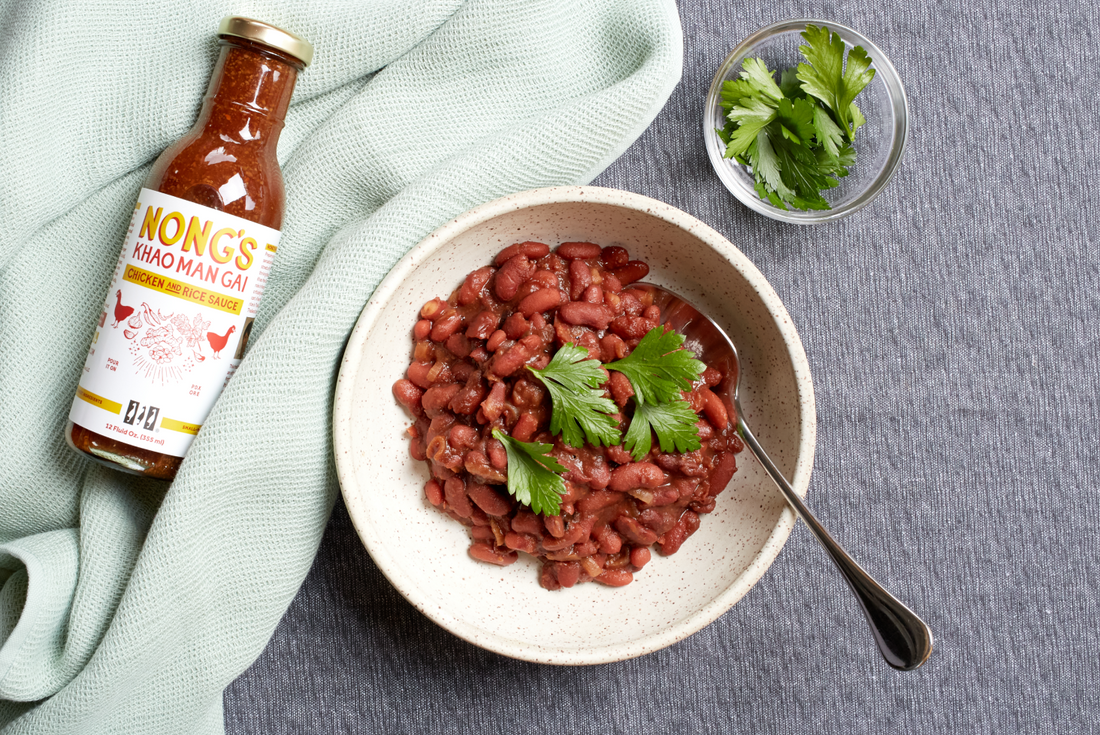 Red Beans with Nong's Khao Man Gai Sauce
5 minutes prep
15 minutes active cooking (plus 2-4 hrs depending on bean cooking technique)
20 minutes total + bean cooking
An Instagram post about a restaurant in San Francisco using Rancho Gordo beans instead of meat in the Thai salad called larb inspired this simple bean dish. It's also one of our favorite ways to make a quick, easy, flavorful meal by combining a pantry staple - beans, rice, pasta - with a jarred condiment or sauce.

We like to think everyone has a batch of cooked beans in the refrigerator, and that makes this come together quickly. If you don't, cook a pot ahead of time or make this when you have time to let them simmer for a few hours.

Once you have the beans, just fry some shallots, and open a bottle of Nong's Khao Man Gai sauce. The tangy, sweet flavor hints of classic barbecue beans, but the subtle Thai flavors of ginger and chiles make them even more tasty. Take a pot of these beans to your next cookout and see if anyone can guess what's in them. Or be like Jim and just eat them all yourself.
What You'll Need
Ingredients
For the shopping list
3-4 cups, cooked* Red Kidney Beans
2-3 golf ball-size shallots, sliced
*Using a pot with a lid, add enough water to cover the beans by at least 2 inches. Add about a teaspoon of salt and a couple of tablespoons of olive oil. Bring slowly to a boil, reduce the heat to a simmer, cover, and cook until very tender, about 2 hours. Check and add water if needed to keep the beans covered. Or use our no-soak beans in the oven
technique.
Equipment
From the kitchen
1 Large Skillet
1 Slotted Spoon
Measuring Cups
Measuring Spoons
What you'll have to do
Step 1
Cook the shallots in 1 tablespoon of olive oil over medium heat in a large skillet until well-browned, about 5 minutes.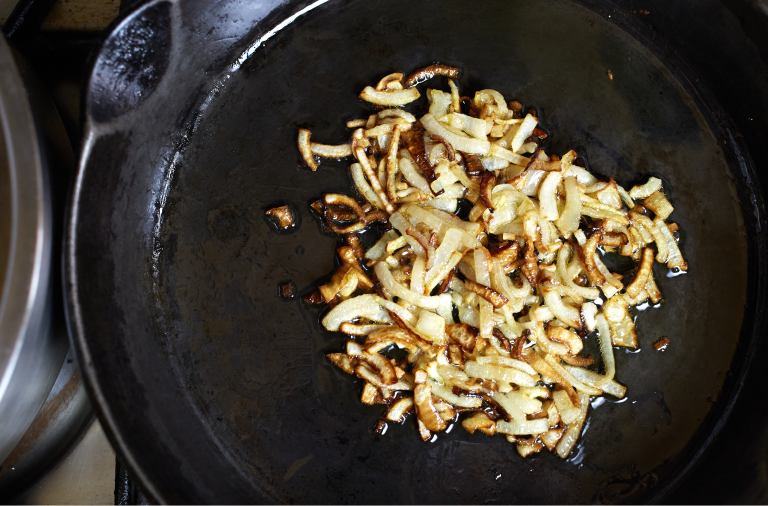 Step 2
If the cooked beans have a lot of liquid, use a slotted spoon to add them to the shallots. Some liquid is fine, but you don't want this to be soupy. If necessary, cook the beans and shallots together until any excess liquid has been reduced.
Step 3
Add 1 cup of Nong's sauce and cook for a few minutes longer. Taste and add salt if needed.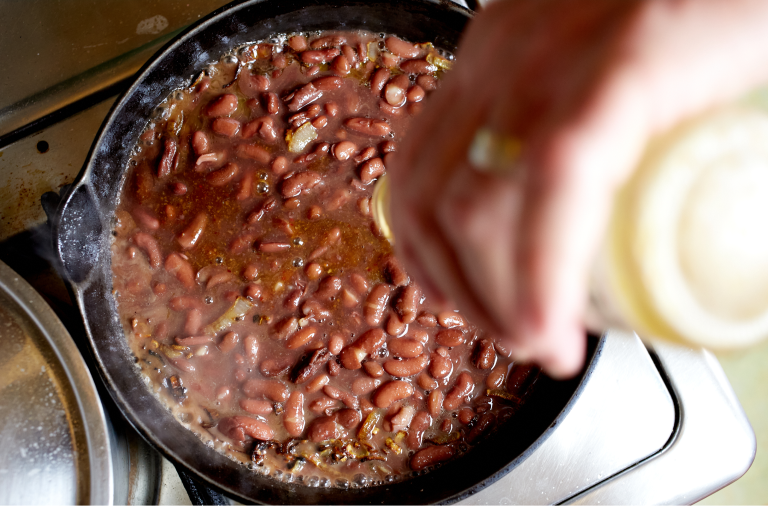 Shop this recipe
Out of stock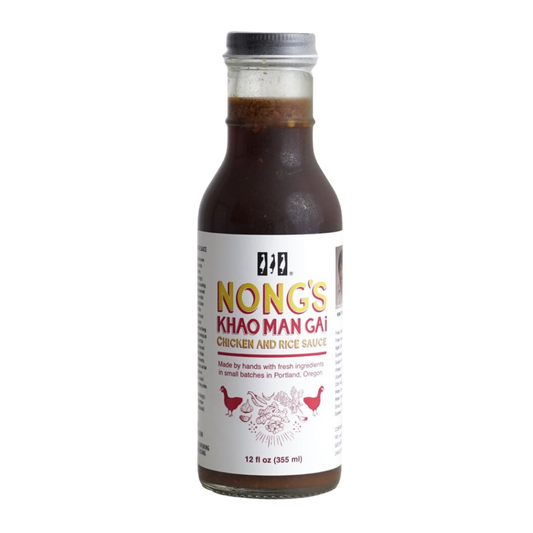 Sauces & Condiments
Vendor:
Nong's Khao Man Gai
Portland - Oregon
Sale price
$13
Regular price
Unit price
per
Olive Oil
Vendor:
California Olive Ranch
Chico - California
Sale price
$16
Regular price
Unit price
per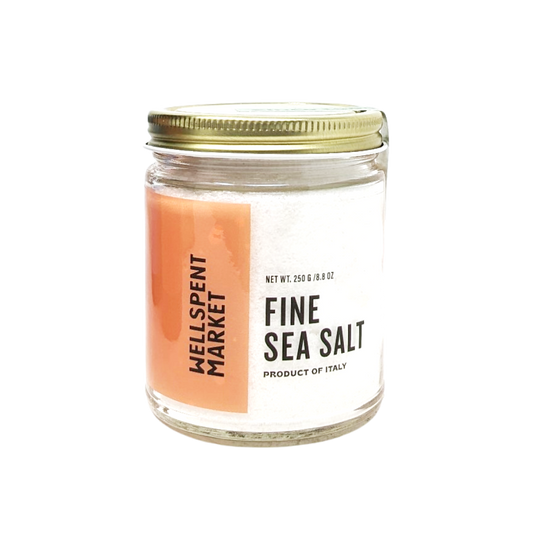 Salt, Herbs, & Spices
Vendor:
Gucciardo Vincenzo
Trapani - Sicily
Sale price
$7
Regular price
Unit price
per
More recipes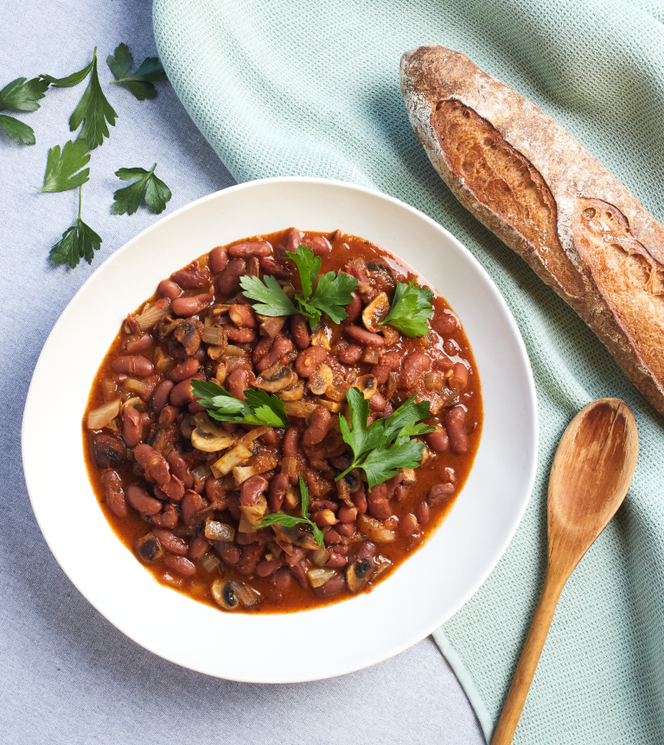 Tuesday-Thursday Chili with Mushrooms
This mushroom chili with West African flavors was inspired by the food in a high school cafeteria in the 1960s, but don't hold that against it.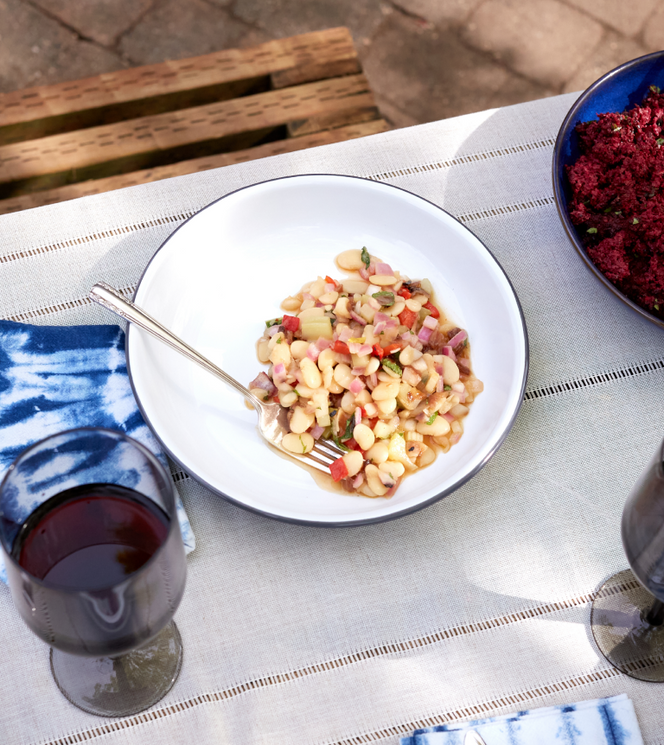 Picnic Limas
Take these sweet and tangy baby lima beans on your next picnic, even if it's inside at your kitchen table.