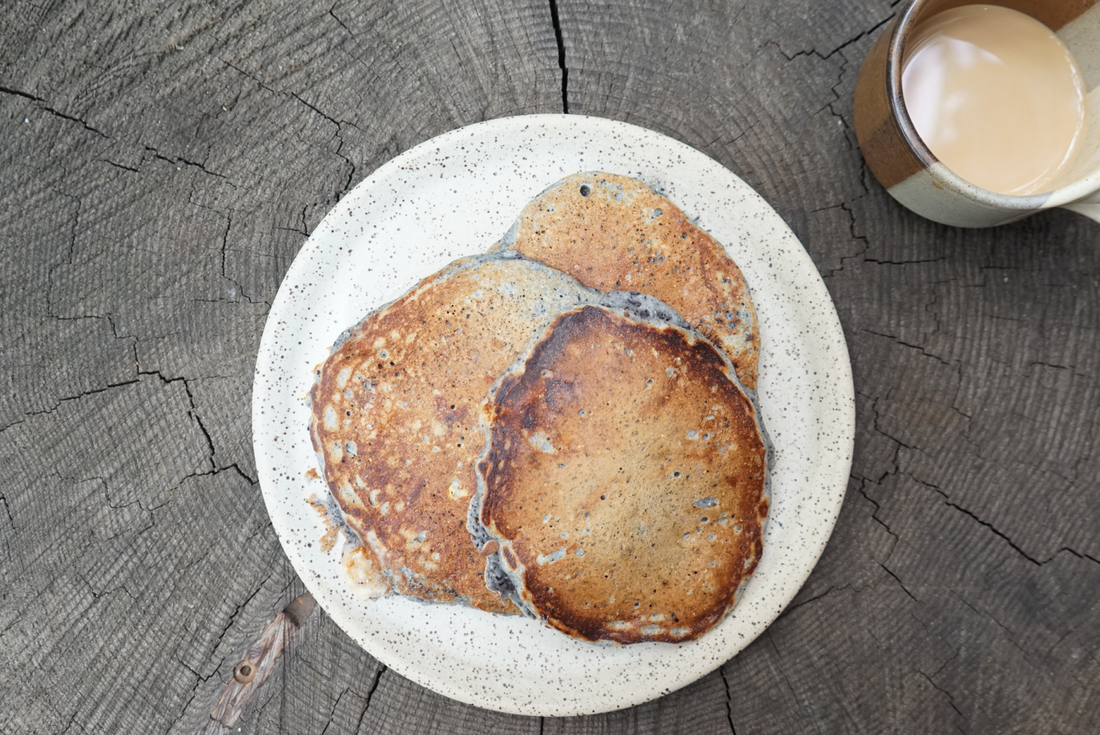 Sam's Fresh Corn & Cornmeal Pancakes
30 minutes prep
30 minutes active cooking
1 hour total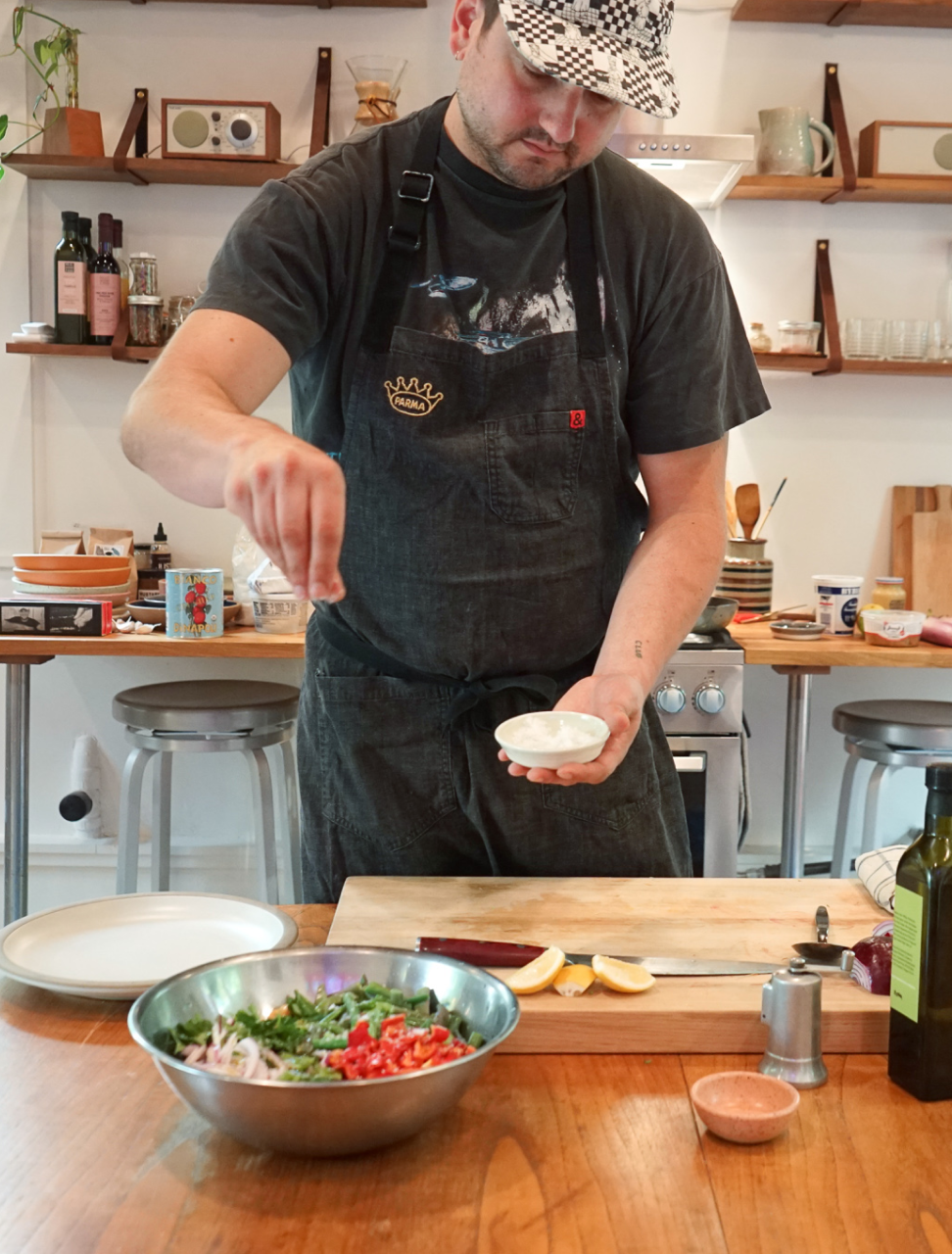 Sam Smith makes a mean pancake.
While he's known for his innovative, Middle Easternish food from his days as the chef at Tusk, Sam Smith makes a mean pancake. Made with a blend of flour and Ayers Creek cornmeal and studded with fresh corn kernels, these can go from sweet to savory with a couple of minor tweaks.
What You'll Need
Ingredients
For the shopping list
1 1/4 cup of all purpose flour
3 tablespoons of cane sugar
1 teaspoon of baking powder
1 teaspoon of baking soda
2 eggs
1/4 cup of butter, melted
1 cup of fresh corn kernels
2 cups of buttermilk (can sub non-dairy milk)
1 cup of fresh cheese curds, chopped
Equipment
From the kitchen
1 Chef Knife
1 Cutting Board
1 Heavy Skillet
1 Mixing Bowl
1 Ladle
What you'll have to do
Step 1
Whisk together flour, cornmeal, sugar, baking powder, baking soda, and salt.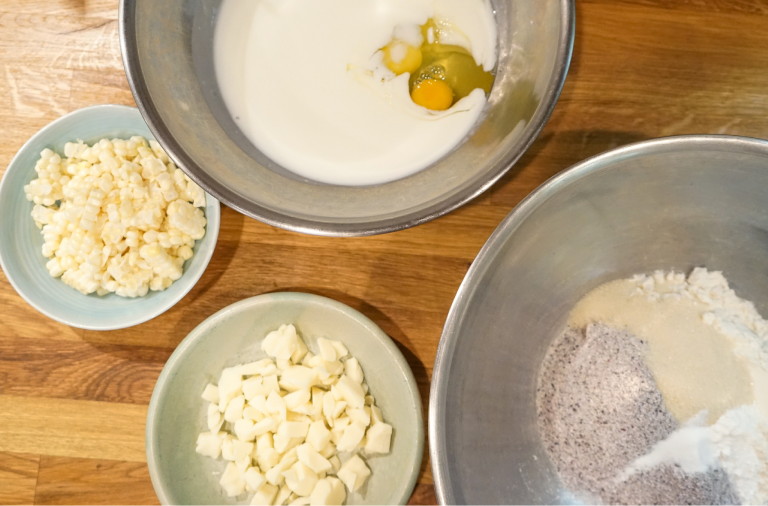 Step 2
In a separate bowl, whisk together buttermilk, eggs, and melted butter. Fold the wet ingredients into the dry using a rubber spatula. Then, fold in the corn and cheese curd.
Step 3
Heat cast iron pan on medium. Put a tiny bit of butter or a few drops of oil in the pan and rub with a paper towel. When hot, ladle 3 oz batter into the pan.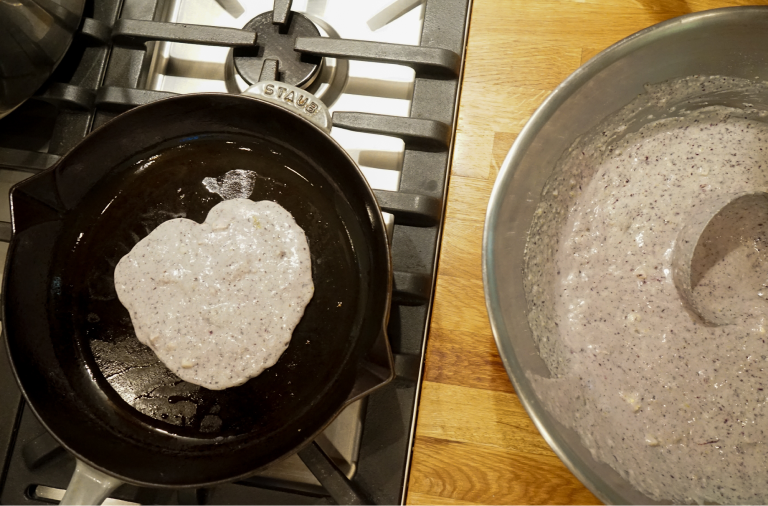 Step 4
Don't overcrowd, the batter will spread out a little bit. When you start to see bubbles coming through the pancake, check the bottom.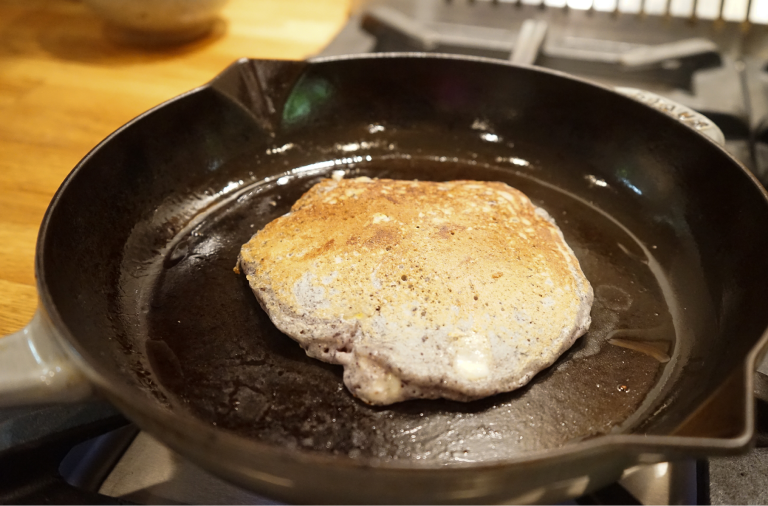 Step 5
When nice and brown, flip and cook on the other side. Repeat with remaining batter. The first one or two may not turn out perfectly. Adjust the heat if it browns too quickly or too slowly.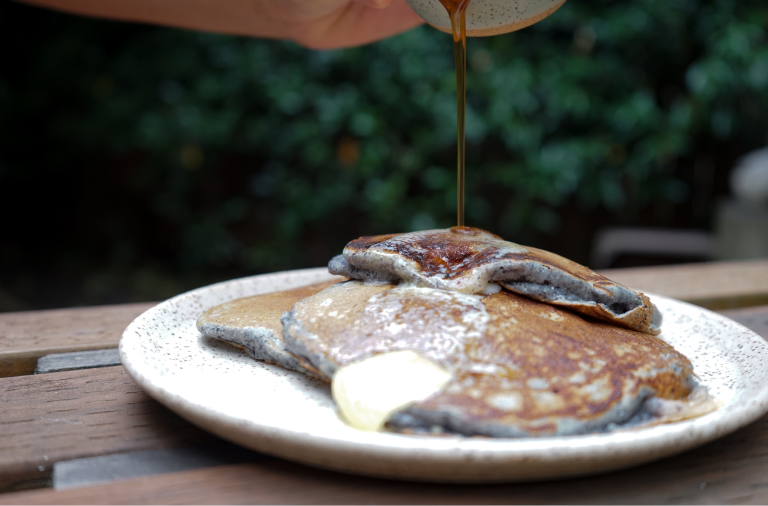 Step 6
Top with lots of butter and whatever other toppings sound good, like honey, jam, preserves, or my favorite, maple syrup. I always like to sprinkle a little bit of finishing salt on top for a salty crunch to balance the sweetness.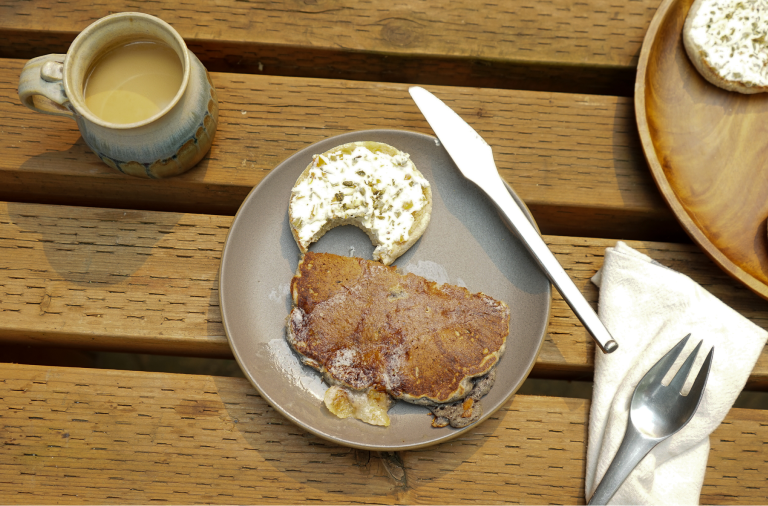 Variations
Leave out butter, and sub non dairy milk for buttermilk for dairy free recipe.
Leave out half the sugar, add a 1/4 cup of chopped jalapeños and a 1/4 cup chopped cilantro for a more savory version.
Top with raspberry or your favorite jam instead of maple syrup.
Shop this recipe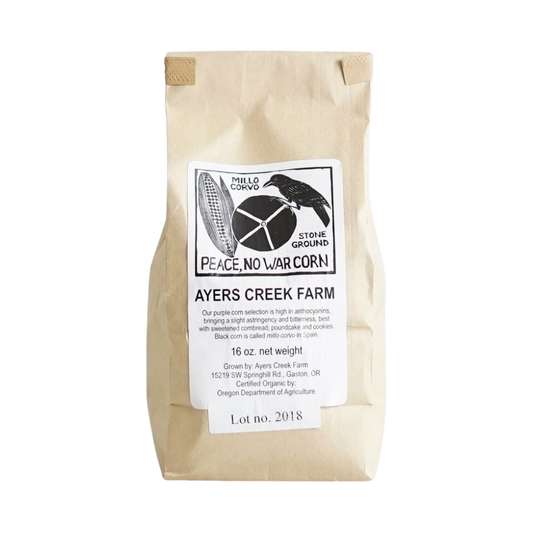 Rice & Grains
Vendor:
Ayers Creek
Gaston - Oregon
Sale price
$9
Regular price
Unit price
per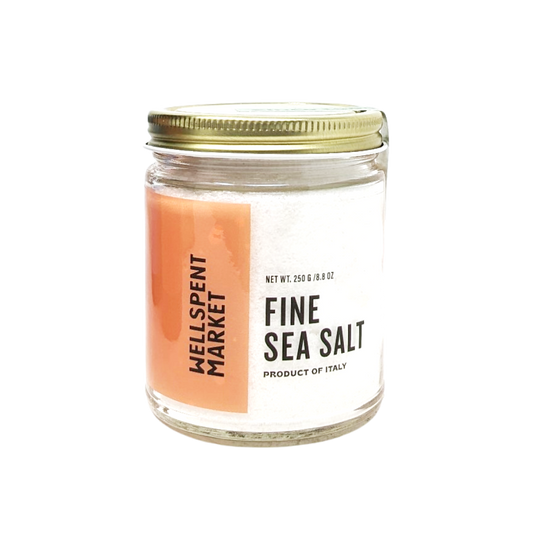 Salt, Herbs, & Spices
Vendor:
Gucciardo Vincenzo
Trapani - Sicily
Sale price
$7
Regular price
Unit price
per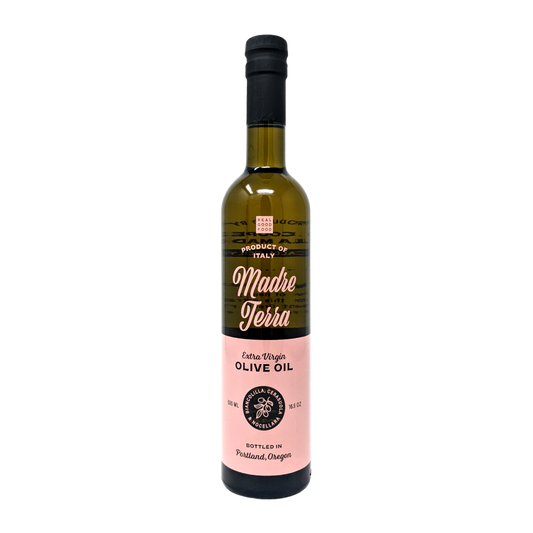 Olive Oil
Vendor:
Madre Terra
Sicily - Italy
Sale price
$25
Regular price
Unit price
per
More recipes
Pfirsichmus
Inspired by German-style fruit preserves, this jammy peach sauce works for breakfast or dessert.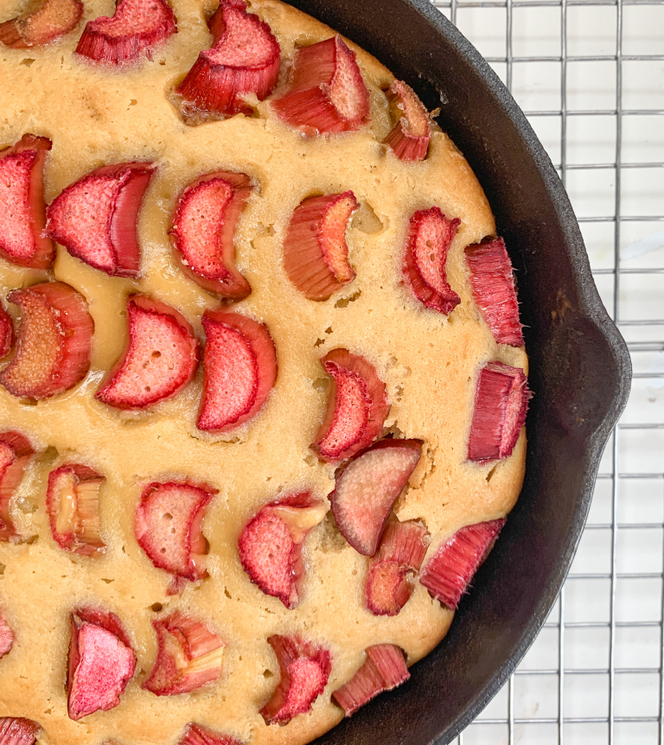 Red Fife Olive Oil Cake with Rhubarb
We love adding rhubarb to our favorite whole wheat olive oil cake, but if it's not available, you can use something else, serve it with a spoonful of jam, or...