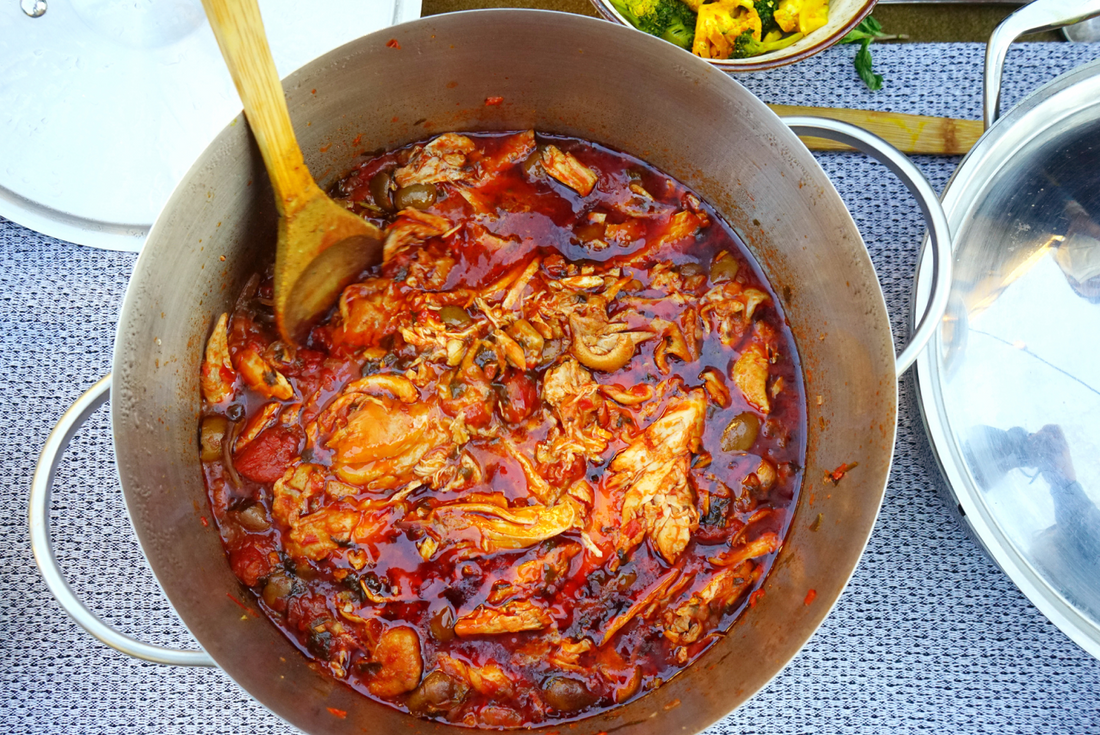 Braised Chicken with Harissa & Olives
20 minutes prep
2 hours active cooking
2 hours + 20 minutes total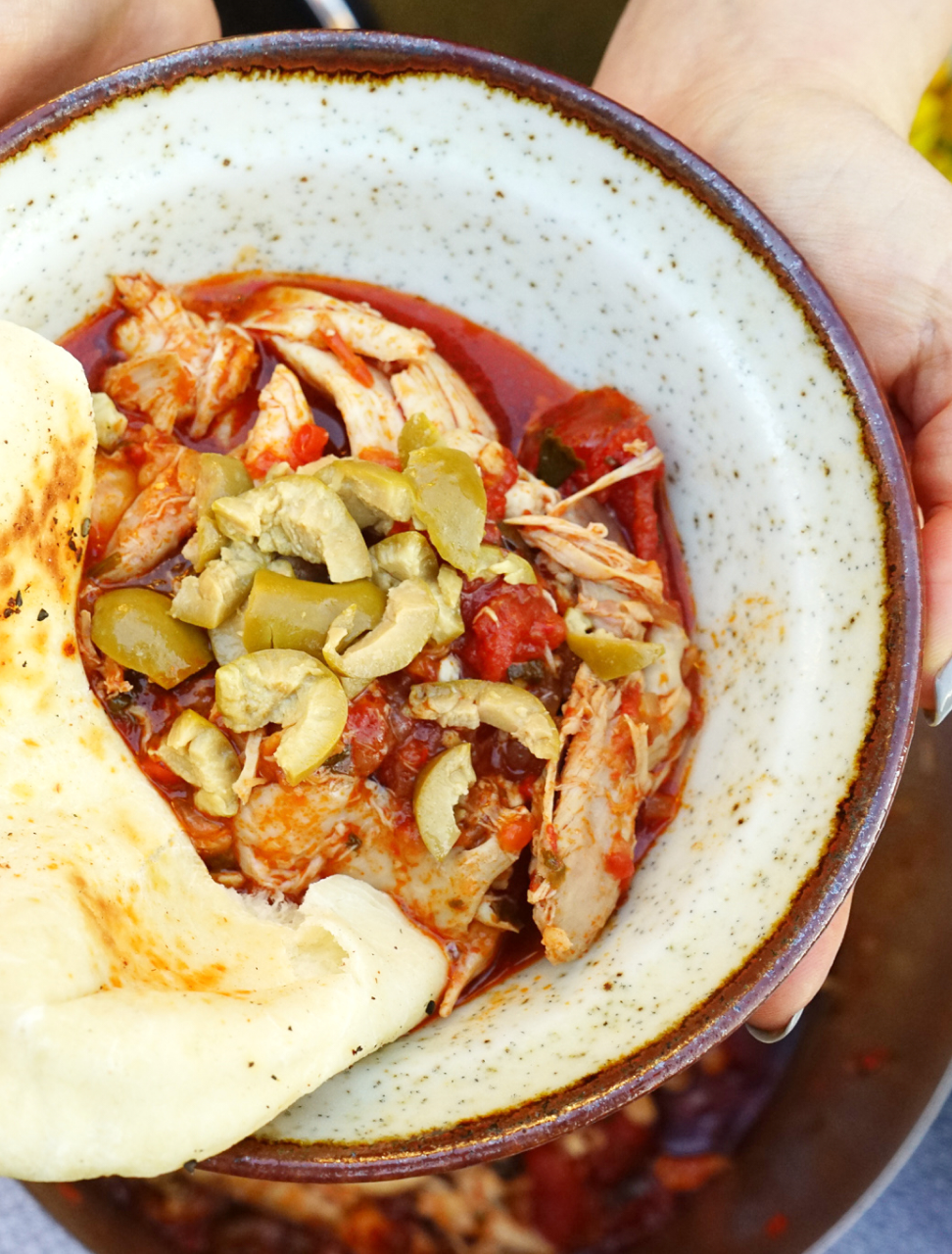 The Tunisian chile sauce called harissa comes in many forms, but the most traditional contains just dried chiles, garlic, olive oil, spices, and salt.
The term harissa originally comes from the Arabic verb "harassa" which literally means "to pound" or "to crush" and was initially used to describe a porridge of pounded wheat, butter, meat, and certain spices that dates back to the 7th century.

We take a shortcut and blend a harissa spice blend with garlic and olive oil. It provides the same fruity, smoky flavor that pairs well with briny green olives in this simple chicken dish. We used a whole, cut up chicken, but the same approach works with pieces like thighs. The chicken gets rubbed with the harissa, then slowly cooked on the stovetop in a tomato sauce flavored with cilantro and olives.
What You'll Need
Ingredients
For the shopping list
6 cloves of Garlic
1.8oz Harissa spice blend
3 - 3 1/2 pound of Chicken, cut into pieces
2 Onions
1 pint, pitted Green Olives
1 bunch of Cilantro
Equipment
From the kitchen
1 Braising Pan with Lid
1 Chef's Knife
1 Cutting Board
Measuring Cups
Measuring Spoons
What you'll have to do
Step 1
Make the harissa first by combining 3 cloves of finely chopped garlic with 1.8oz harissa spice blend, the salt, and 2 tablespoons of olive oil. Rub this over the chicken.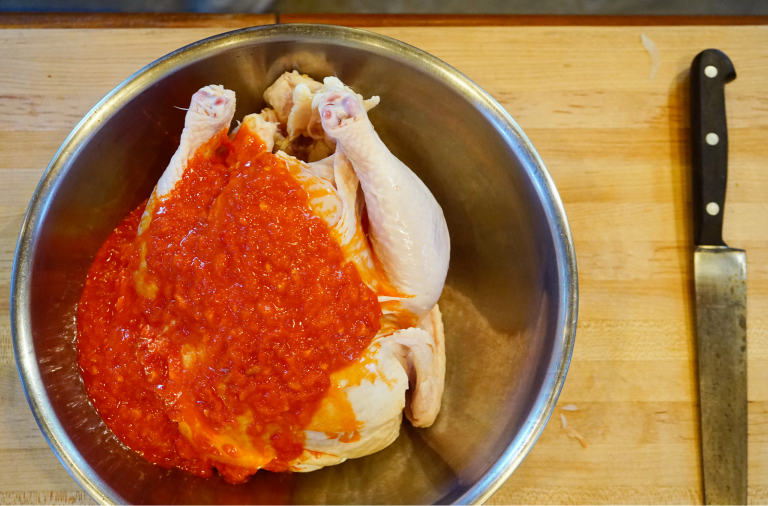 Step 2
Drizzle the olive oil into the pan and cover with the onions. Layer the tomatoes on top, then add the chicken pieces. Scatter 3 chopped garlic cloves and olives over the chicken, and top with the cilantro.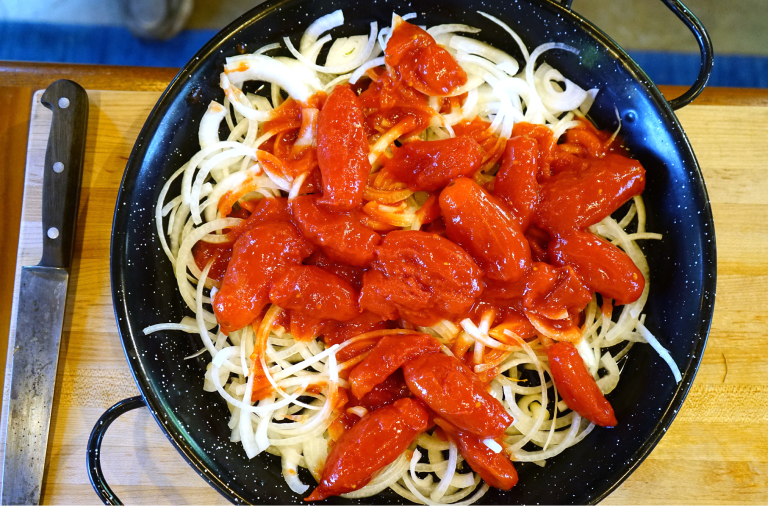 Step 3
Add a cup of water, bring to a boil, cover and reduce the heat to a simmer. Cook for about 90 minutes until the chicken is about to fall off the bones. Serve with rice, mashed potatoes, or bread to soak up the sauce.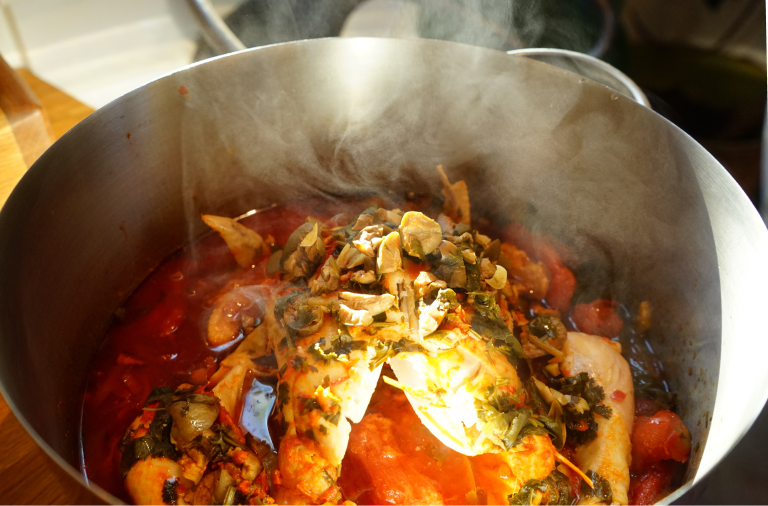 Shop this recipe
Pasta & Tomatoes
Vendor:
Bianco di Napoli
Yolo Valley - California
Sale price
$7
Regular price
Unit price
per
Olive Oil
Vendor:
California Olive Ranch
Chico - California
Regular price
$18.50
$

18.50
Sale price
$18.50
Regular price
Unit price
per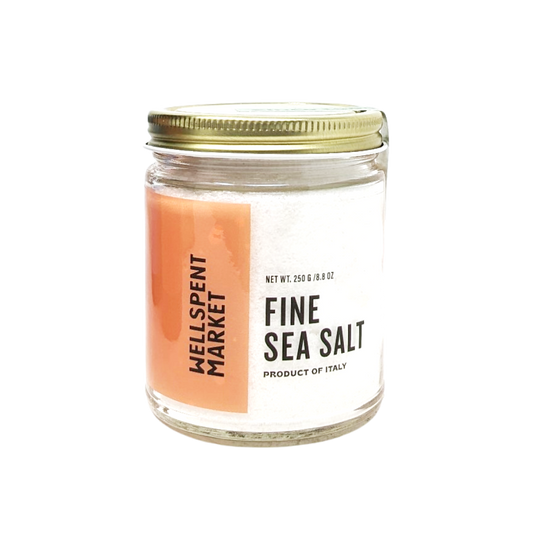 Salt, Herbs, & Spices
Vendor:
Gucciardo Vincenzo
Trapani - Sicily
Sale price
$7
Regular price
Unit price
per
More recipes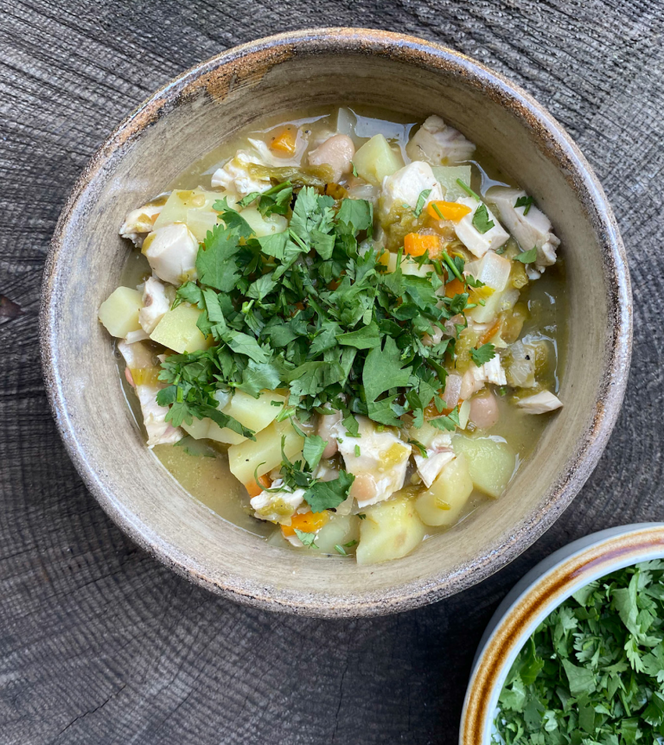 Los Roast Chicken Chile Verde with Beans
Fire-roasted Hatch chiles and leftover chicken make a quick dinner.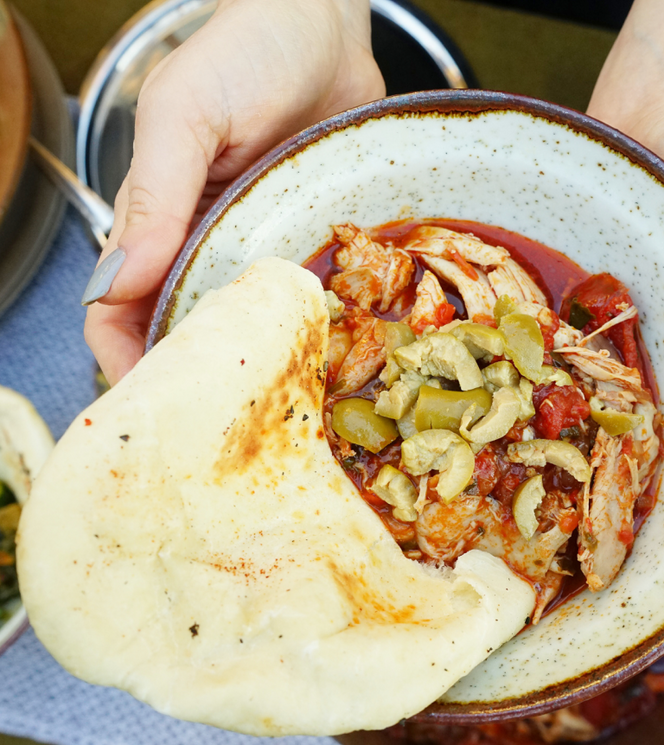 Naz's Naan
Use this flatbread to clean your plate.