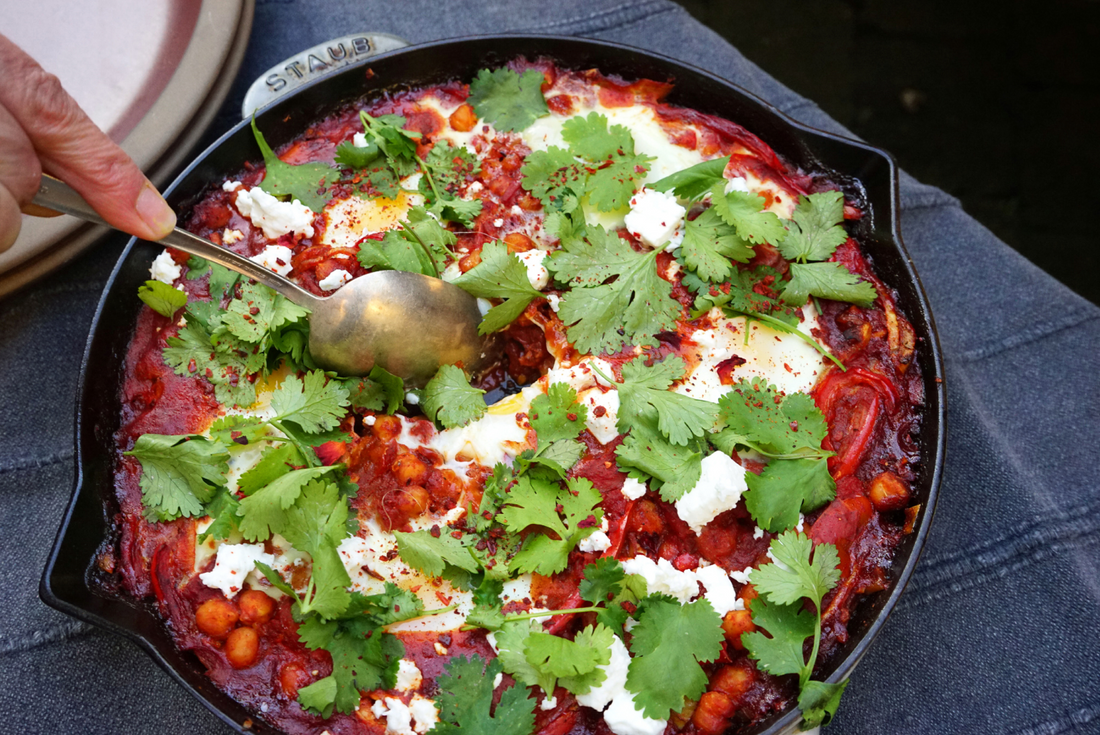 Shakshuka with Garbanzos & Feta
15 minutes prep
30 minutes active cooking
45 minutes total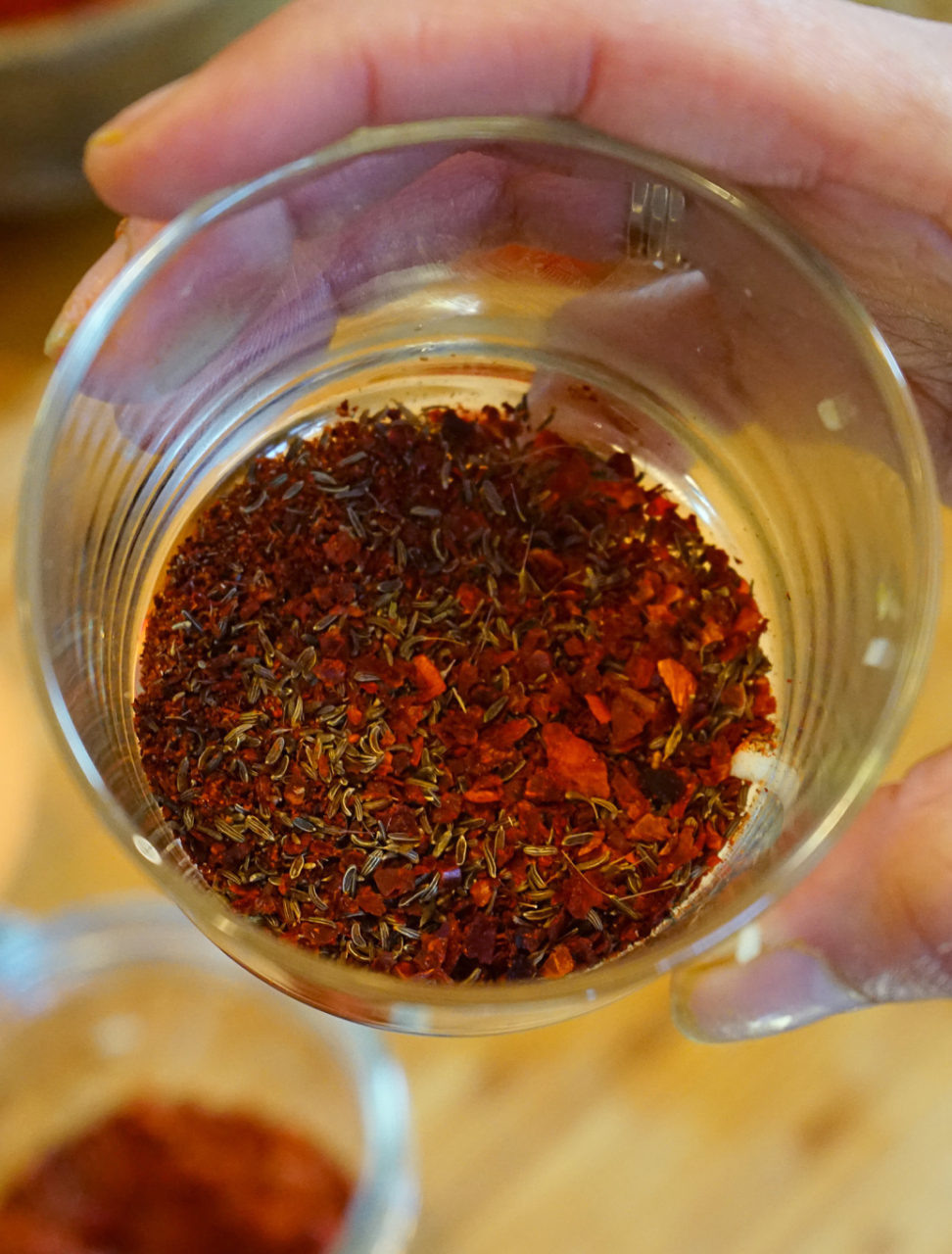 In Israel it's usually breakfast, but our version of eggs cooked in tomato sauce works for any meal.
Shakshuka loosely translates from Arabic to "mixture," and food historians trace its roots to the meaty stews of the Ottomans.
What You'll Need
Ingredients
For the shopping list
1 onion, halved and thinly sliced
1 bell pepper, seeded and thinly sliced
3 cloves of garlic, thinly sliced
cilantro, chopped for garnish
feta
1 teaspoon of cumin
1 teaspoon of NY Shuk Rosey Harissa*
To taste black pepper, freshly ground
* substitue 1 teaspoon paprika + 1/4 teasppon cayenne or red pepper to taste
Equipment
From the kitchen
1 Cast Iron Skillet
1 Chef's Knife
1 Cutting Board
Measuring Spoons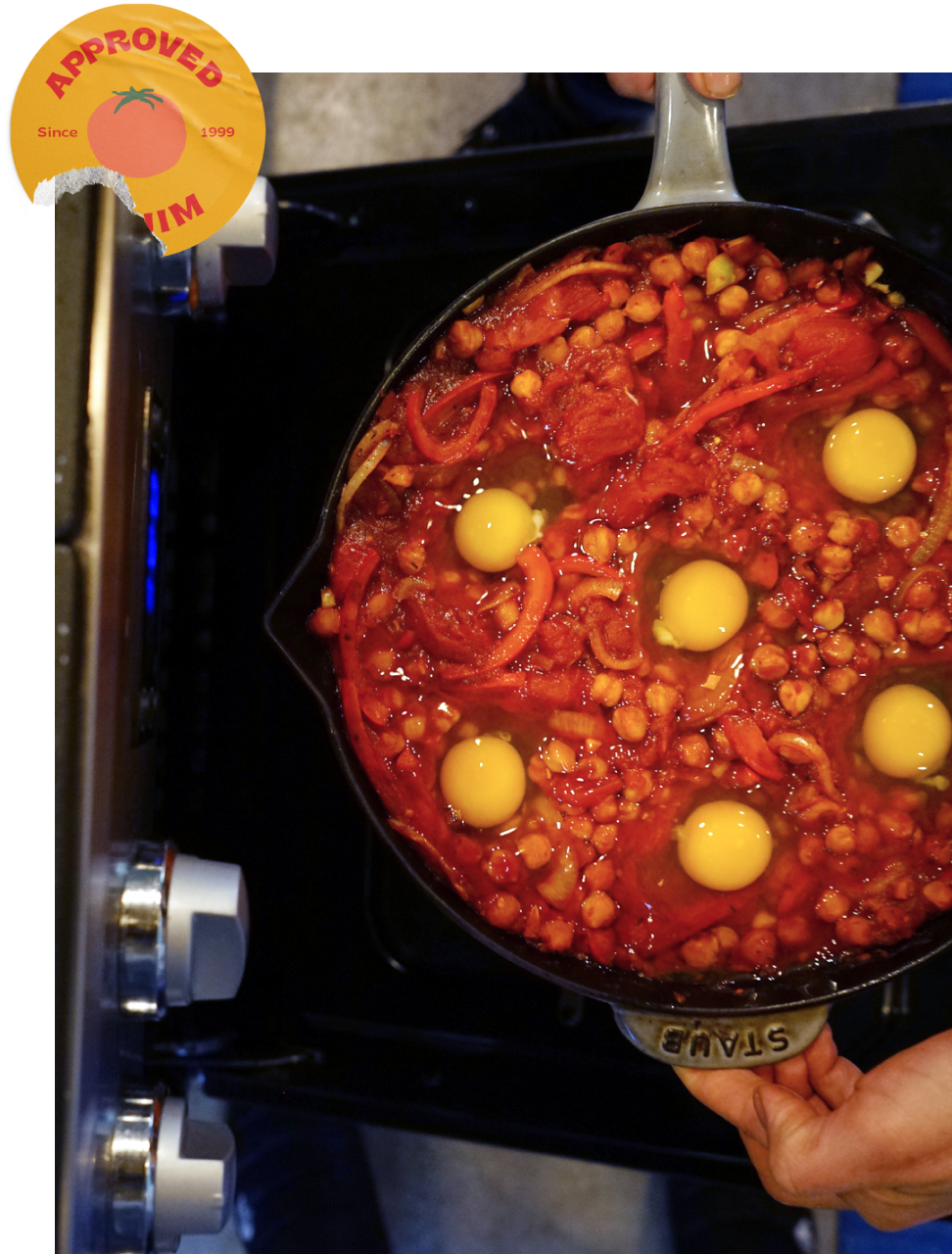 "Shakshuka also appeals because it's quick, easy, and combines a handful of pantry ingredients with a couple of basic vegetables."
~ Jim Dixon, founder Wellspent and Real Good Food
What you'll have to do
Step 1
Heat oven to 375F degrees.

Use a large skillet over medium-low to cook 1 thinly sliced onion and 1 thinly sliced bell pepper in 3 tablespoons of olive oil and a pinch of salt. Cook gently until very soft, about 20 minutes, then add 3 thinly sliced garlic cloves, 1 teaspoon of cumin, 1 teaspoon of harissa and cook for another minute.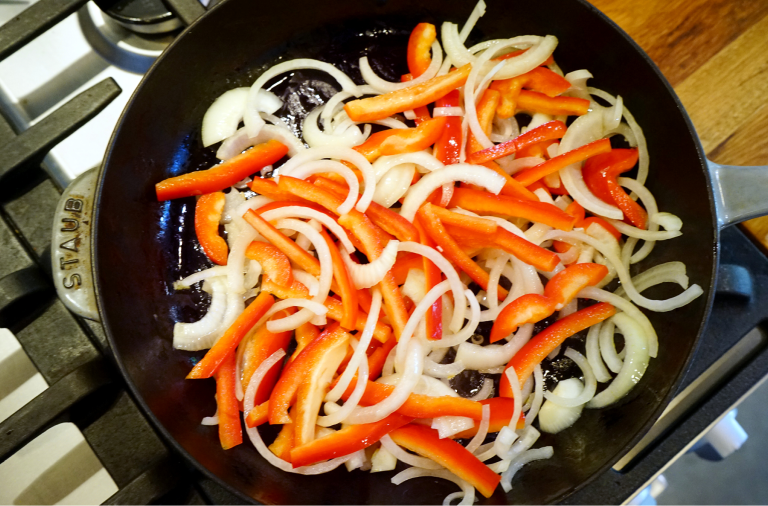 Step 2
Add 1 can of tomatoes (if using whole tomatoes break them up with your hands before adding) and 2 cups of cooked garbanzo beans. Add black pepper and, if needed, more salt. Simmer for about 10 minutes or until the sauce thickens.
Step 3
Use a spoon to make shallow indentations in the sauce, then crack the eggs into them, Transfer the skillet to the hot oven and bake until eggs are just set, 7 to 10 minutes.
Step 4
Crumble the feta over the eggs, top with the chopped cilantro, and serve with hot sauce if desired.
Shop this recipe
Beans
Vendor:
Valdibella
Sicily - Italy
Sale price
$7
Regular price
Unit price
per
Pasta & Tomatoes
Vendor:
Bianco di Napoli
Yolo Valley - California
Sale price
$7
Regular price
Unit price
per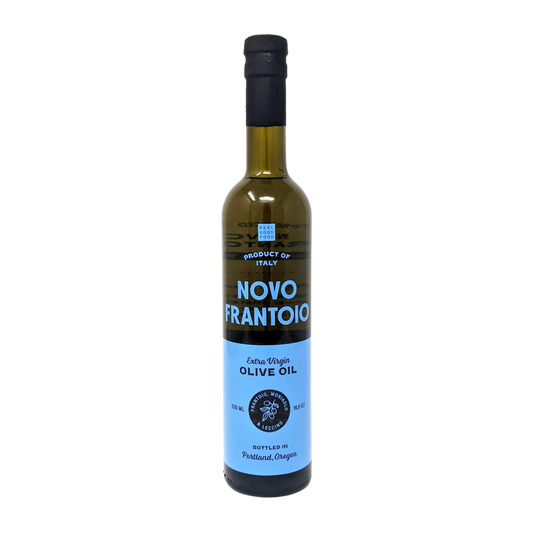 Olive Oil
Vendor:
Novo Frantoio
Tuscany - Italy
Sale price
$27
Regular price
Unit price
per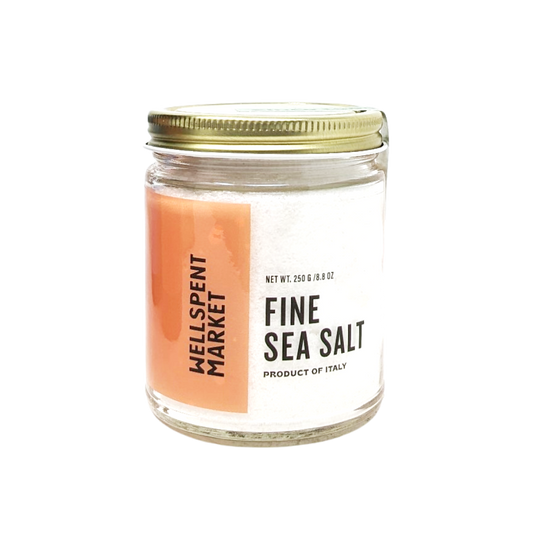 Salt, Herbs, & Spices
Vendor:
Gucciardo Vincenzo
Trapani - Sicily
Sale price
$7
Regular price
Unit price
per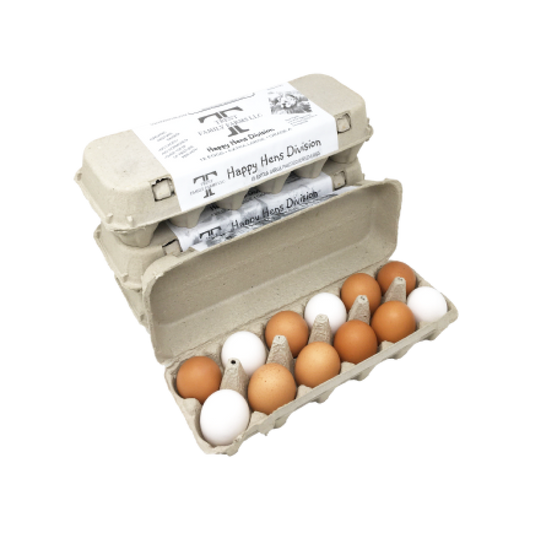 Dairy
Vendor:
Trent Family Farms
Cloverdale - Oregon
Sale price
$5
Regular price
Unit price
per
More recipes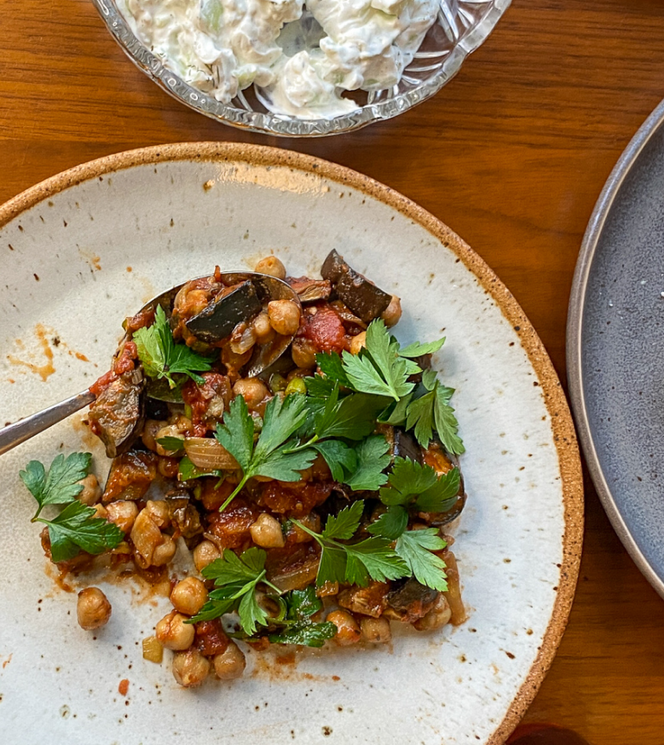 Musaka'a, Roasted Eggplant with Spiced Chickpeas & Tomatoes
Adapted from Yasmin Khan's book Zaitoun - Arabic for olive, both a fundamental ingredient and a symbol of peace.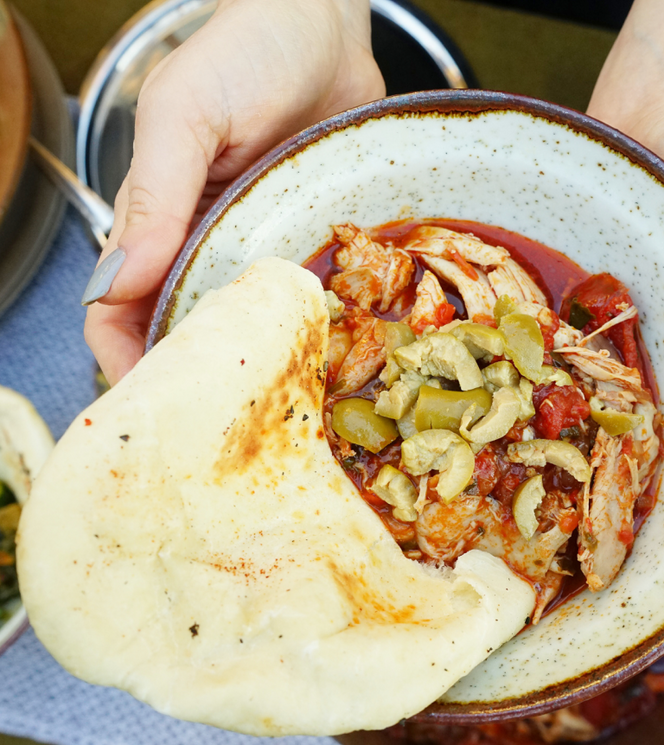 Naz's Naan
Use this flatbread to clean your plate.