Rabbit, Chorizo & Lady Cream Peas "Paella"
30 minutes prep + bean cooking time
1 hour + 10 minutes active cooking
1 hour + 40 minutes total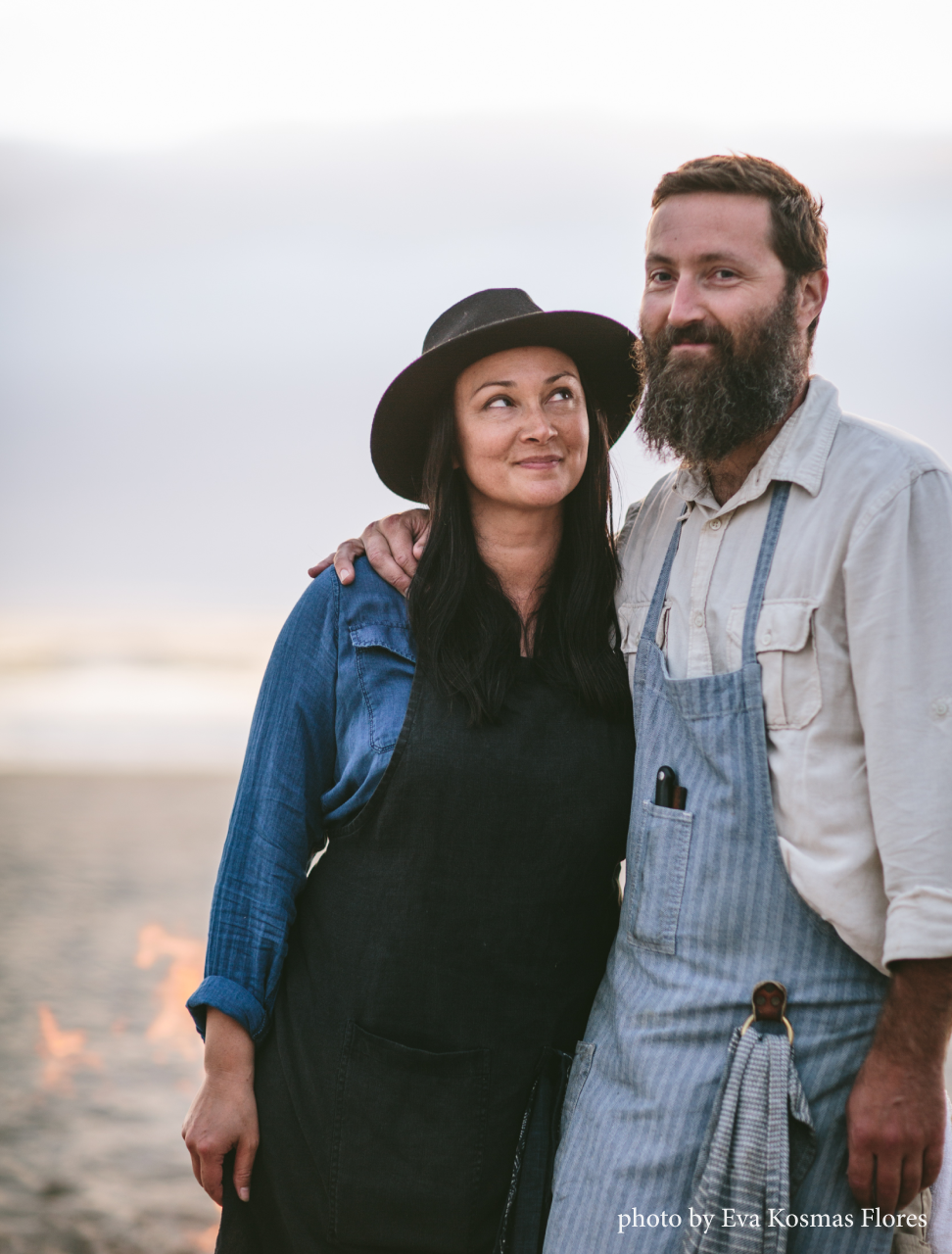 We're admittedly loose with the term paella.
We enjoy breaking from tradition and cooking all manner of dishes in a paella pan, swapping out rice for beans, tiny pasta or hominy. This "paella" is Spanish-leaning with a Southern accent, built on Lady Cream peas and starring rabbit--a lean, flavorful, sustainable protein that is most undersung in our estimation.
~ Mona Johnson & Jaret Foster, guest contributors and owners of Tournant
Learn more about Tournant
What You'll Need
Ingredients
For the shopping list
1 whole rabbit cut into eighths (boned out loins cut in two and four whole legs; kidneys and heart optional) - sub 6 chicken thighs
5 ounces of spicy, dried Spanish chorizo, sliced into coins
2 onions, diced
4 carrots, chopped
6 radishes, halved or quartered
2 ripe tomatoes, halved and grated on a box grater, skins discarded
1 bunch of rainbow chard, stems removed and finely chopped, leaves roughly chopped
2 cups of dry white wine
10 ounces of lady cream peas, cooked al dente and lightly seasoned
1/2 lemon
Mustard flowers or other edible flower (optional)
Equipment
From the kitchen
18" Paella Pan or Large Skillet (at least 12")
1 Chef Knife
1 Cutting Board
Measuring Cups
What you'll have to do
Step 1
Season rabbit or chicken meat liberally with sea salt and dust with silk chili. In an 18" paella pan or large cast iron pan sear the rabbit pieces until browned on all sides. Remove and set aside. Sear the chorizo on both sides until just beginning to crisp then remove and set aside.
Step 2
Add the onion and carrot and saute until beginning to caramelize. Add radishes and chard stems and saute until tender. Season with sea salt. Add the tomato pulp and cook until nearly dry. Add the white wine and cook for 1-2 minutes to cook off the alcohol.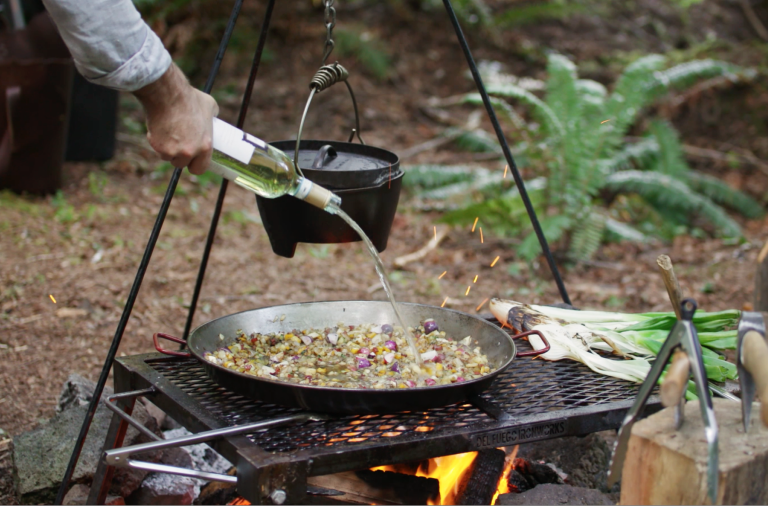 Step 3
Scoop in the cooked peas along with enough of their liquor to just cover peas, stirring gently to combine. Tuck in rabbit pieces and chorizo and allow to simmer for 10-15 minutes, adding more bean liquor or water as needed to cook the rabbit through.
Step 4
Reduce to a nice, thick stew-like consistency. Taste and season with salt if needed. When nearly finished scatter with chard leaves to just wilt and remove pan from heat to rest for 5-10 minutes. Drizzle with excellent olive oil, flaky salt and a good squeeze of lemon. Sprinkle with silk chili and garnish with mustard flowers. Enjoy!
Notes
-To reduce cooking time, soak peas overnight.

-The rabbit is delicious in this dish, but if you can't find rabbit, substitute 6 chicken thighs instead.

-We cooked this dish in an 18" paella pan over the fire, but it can alternately be cooked in a large skillet (at least 12") or on the stovetop.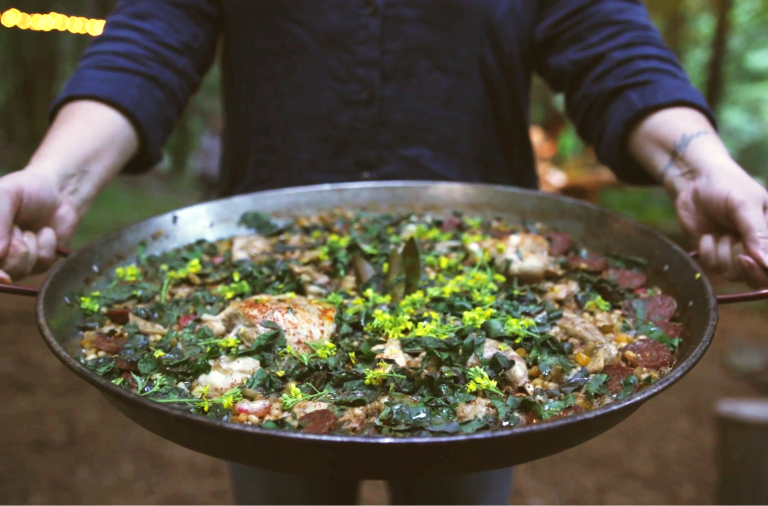 Shop this recipe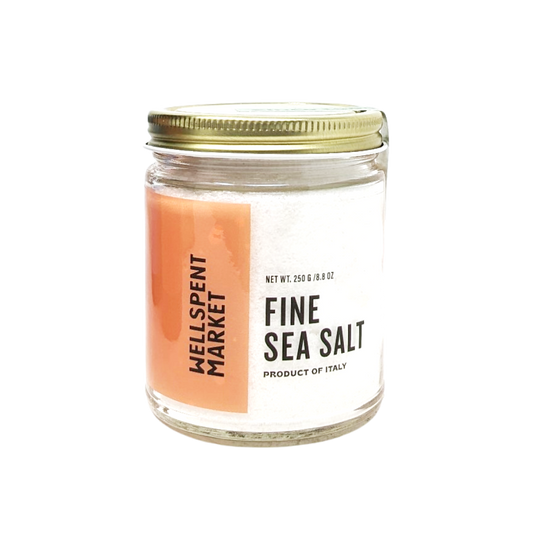 Salt, Herbs, & Spices
Vendor:
Gucciardo Vincenzo
Trapani - Sicily
Sale price
$7
Regular price
Unit price
per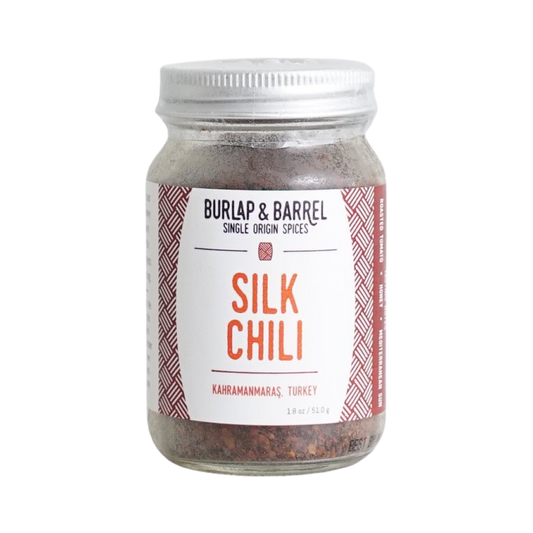 Salt, Herbs, & Spices
Vendor:
Burlap & Barrel
Kahramanmaras - Turkey
Sale price
$10
Regular price
Unit price
per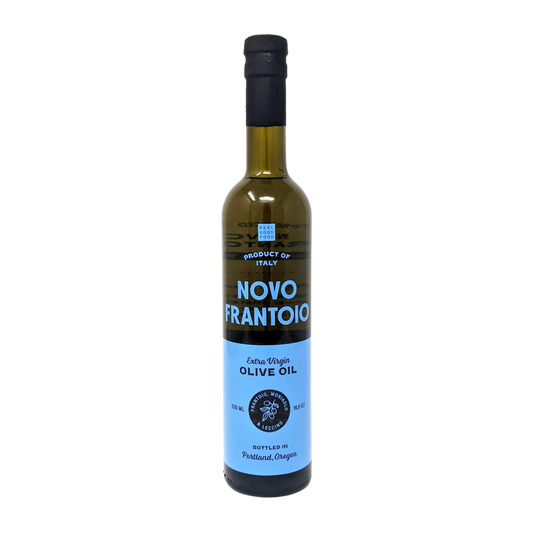 Olive Oil
Vendor:
Novo Frantoio
Tuscany - Italy
Sale price
$27
Regular price
Unit price
per
Salt, Herbs, & Spices
Vendor:
HAVSNØ
Gossen Island - Norway
Sale price
$16
Regular price
Unit price
per
More recipes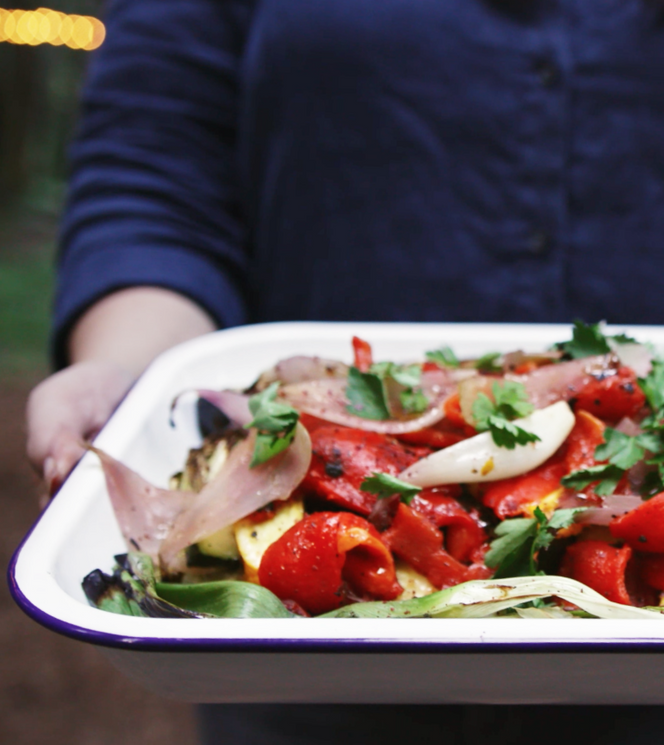 Seared Cabbage "Escalivada"
This dish of ember roasted vegetables is smoky, supple and sublime.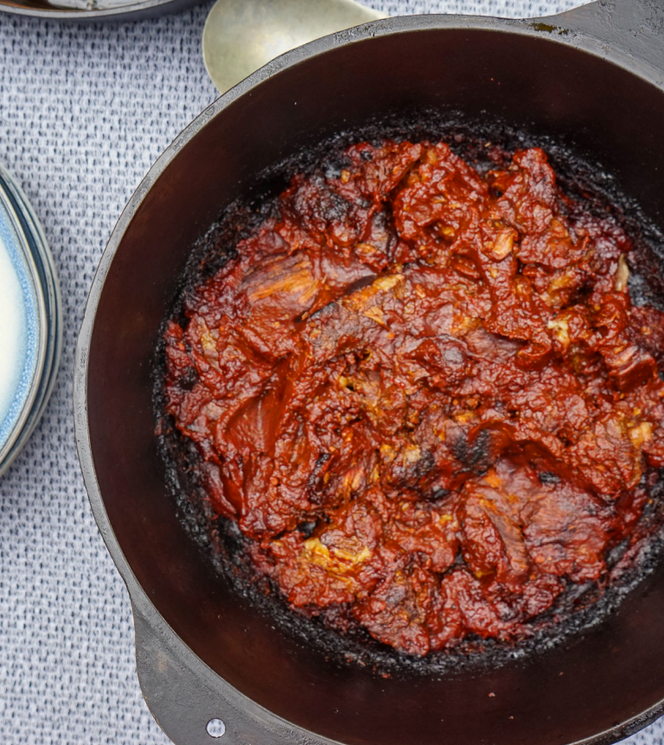 Birria-style Braised Beef
Birria is Mexican slang for "a mess," but you won't mind wiping this chile-spiked beef off your finger.