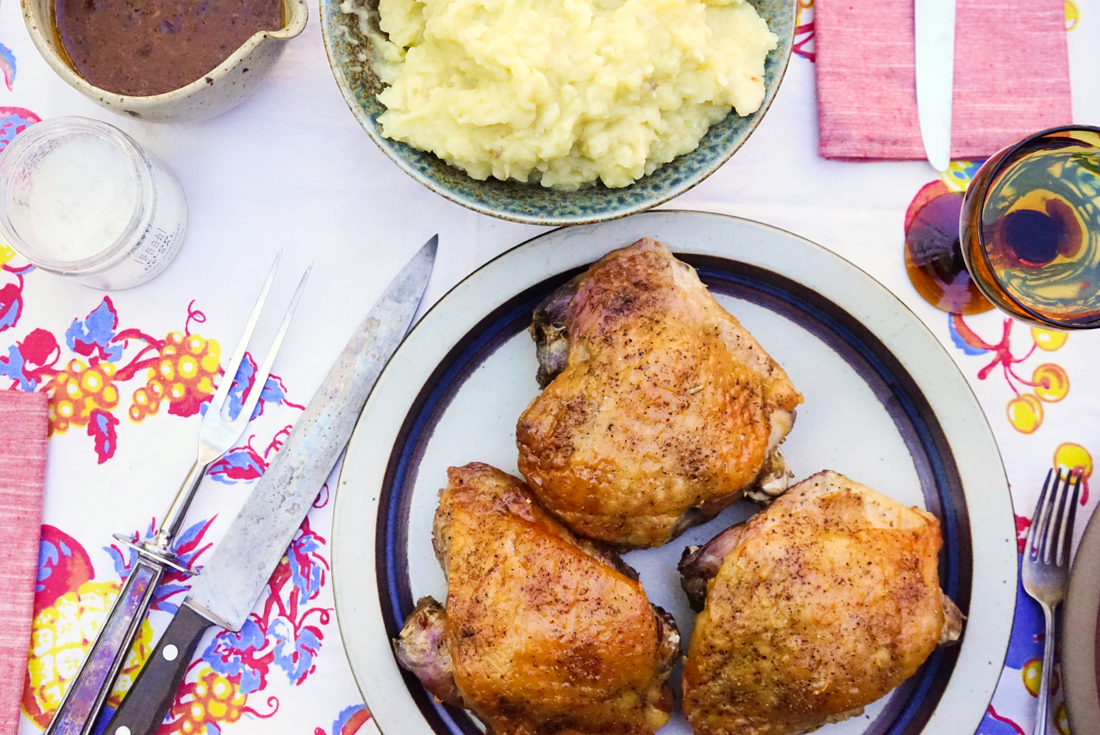 Turkey Thigh Confit & Gravy
30 minutes prep + few hours rest
3 1/2 hours active cooking
4 hours total time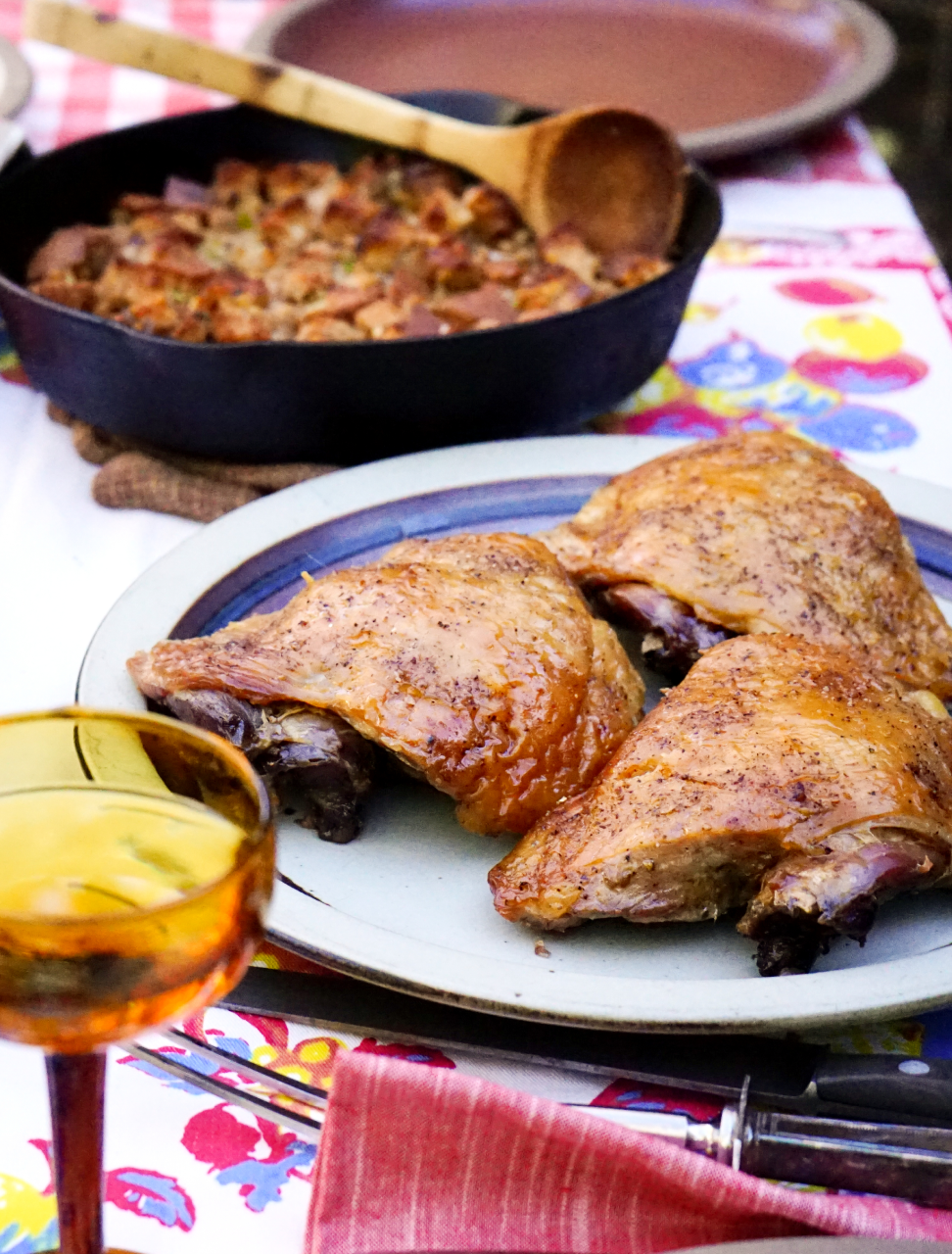 Refrigerators freed cooks from the preservation imperative, but we can embrace the tasty part of making confit.
Confit (pronounced cone-fee) derives from the French word for preserving, and most often described duck legs that were heavily salted, cooked slowly in duck fat, and stored at room temperature under the congealed fat to prevent spoilage.

Turkey thighs can be pretty big, but plan on at least one person, then add at least one more for leftovers. And while this uses a lot of olive oil, some of it goes into the gravy, and the rest can be saved for reuse in savory dishes.
What You'll Need
Ingredients
For the shopping list
3-4 turkey thighs
As needed black pepper
To taste soy sauce
Splash of cream (optional)
1/2 cup of all purpose flour
Equipment
From the kitchen
1 Chef's Knife
1 Cutting Board
1 Heavy Skillet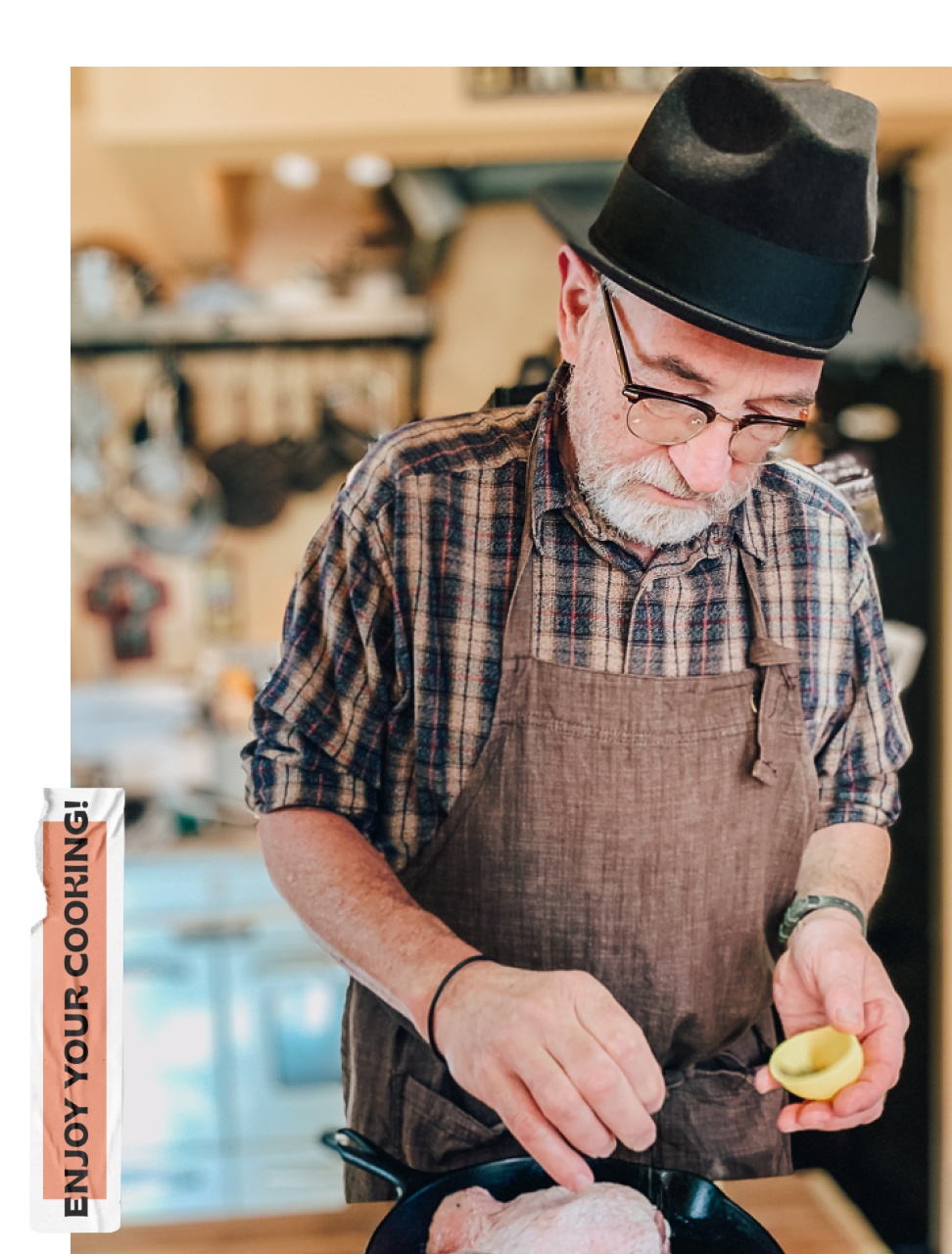 "If you're not into roasting a whole turkey or just want something delicious, try this simple technique using the big bird's best part.
It's our favorite way to cook turkey, and thighs are easy to find this time of year. You can make this a day or two ahead of time."
~ Jim Dixon, founder Wellspent and Real Good Food
What you'll have to do
Turkey Thigh Confit Step 1
Give the thighs a good dusting of sea salt and black pepper on both sides, then arrange them snugly, skin side up, in a skillet or baking pan; refrigerate uncovered overnight or for a few hours to dry out.
Step 2
Add enough extra virgin olive oil to nearly cover the thighs, but leave the skin exposed so it gets crispy. Cover and cook in a 300F oven for about 3 hours.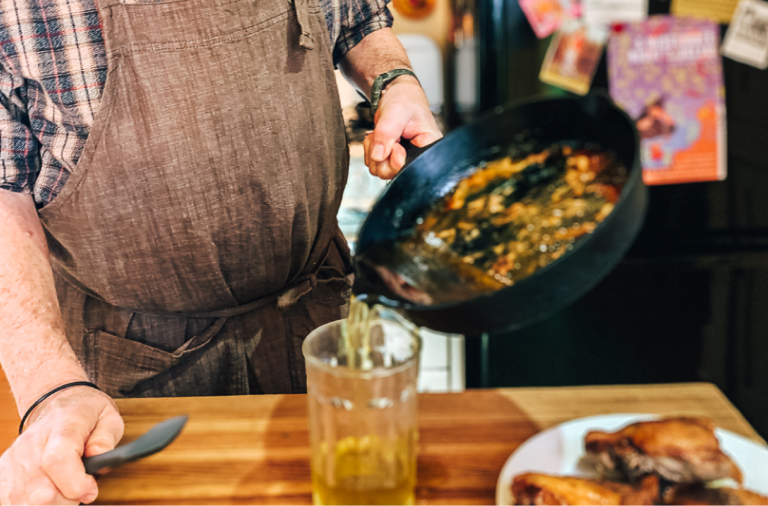 Step 3
Use tongs to move the thighs from the skillet to a plate. Pour the olive oil, now rich with meat juices, into a tall, heat-proof container. As it cools, the oil and juices will separate and can be used for gravy or to cook vegetables.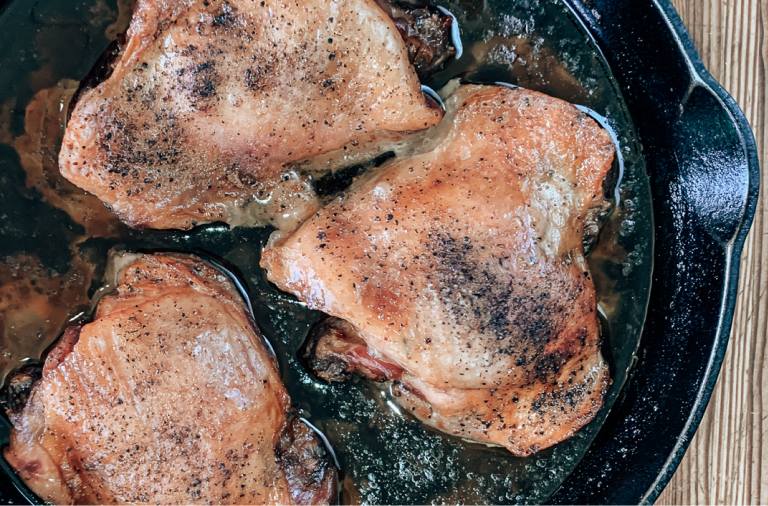 Gravy Step 1
Combine 1/2 cup olive oil (if you made the turkey thigh confit, use the olive oil and meat juices used to cook the turkey thighs) with the flour in a skillet and cook over medium heat, stirring often, for about 15 minutes or until the roux looks like milk chocolate.

if you made the turkey thigh confit, use the olive oil and meat juices used to cook the turkey thighs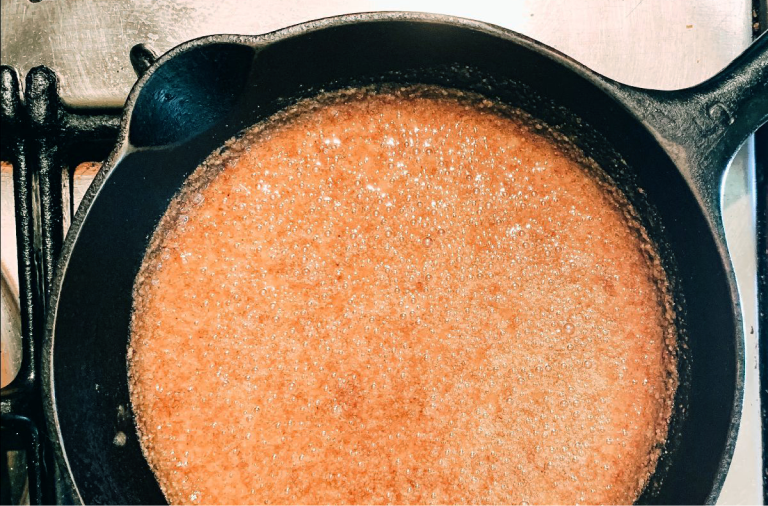 Step 2
Taste and add salt and black pepper as needed. A splash of soy sauce adds both umami and color, and a little vinegar can brighten the flavor. I usually add some cream, too, but it's optional.

The gravy should be thick enough to coat a spoon, but thin enough to pour. If it's too thick, add a little more water. If it's too thin, make another small batch of roux, and stir in some of the gravy before adding it back to the pot.
Shop this recipe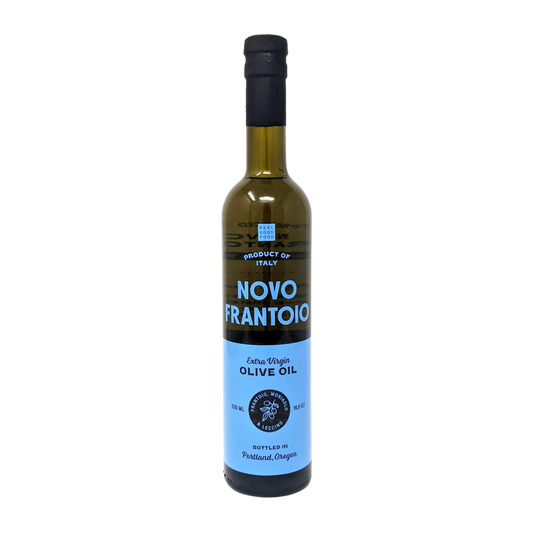 Olive Oil
Vendor:
Novo Frantoio
Tuscany - Italy
Sale price
$27
Regular price
Unit price
per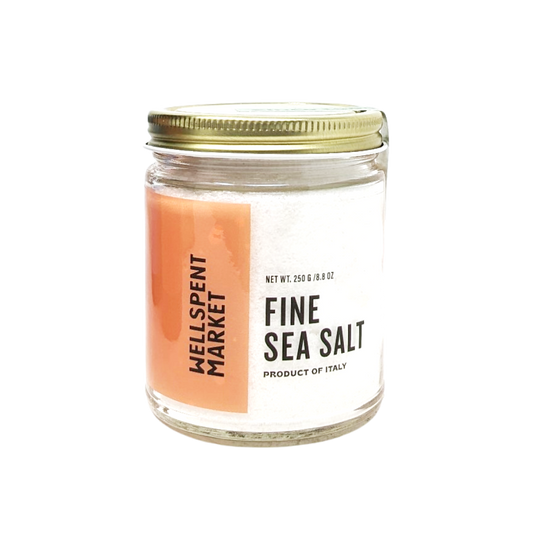 Salt, Herbs, & Spices
Vendor:
Gucciardo Vincenzo
Trapani - Sicily
Sale price
$7
Regular price
Unit price
per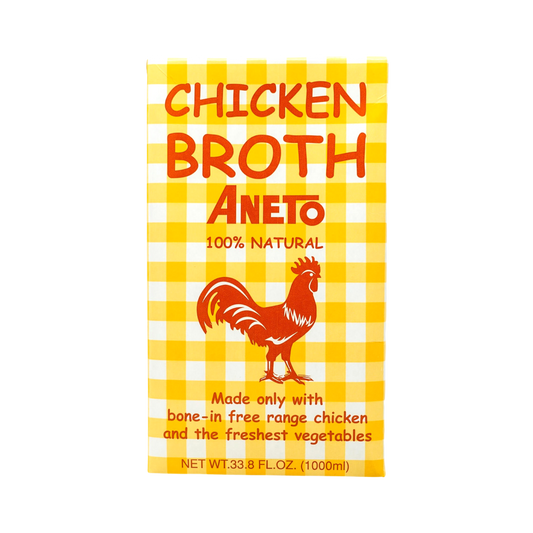 Sauces & Condiments
Vendor:
Aneto
Artes - Spain
Sale price
$9
Regular price
Unit price
per
Out of stock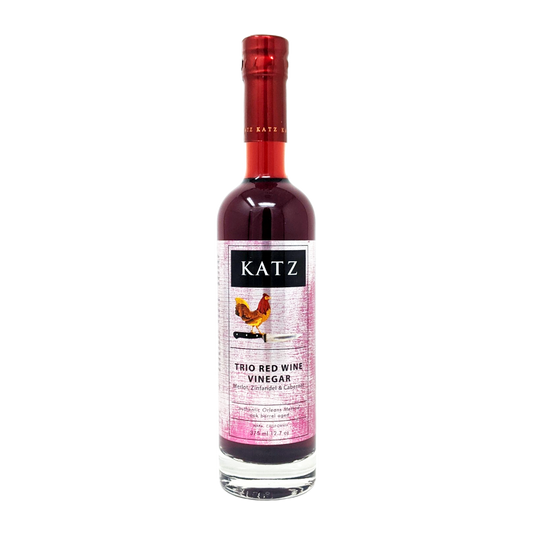 Vinegar
Vendor:
Katz Farm
Napa - California
Sale price
$15
Regular price
Unit price
per
More recipes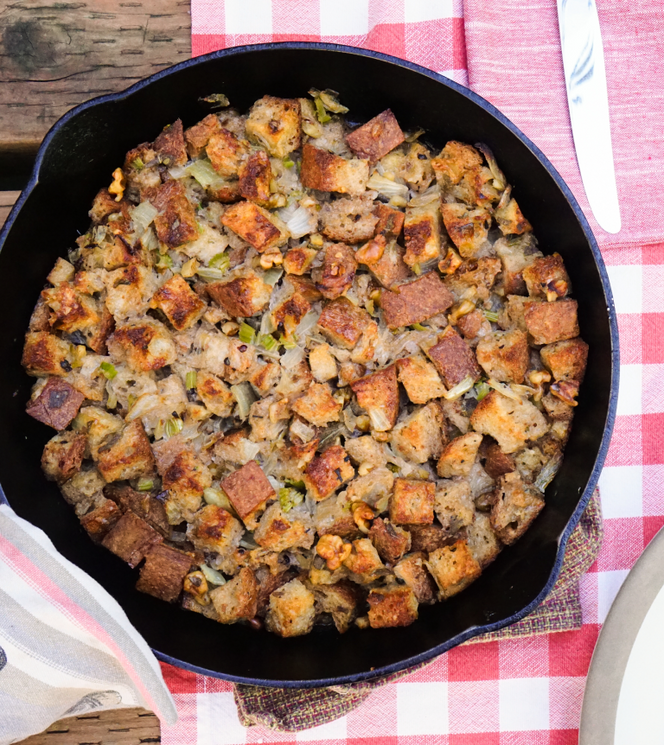 Bread Stuffing
It's not just for Thanksgiving, and our stuffing/dressing made with a Japanese-style dashi stock doesn't even need turkey.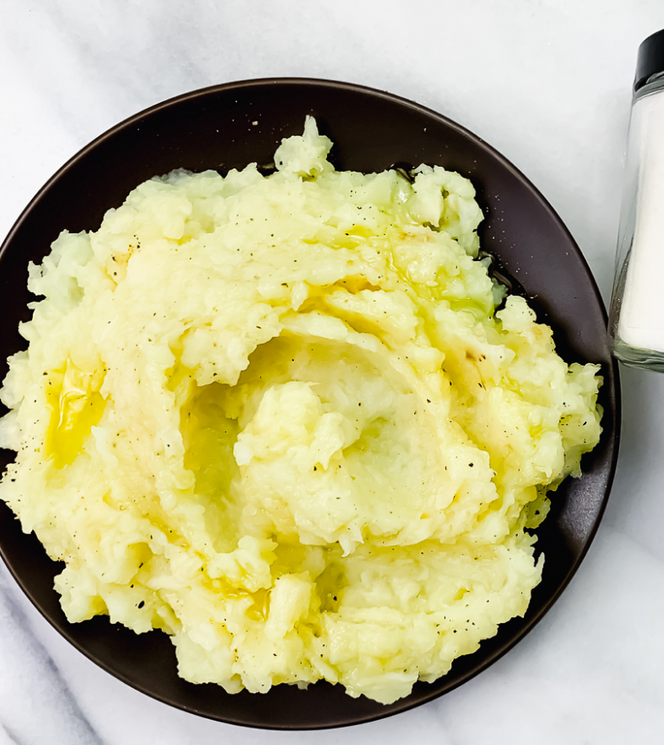 Olive Oil Mashed Potatoes with Celeriac
Celeriac, aka celery root, and a copious amount of extra virgin olive oil make ordinary mashed potatoes something special.