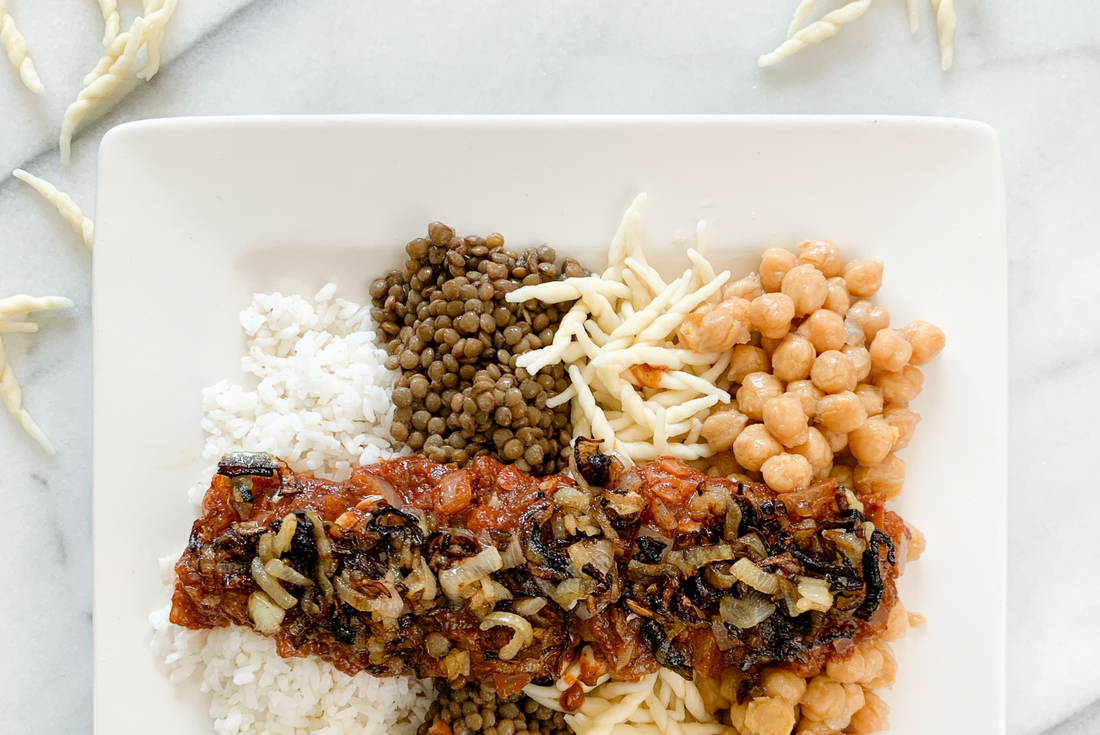 Koshary
25 minutes prep (if rice, chickpeas, and lentils already cooked)
20 minutes active cooking
45 minutes total
Often called Egypt's national dish, koshary began as street food for the country's poor working class.
A culinary mash-up inspired by the Indian rice-and-dal dish called khichri or kitchary and bolstered with pasta by homesick Italian-Egyptians, koshary is cheap, filling, and, most important, delicious.
What You'll Need
Ingredients
For the shopping list
1/4 pound of Rigatoni or similar shaped pasta
1-2 Shallots
Equipment
From the kitchen
1 Chef's Knife
1 Cutting Board
1-3 Soup Pots
1 Skillet
Measuring Cups
Measuring Spoons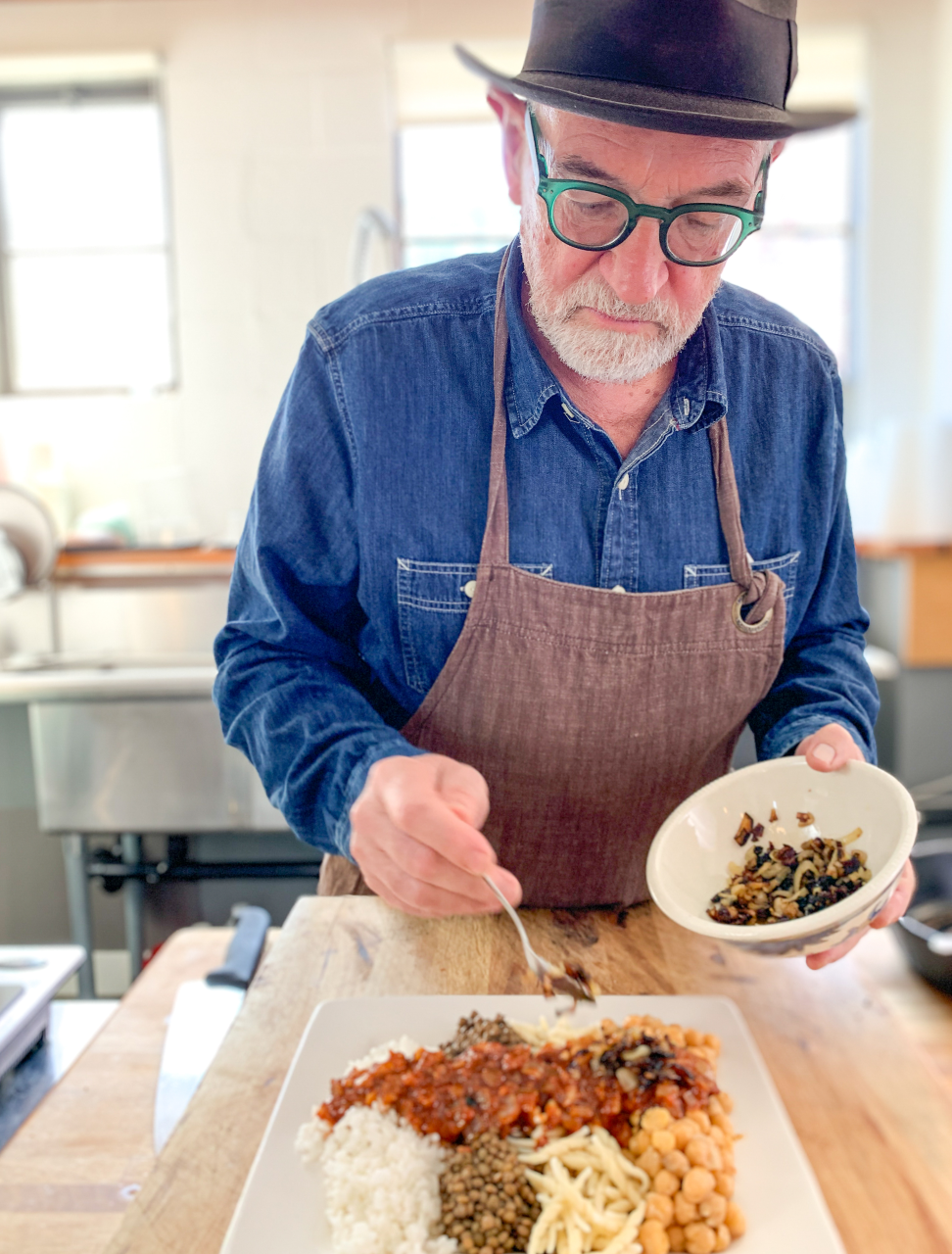 "While cooking the rice, lentils, beans, and pasta can take time, if you've got a couple of those already cooked and
the refrigerator, putting everything together goes much faster."
~ Jim Dixon, founder Wellspent and Real Good Food
What you'll have to do
Step 1
Cook the chickpeas earliest; they take the longest. We use Jim's no-soak beans in the oven technique. Combine about a half pound of chickpeas with at least 4 cups of water, a teaspoon of sea salt, and a few tablespoons of olive oil in an ovenproof dish. Cover them and cook at 250F for several hours, checking occasionally to make sure the beans are covered with water. Cooking time varies, but longer is better; the beans should be very tender but not mushy.

Cooking on the stove is a bit faster. Cover the beans (soaked or not) with a couple of inches of water, add salt, bring to a gentle boil, and simmer until tender, about 90 minutes. Add water to keep the beans covered while they cook if needed.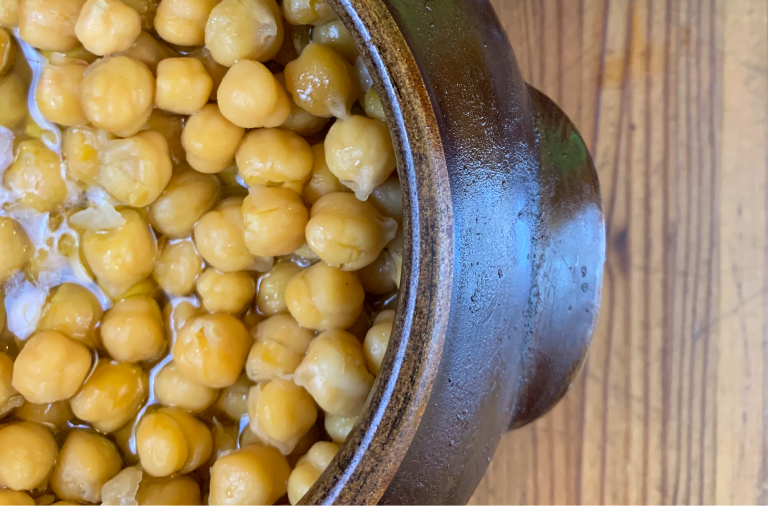 Step 2
The Sicilian lentils from Valdibella are probably most like Egyptian brown lentils, but any lentil that hasn't had it's outer hull removed (aka non-decorticated lentils such as French green or Pardina brown) will work. They don't break down like the lentils used for dal.

Simmer a cup or so in salted water to cover for about 25 minutes or until tender; drain any excess water.
Step 3
We cook rice the way the Italians, like pasta, using a big pot of boiling water and draining the rice once it's done. If you like your rice cooker, or if you've mastered stovetop steaming, stick with it. For the Italian approach, boil a couple of quarts of water, add a pinch of salt, and pour in a cup of rice.

Brown rice is ready after 35 minutes at an active boil (eg, you see the water bubbling away), white rice takes about 9 minutes. You can taste the rice as it's cooking, and if you like it softer or more al dente, adjust your time accordingly. When the rice is ready, drain off the water, cover the pot, and let it sit for 10 minutes.
Step 4
Cook about a quarter pound of pasta, preferably a short shape like the trofie or rigatoni. Long pasta like spaghetti is fine, but break it up into shorter pieces before you cook it.
Step 5
To make the sauce, chop a shallot or two (onions are fine, but shallots brown more quickly). Cook them in olive oil with a pinch of salt over medium heat until nicely browned, then add a teaspoon of New York Shuk ras el hanout spice blend and cook for another minute.

Add about a cup of crushed tomatoes, reduce the heat, and let the sauce simmer for a few minutes. Then add about a cup and half each of the cooked chickpeas, lentils, rice, and pasta. Cook gently until heated through and serve in bowls.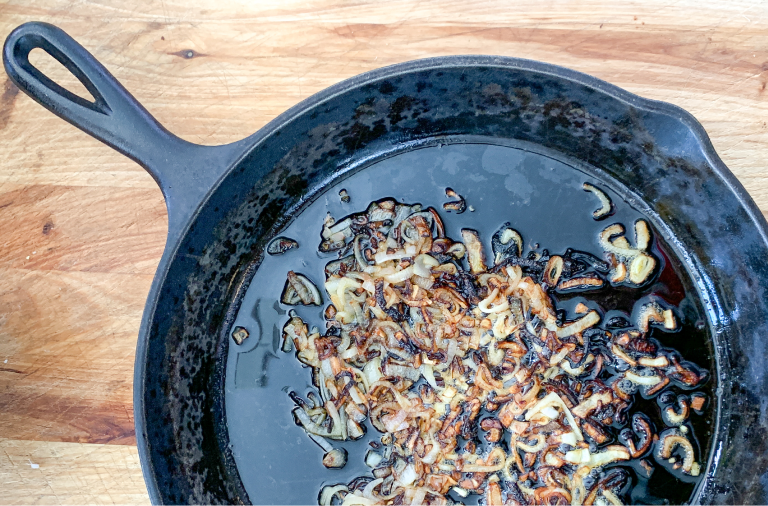 Step 6
For more dramatic presentation, heat the chickpeas, lentils, rice, and pasta separately. Arrange them on a serving platter with the tomato sauce and let everybody mix their own bowl of koshary.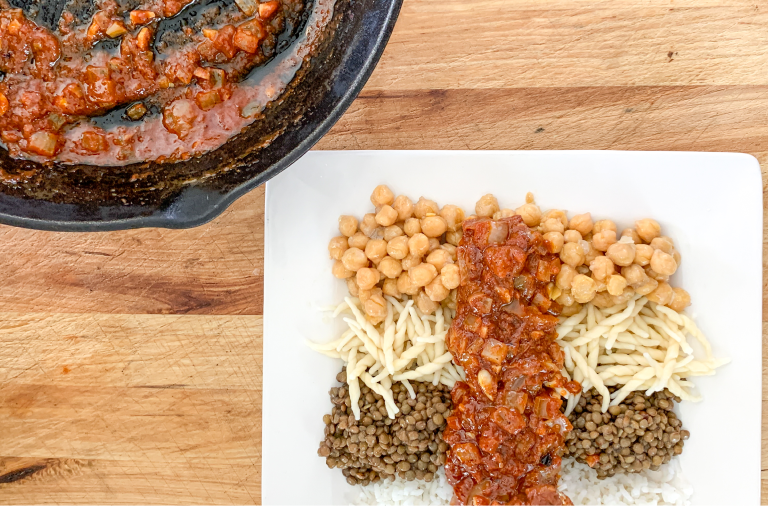 Shop this recipe
Beans
Vendor:
Valdibella
Sicily - Italy
Sale price
$7
Regular price
Unit price
per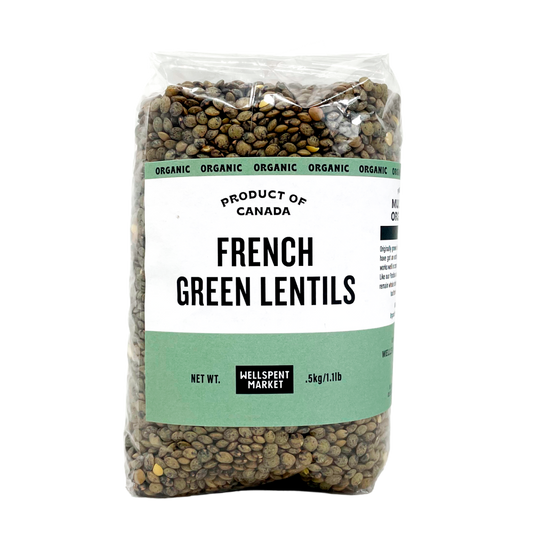 Beans
Vendor:
Multiple Organics
Canada
Sale price
$6
Regular price
Unit price
per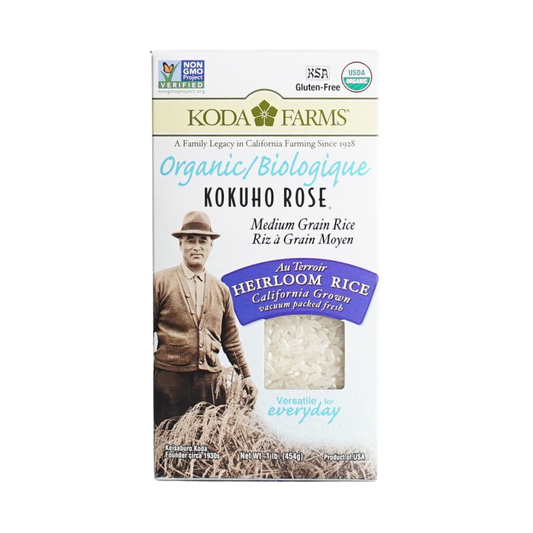 Rice & Grains
Vendor:
Koda Farms
San Joaquin Valley - California
Sale price
$6
Regular price
Unit price
per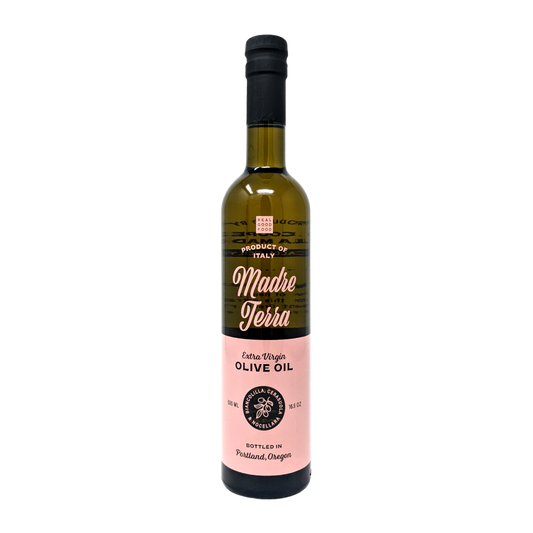 Olive Oil
Vendor:
Madre Terra
Sicily - Italy
Sale price
$25
Regular price
Unit price
per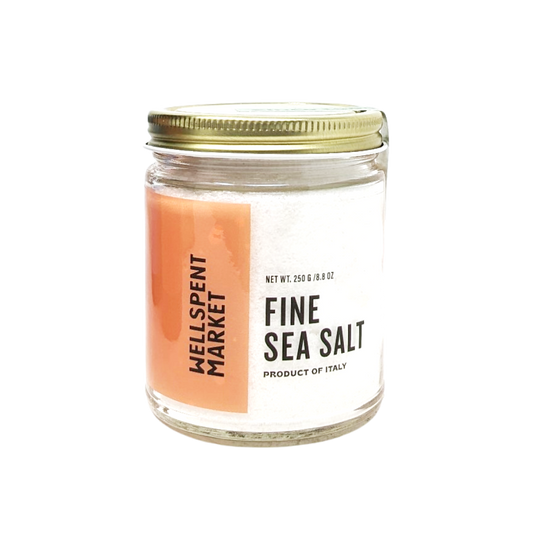 Salt, Herbs, & Spices
Vendor:
Gucciardo Vincenzo
Trapani - Sicily
Sale price
$7
Regular price
Unit price
per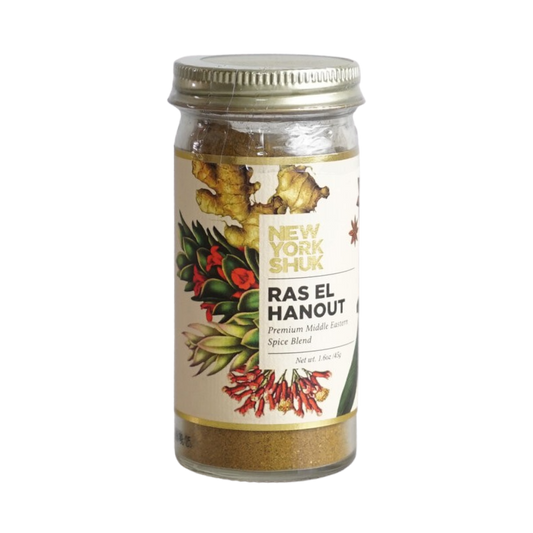 Salt, Herbs, & Spices
Vendor:
New York Shuk
Brooklyn - New York
Sale price
$11
Regular price
Unit price
per
Pasta & Tomatoes
Vendor:
Bianco di Napoli
Yolo Valley - California
Sale price
$7
Regular price
Unit price
per
More recipes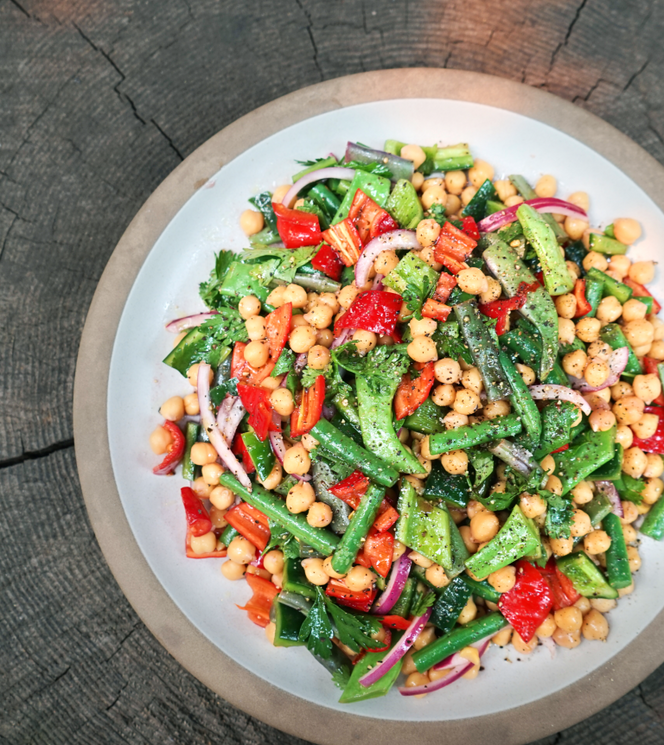 Garbanzo & Green Beans
This flavor-packed salad goes with almost everything.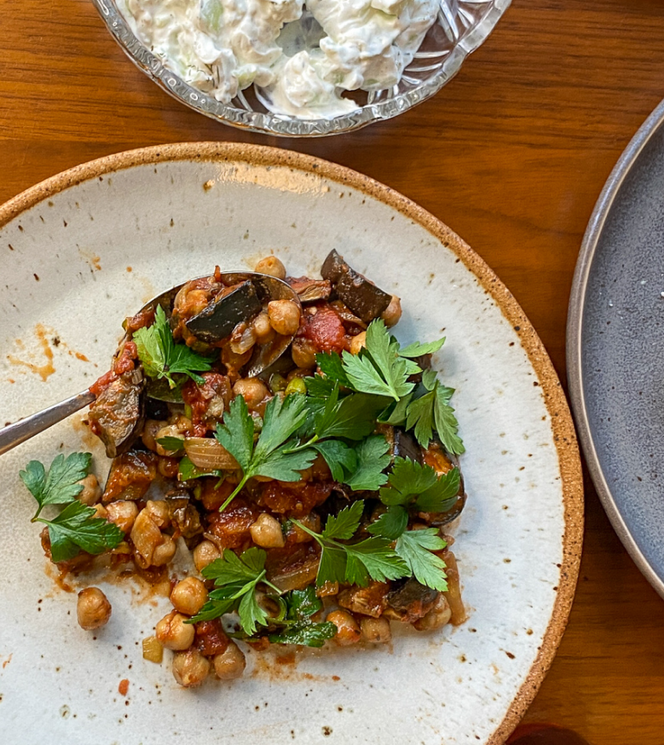 Musaka'a, Roasted Eggplant with Spiced Chickpeas & Tomatoes
Adapted from Yasmin Khan's book Zaitoun - Arabic for olive, both a fundamental ingredient and a symbol of peace.