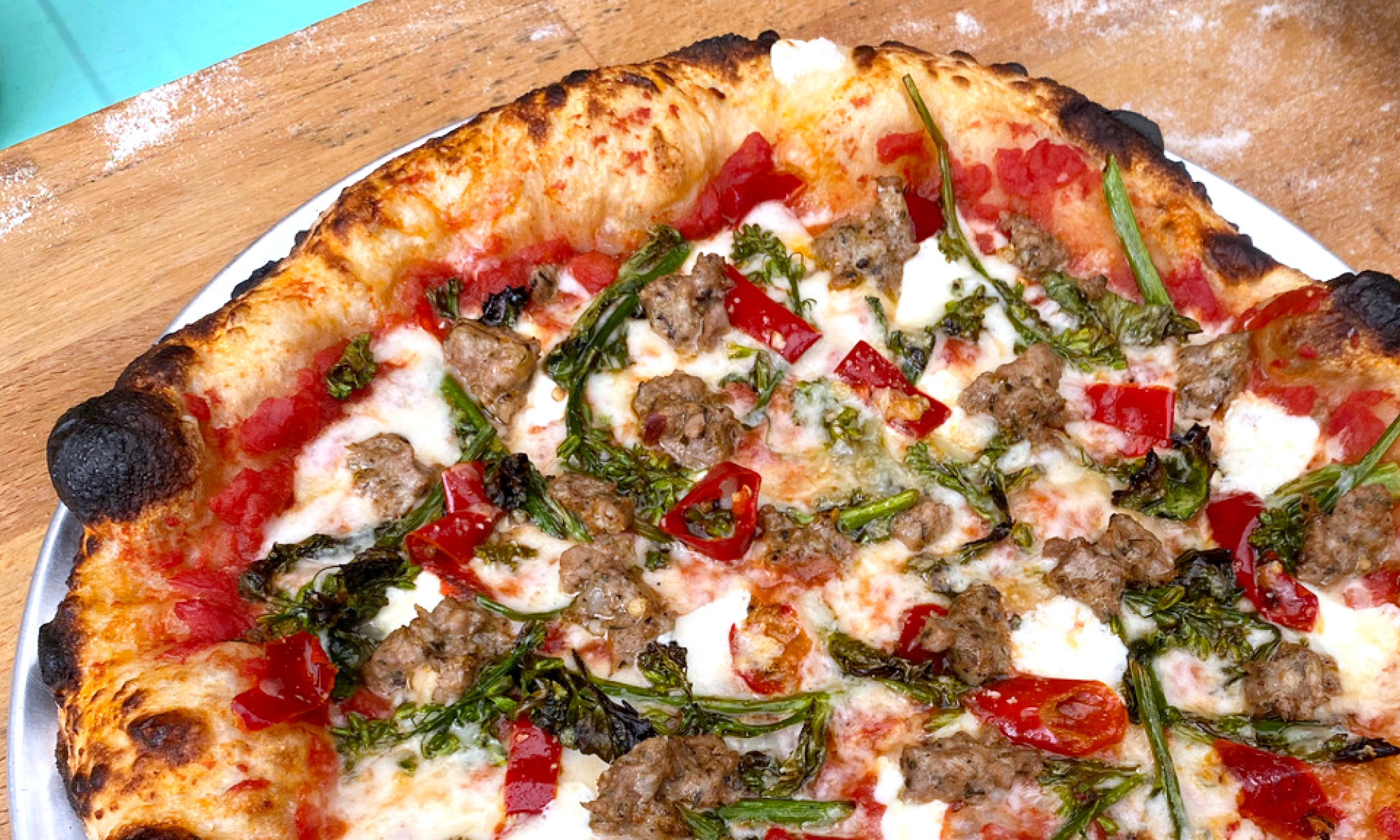 We didn't need anybody to tell us we have great pizza here in Portland. We've been supplying the city's best pizza makers with extra virgin olive oil for nearly 20 years. But we're happy that the rest of the world is learning about it. 
Scottie Rivera fell in love with pizza in his hometown of Brooklyn. Headed toward Prospect Park, he and his friends would stop at Smiling Pizza next to the F train subway stop on 7th Avenue and grab a 'regular' slice, aka cheese pizza to those of us not from New York. And while he always liked to cook, he never thought he'd grow up to be a pizzaiola.

He became a Mac genius instead. But when his wife Amy started grad school in New Haven and he had to ride the train an hour to the nearest Apple store, he started thinking about a career change. Scottie took a job at a local cafe and dove into food service, learning about cooking as well as the business side of the restaurant world. When Amy got into a PhD program at Portland State, Scottie became the 'egg guy' at the legendary Bread & Ink Cafe on Se Hawthorne. With six burners always blazing, he fried, poached, and scrambled for the perpetual long line of brunch customers.

His experience got him into Ava Gene's, but he soon felt like he was out of his league. 'I was on the line with industry vets and culinary school grads," says Scottie, "I felt inadequate and spent my free time watching Youtube knife skills tutorials. I wasn't sure I had what it took to be a real chef."
Amy pointed out that he was making a lot of pizza at home and was good at it, so maybe he should just make pizza. Scottie wasn't sure. He thought making pizza wasn't the same as being a chef. But he took a chance and talked to Will Fain of Handsome Pizza; when a spot opened up, he went to work making pizza. That gave him the chops to help open East Glisan Pizza, where he refined his sourdough to work on a larger scale. After a couple of years, he opened Scottie's on SE Division.

We're proud to offer Scottie's dough and sauce so you can make great pizza in your own kitchen.
Scottie's Pizza Dough
Ahh, the magic of fermentation! With nothing more than flour, water, olive oil, and salt, Scottie's Pizza Parlour turns out our favorite dough in Portland. Tangy and chewy thanks to that long ferment, you can use it to make any variety of flatbreads, and (guilty pleasure alert) breadsticks! Each package contains 2 dough balls, enough for the whole family (or... just you. We won't judge).
Buy dough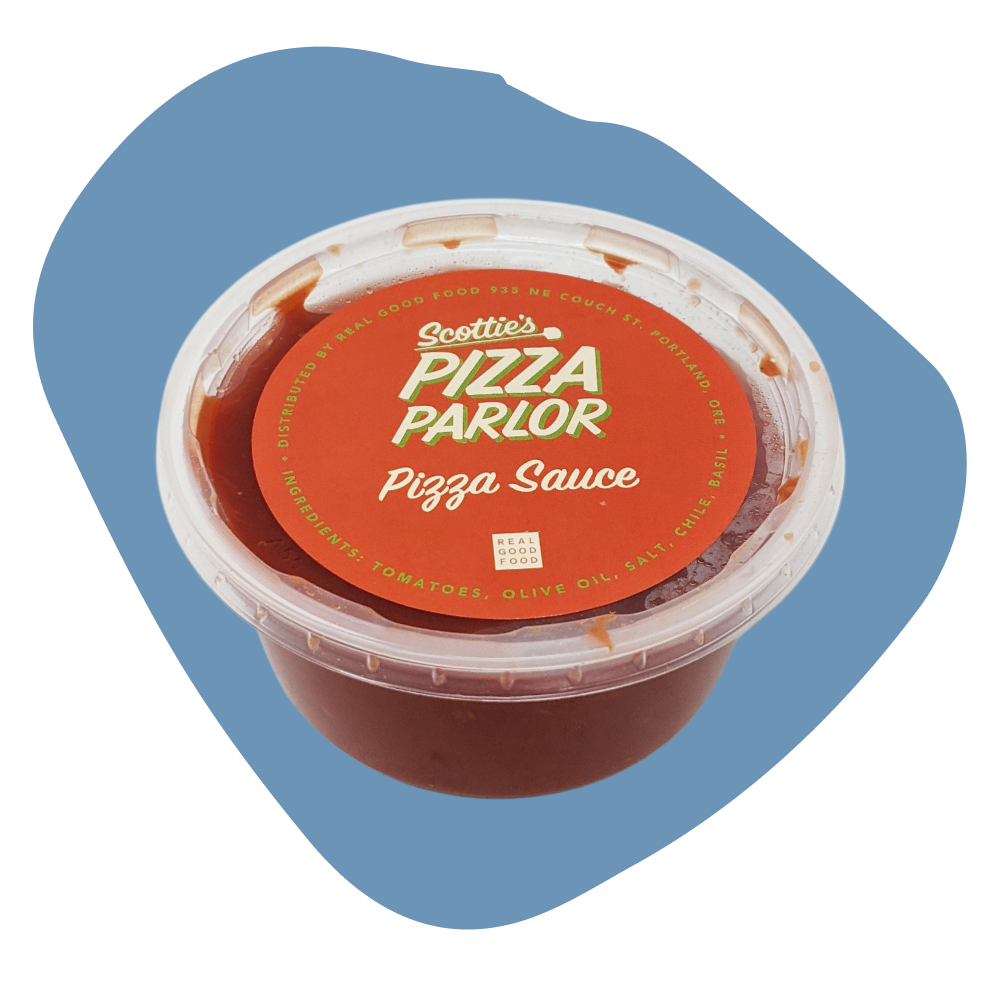 Scottie's Pizza Sauce
A simple combination of tomatoes, olive oil, chilis and basil, Scottie's Pizza Sauce is somehow more than the sum of its parts. Rich with deep tomato flavor, the whisper of smoky chili and kiss of subtly herbaceous basil lend this sauce its satisfying complexity. Pairs perfectly with Scottie's Dough,and is also nice as a quick pasta or dipping sauce. Chef's kiss!
Buy sauce
Instructions
Allow the dough to sit for 30-90 minutes at room temperature before baking.

Set a pizza stone or baking steel on the 2nd oven rack from the top and preheat to the highest possible temperature (500-550ºF) for at least 45 minutes.

Use a spatula or floured hands to gently transfer the dough from the container to a shallow bowl of all-purpose or semolina flour.

Turn the dough over a few times to coat liberally, then transfer to a smooth, lightly floured surface.

With floured hands, press down (not outward) using the lengths of your fingers (not the tips) to flatten the dough into a circle, then lift and gently hold by the edge, rotating hand over hand allowing the dough to extend into a roughly 12" circle thanks to gravity and the occasional gentle stretch.

Dust the work surface again before setting the dough down and topping.

Top sparingly – an overly topped pizza will be soggy and disappointing!

Use a pizza peel to transfer the pizza to the hot baking surface in the oven, and switch to broiler mode if possible.

Bake 4-8 minutes or to your liking, watching the pizza closely and rotating occasionally to evenly brown the crust, then move to a cooling rack and allow to rest at least 2 minutes before slicing and serving.
Cheese and Herb Flatbread
Take a break from the usual pizza with this herb and cheese flatbread.