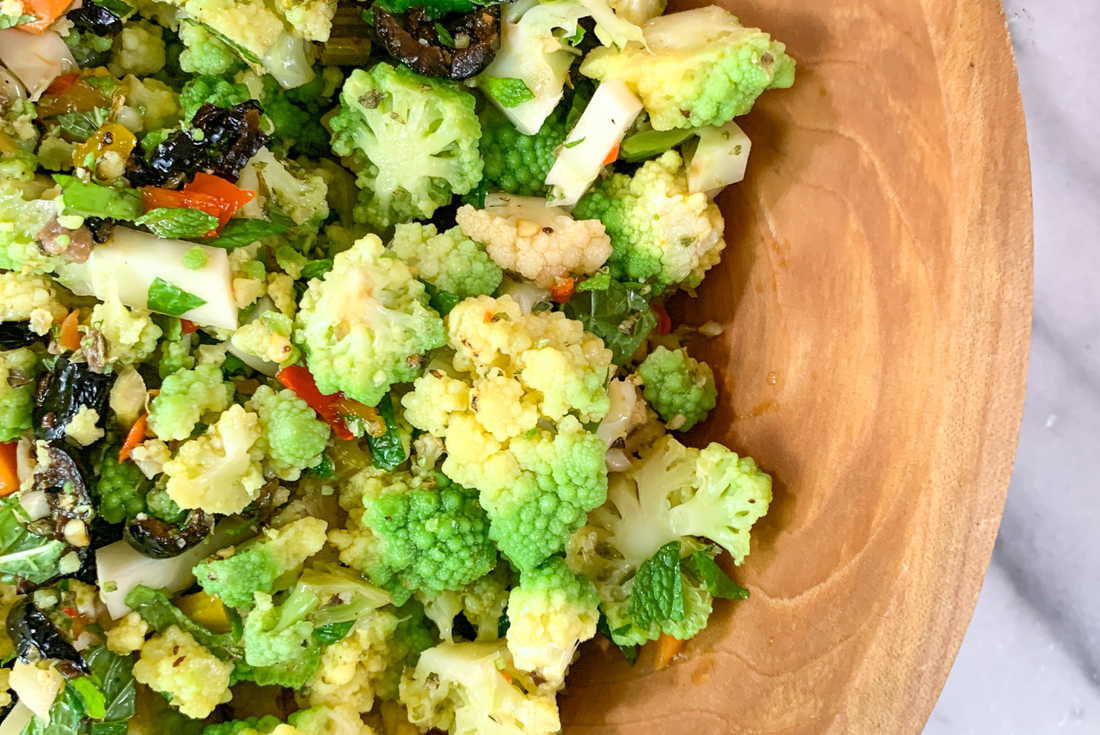 Reinforced Romanesco
30 minutes prep
10 minutes active cooking
40 minutes total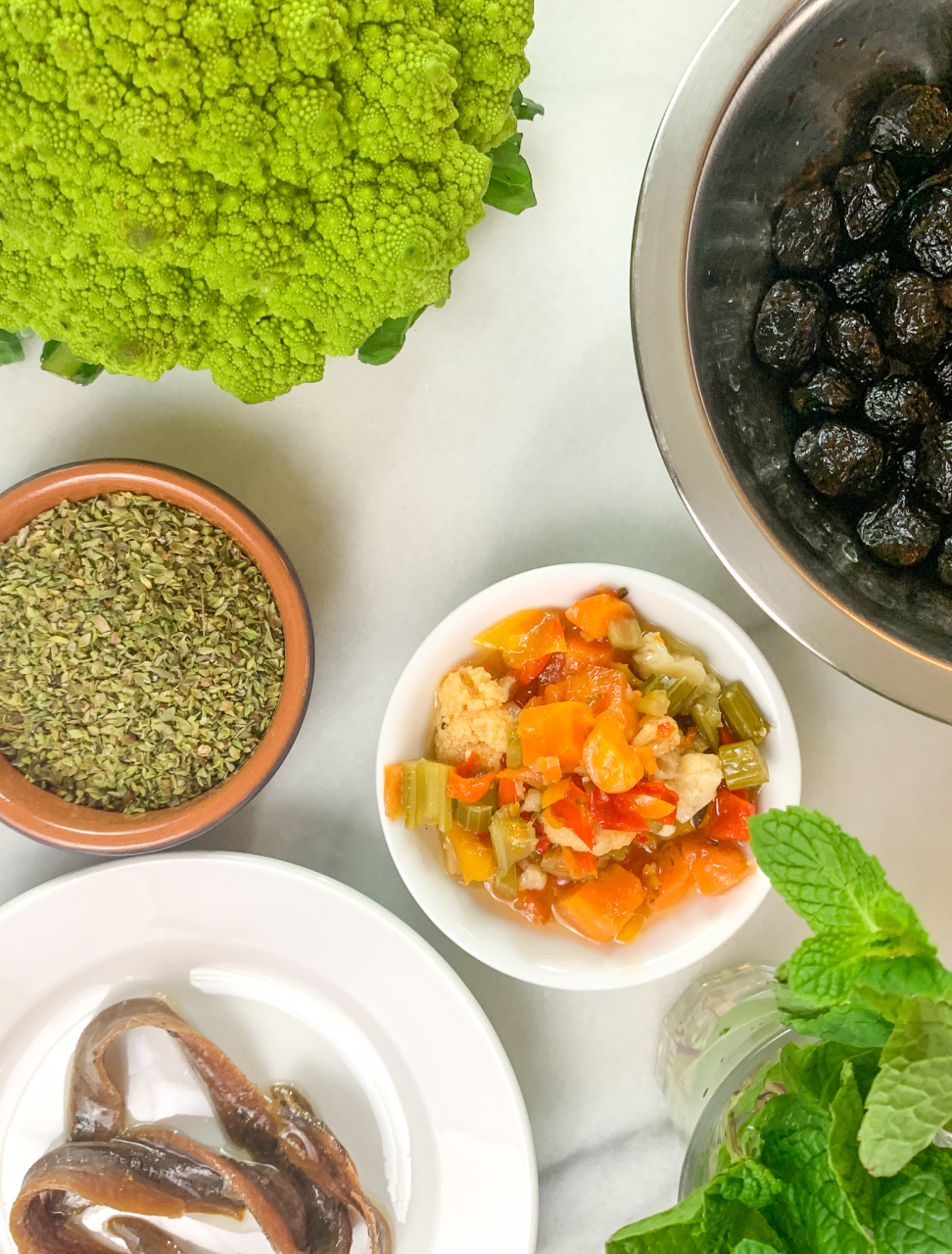 In Naples a version of this salad, called insalata rinforzata, is often made for Christmas Eve and "reinforced" over the next week...
with more cauliflower and the addition of pantry staples like olives, capers, and anchovies.

Use the recipe as a guide but feel free to call in your own reinforcements, like hard-boiled eggs, garbanzo beans, stale bread cubes, cubes of cured salami or ham, marinated artichoke hearts, or other fresh herbs.
What You'll Need
Ingredients
For the shopping list
1 head Romanesco Broccoli
1/2 cup Goat Horn Peppers in Oil
1/2 cup of black, green or mixed olives, pitted
1 red onion, chopped
2 Celery stalks with leaves, chopped
1/2 cup of Fresh Mint or Flat Leaf Parsley, chopped
1/2 cup of Golden Raisins
2 cloves of Garlic, finely chopped
Equipment
From the kitchen
1 Stock Pot (big enough to boil head of romanesco)
1 Chefs Knife
1 Pairing Knife
Measuring Cups
Measuring Spoons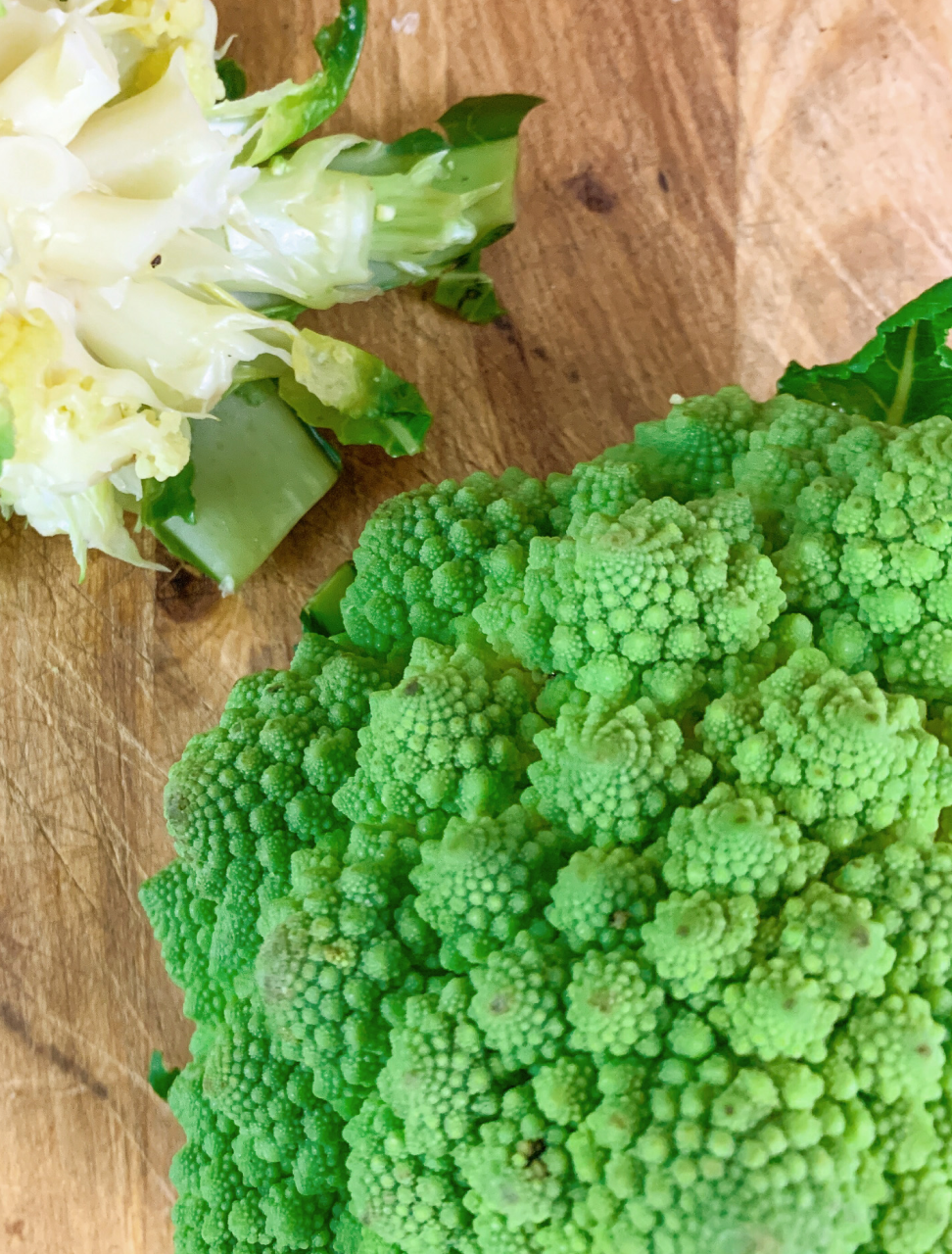 "The bright green, fractal cones of romanesco broccoli look like something from Dr. Suess,
and I like to preserve the shapes when I serve this striking member of the cabbage family. It's often called a cauliflower, but the flavor is a bit more delicate."
~ Jim Dixon, founder Wellspent and Real Good Food
What you'll have to do
Step 1
Soak the capers in cold water for 15 minutes, then drain.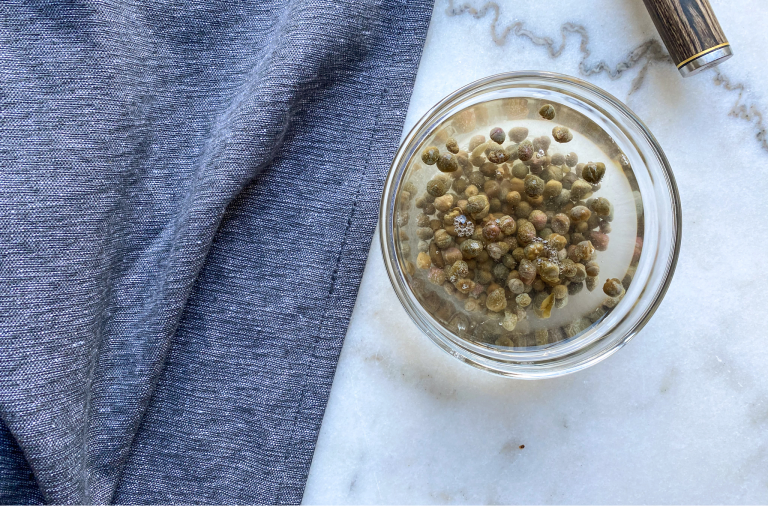 Step 2
Drop the whole head of romanesco into a pot of well-salted boiling water, and remove it after 3 minutes (don't wait for the water to return to a boil to start timing). Let it cool enough to handle, then use the tip of a small knife to cut off the Fibonacci-numbered florets. Set them aside while you chop the stem and core into smallish, bite-sized pieces.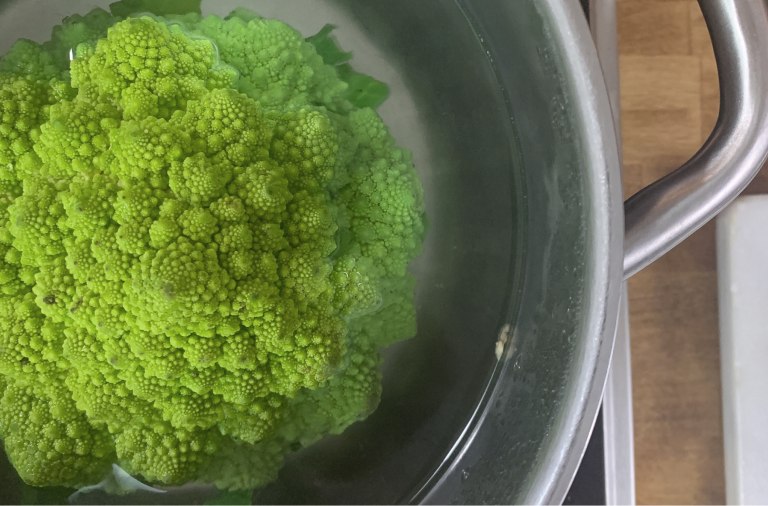 Step 3
Combine the chopped romanesco with the other ingredients, taste and add salt as needed. While you can eat the salad right away, it'll be better if allowed to rest for at least an hour.
Step 4
I think this tastes best at room temperature, and it lasts for days, especially with reinforcements.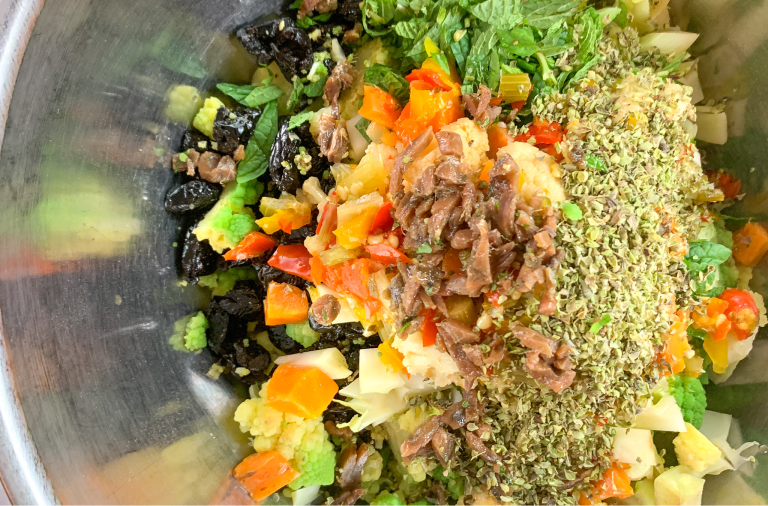 Shop this recipe
Beans
Vendor:
Valdibella
Sicily - Italy
Sale price
$7
Regular price
Unit price
per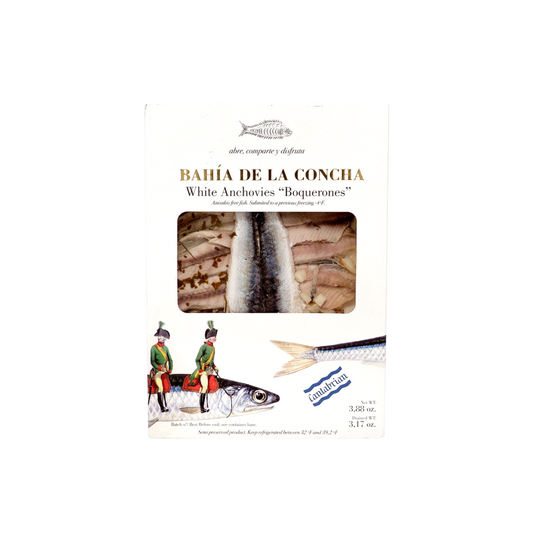 From the Sea
Vendor:
Bahia de la Concha
San Sebastian - Spain
Sale price
$16
Regular price
Unit price
per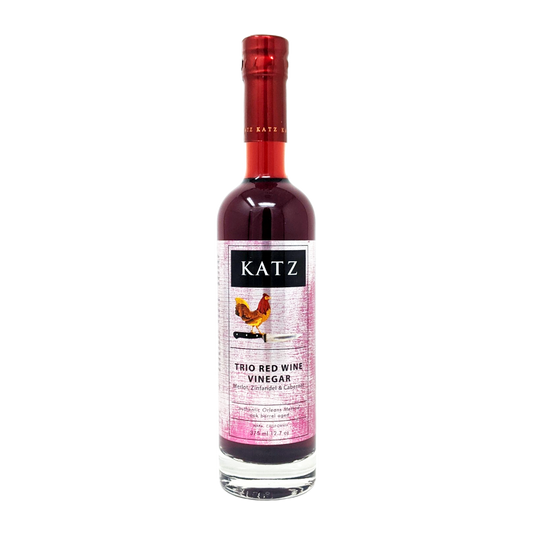 Vinegar
Vendor:
Katz Farm
Napa - California
Sale price
$15
Regular price
Unit price
per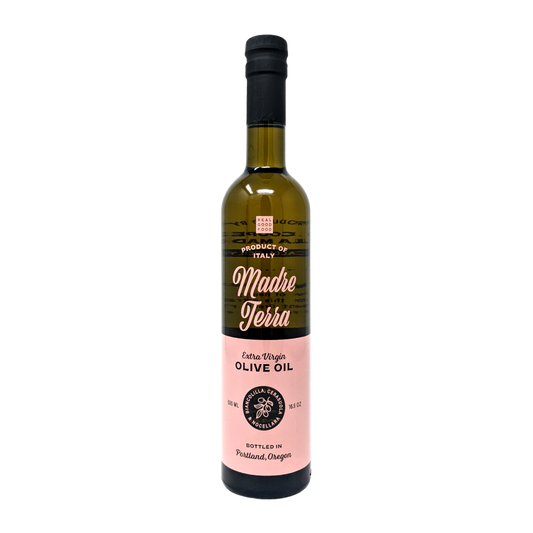 Olive Oil
Vendor:
Madre Terra
Sicily - Italy
Sale price
$25
Regular price
Unit price
per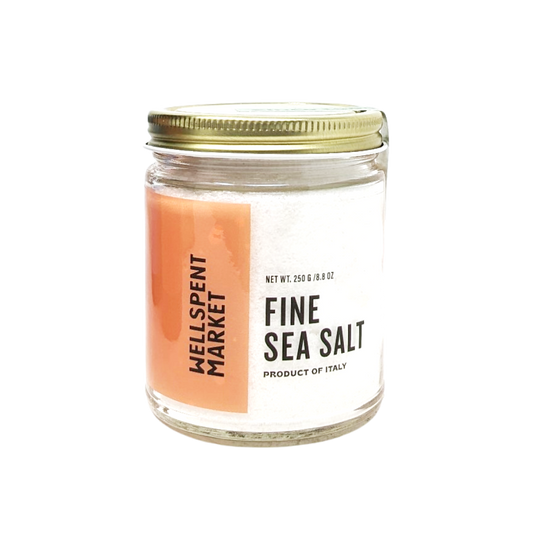 Salt, Herbs, & Spices
Vendor:
Gucciardo Vincenzo
Trapani - Sicily
Sale price
$7
Regular price
Unit price
per
More recipes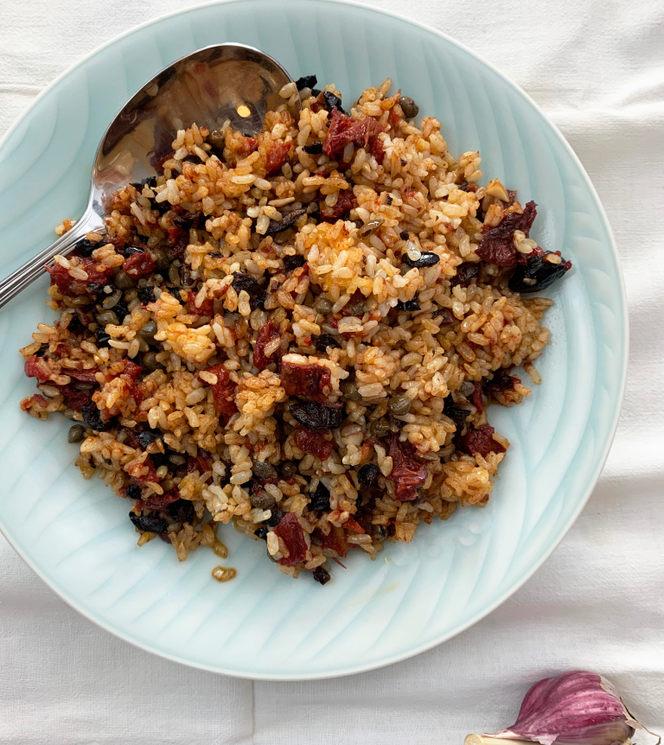 Puttanesca Fried Rice
Italian flavors meet Asian technique with tasty results. And thanks to Portland chef Tommy Habetz for the inspiration.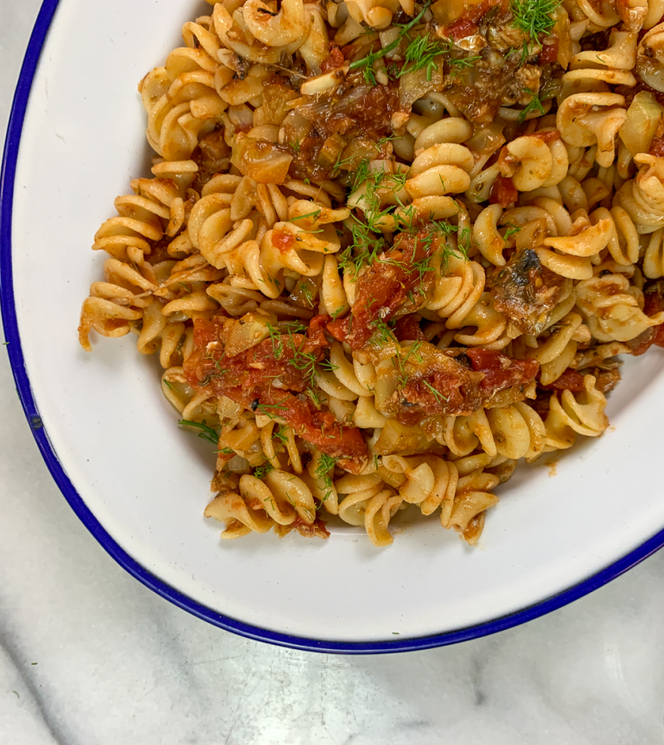 Sardine & Fennel Pasta
Inspired by the sardine pastas of Sicily, this dish packs a lot of flavor for something so simple.