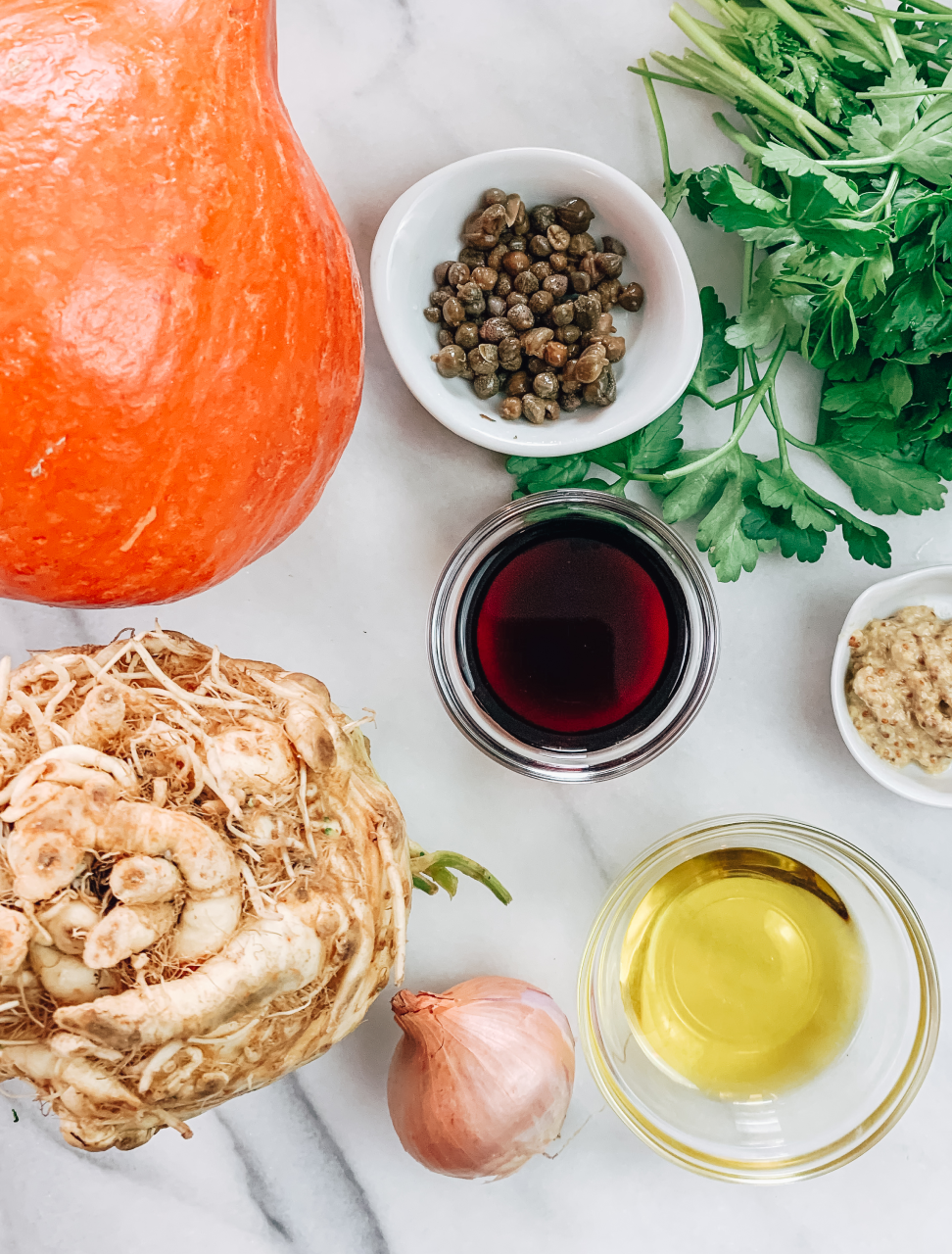 It always surprises people to learn winter squash is good raw...
It's name, after all, comes from the Narragansett Native American word askutasquash, which translates to "eaten raw or uncooked." Grating is the secret to making raw winter squash palatable.

And while a box grater can do the job, a food processor works much better and faster.

You can use any winter squash, and all except butternut can be grated with the skin on (butternut squash skin has a hard, flinty quality that you can feel no matter how small the pieces). I prefer kabocha or one of the similarly pumpkin-like Cucurbita maximas. I think both the flavor and texture are better, and they keep longer than smaller squash.
What You'll Need
Ingredients
For the shopping list
1 medium-sized Winter Squash (you might not use all of it)
1 softball-sized Celeriac, aka Celery Root
1 golf ball-sized Shallot
Flat Leaf Parsley
Equipment
From the kitchen
1 Box Grater (or Food Processor)
1 Mixing Bowl
1 Spatula
1 Bench Scraper
Measuring Cups
Measuring Spoons
"I make and eat this salad all winter long, and so should you."
~ Jim Dixon, founder Wellspent and Real Good Food
What you'll have to do
Step 1
Before you start cutting the vegetables, put a few tablespoons of salted capers in cold water to soak; it'll make them less salty.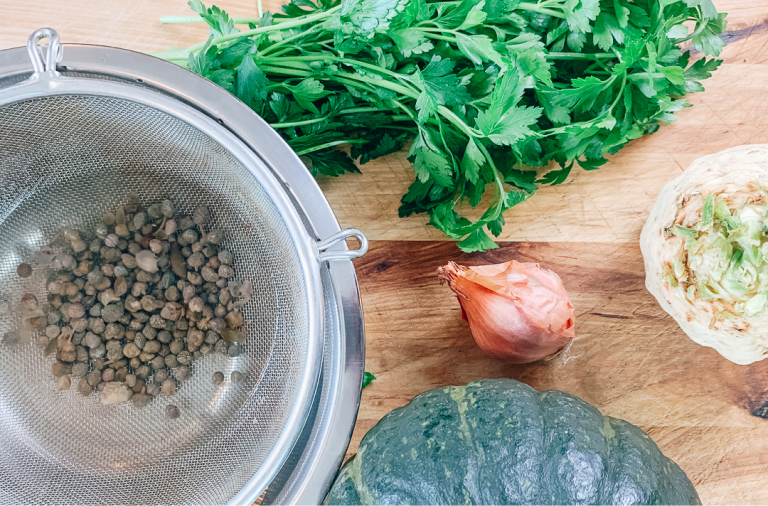 Step 2
Cut the squash into pieces that fit through the feed tube of your food processor. I use a small knife to trim away the seeds and membrane, a process I find easier than scraping the seeds out with a spoon.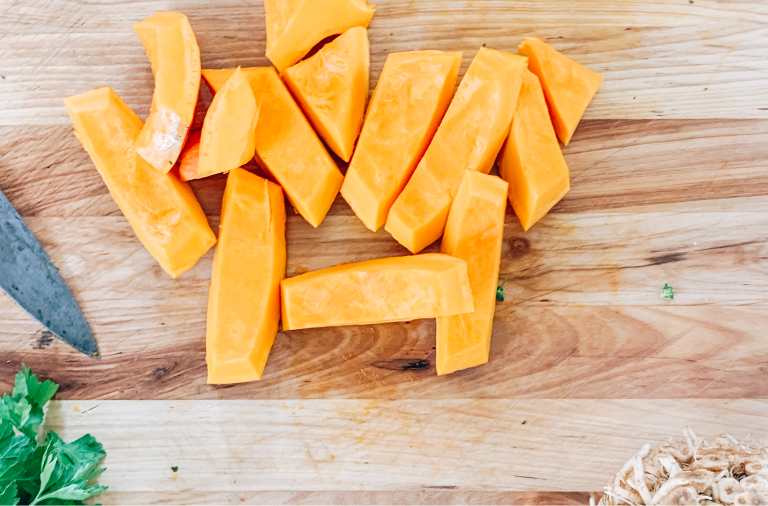 Step 3
Peel and trim the root end of the celeriac. Squash and celery root sizes vary, so you may end up with a bit more of one or the other, but it won't really matter. You should end up with about a quart and a half of grated vegetables, and that will make enough salad to feed 4-6 people.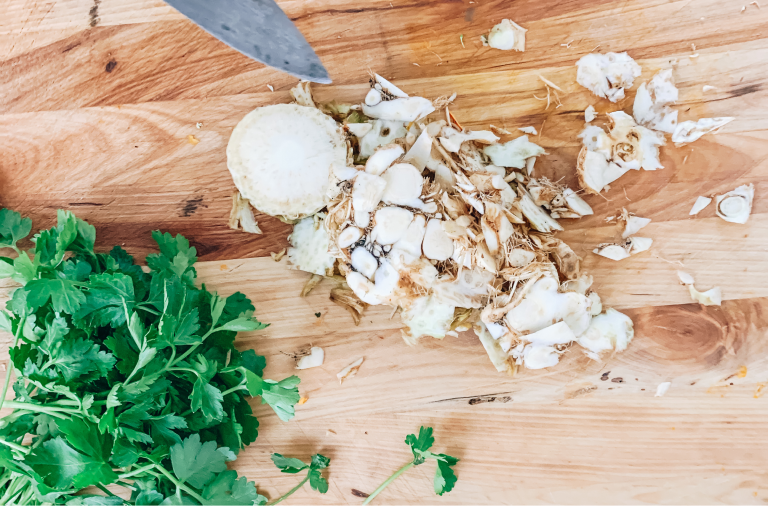 Step 4
Grate the squash and celeriac.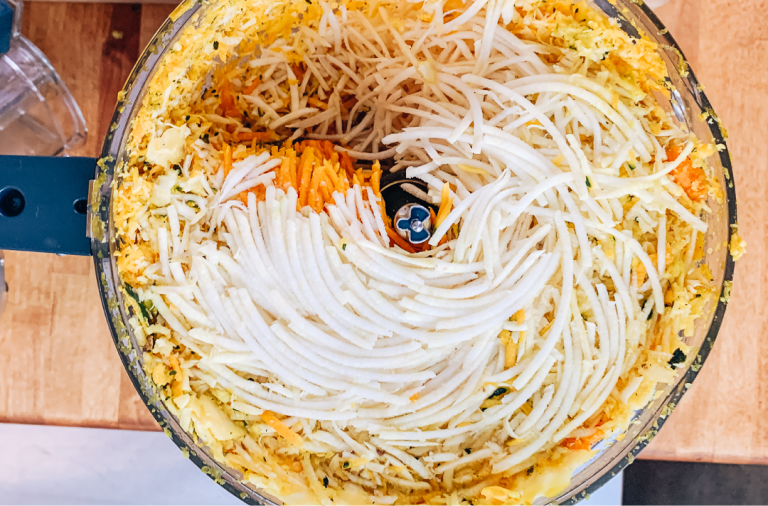 Step 5
Chop the shallot and parsley, and drain the capers.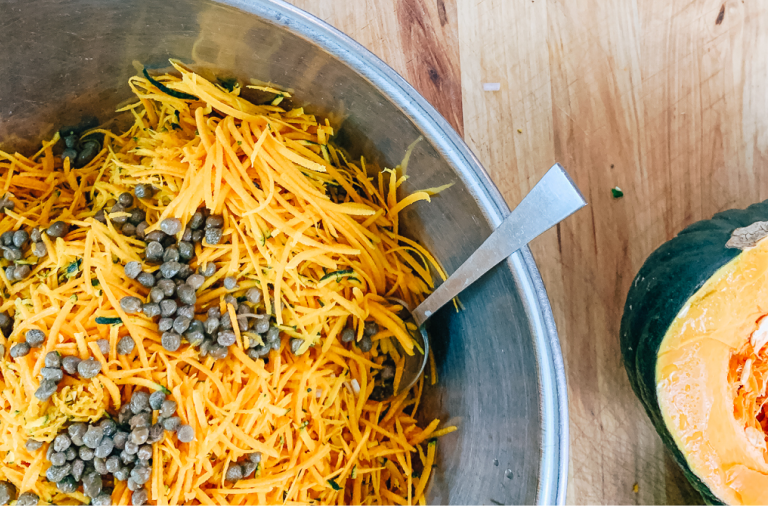 Step 6
Mix together 3 tablespoons of red wine vinegar, about twice as much extra virgin olive oil, and a tablespoon of whole grain mustard. Add the vegetables and about a tablespoon of Burlap & Barrel's Icelandic kelp.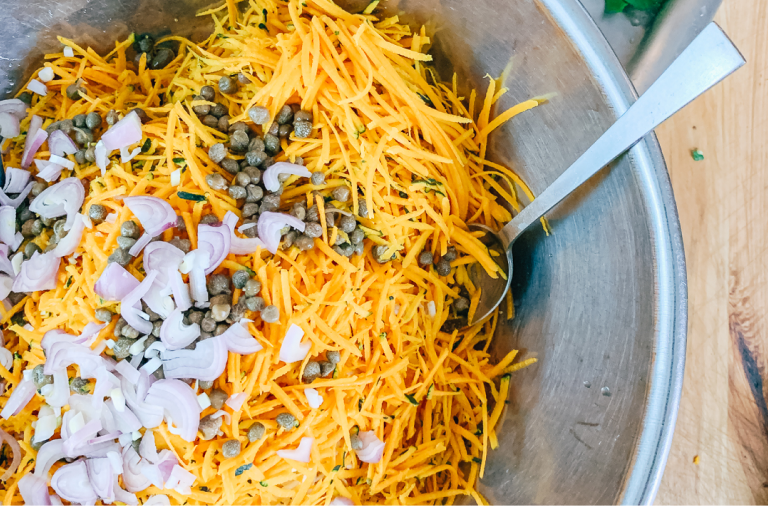 Step 7
Taste before adding any salt; the capers are already salty. If you can, let the salad sit for 15 minutes or more before serving.
Shop this recipe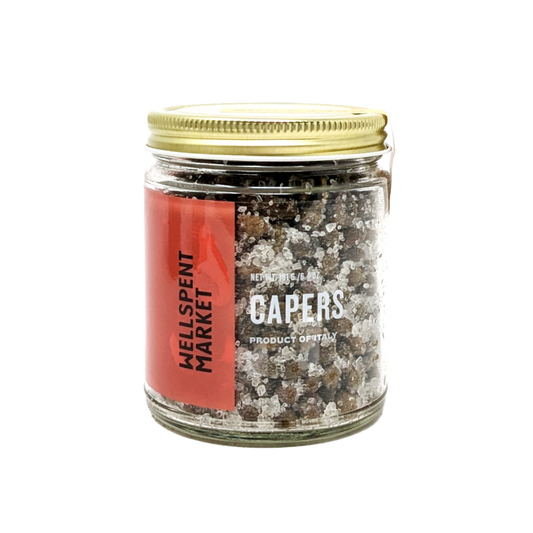 Capers, Pickles, & Peppers
Vendor:
Bonomo and Giglio
Pantelleria - Sicily
Sale price
$17
Regular price
Unit price
per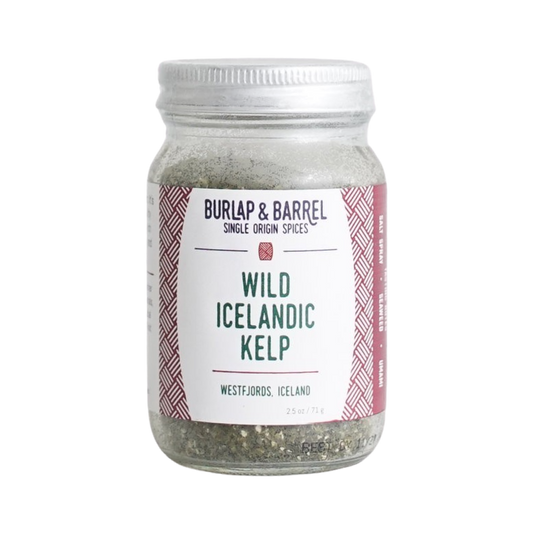 Salt, Herbs, & Spices
Vendor:
Burlap & Barrel
North Atlantic Ocean - Iceland
Sale price
$10
Regular price
Unit price
per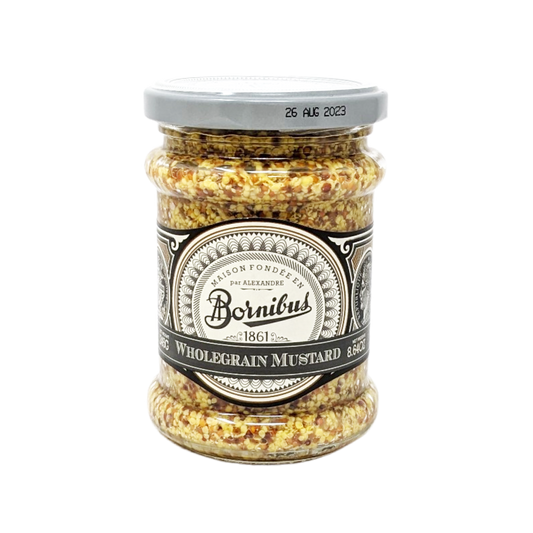 Sauces & Condiments
Vendor:
Bornibus
Saint-Maurice - France
Sale price
$8
Regular price
Unit price
per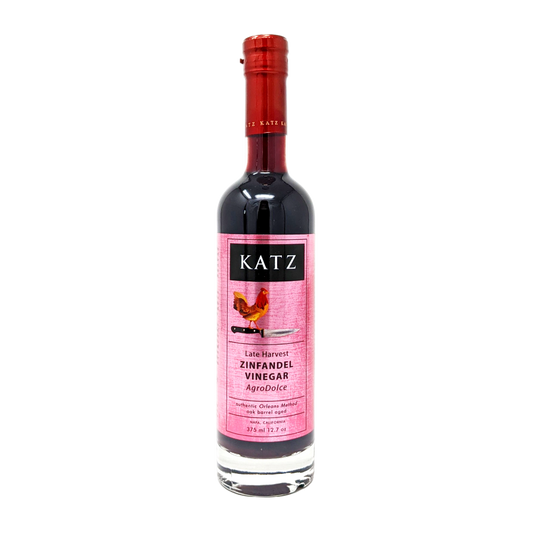 Vinegar
Vendor:
Katz Farm
Napa - California
Sale price
$16
Regular price
Unit price
per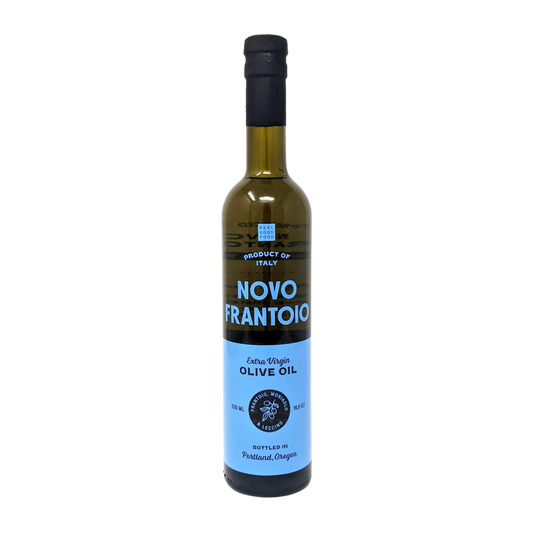 Olive Oil
Vendor:
Novo Frantoio
Tuscany - Italy
Sale price
$27
Regular price
Unit price
per
More recipes
Butter Beans with Andouille
Inspired by the flavors of Louisiana, a bowl of these with some rice is all you need.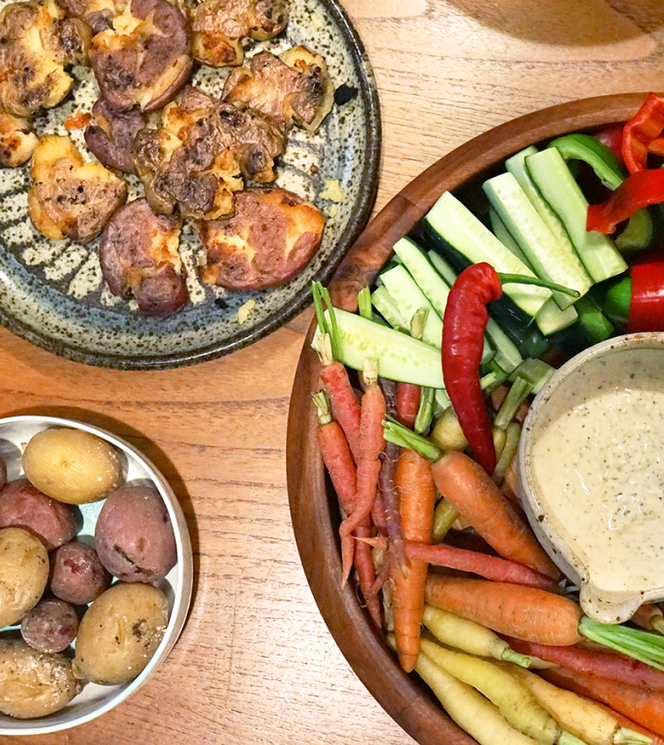 Salt-Boiled Potatoes with Ranchy Yogurt
Simple, well-seasoned spuds with our version of everybody's favorite creamy sauce.