Nitecap, on New York's Lower East Side, was one of the Big Apple's most beloved cocktail bars. Known for its dedication to all things spritz (and of course the tiny disco ball that hung from the ceiling), the celebrated bar closed permanently last year, another victim of pandemic turbulence. Natasha David, co-owner and driving force behind Nitecap's creative menu, used her time in lockdown to more fully explore the category of drinks closest to her heart, namely, those of the low- and no-ABV variety, and emerged on the other side with the recently published, very eye-catching Drink Lightly. We ourselves are dedicated spritz fanatics, and sat down with Natasha to ask her more about her approach to drinks, her favorite ingredients, and just the enduring appeal of the simple spritz.
Q&A with Natasha David
The disco-influenced design is so fantastic and fun. How do you incorporate disco into cocktails? And we have to ask, where does the famous disco ball that hung at Nitecap now live?

Disco is an energy, it's a vibe, it's a feeling. It's that energy of being on a dance floor with complete strangers and just feeling at one with everybody, right? So, the whole idea is that I hope that these cocktails inspire those kinds of moods and feelings in you when you drink them. And as far as where the disco ball from Nitecap is right now, it's hanging right here in my little home office.

If you had to recommend five bottles that a home bartender invest in to get started with making drinks from your book, what would they be?

My book Drink Lightly is sort of all about taking the apéritif out of its comfort zone. So it's not just one-on-one highballs. It's not just simple spritzes, which are delicious and wonderful and I love them, but it's about sort of taking this category of spirits to a new frontier. So there are a lot of things in the book that you may have never heard of, and that's the point and some of them are a little bit difficult to find, and that's kind of the exciting part of this. It's kind of like trying to seek out all these new things that you've never tasted before. But certain benchmarks that will get you very far in the book that will help you make a lot of the recipes; the five bottles I would recommend are: a really great dry vermouth, a good sweet vermouth, some sort of dry sherry like an amontillado sherry, a bottle of Lillet, and a bottle of Suze. And those will help you make a lot of the cocktails in my book.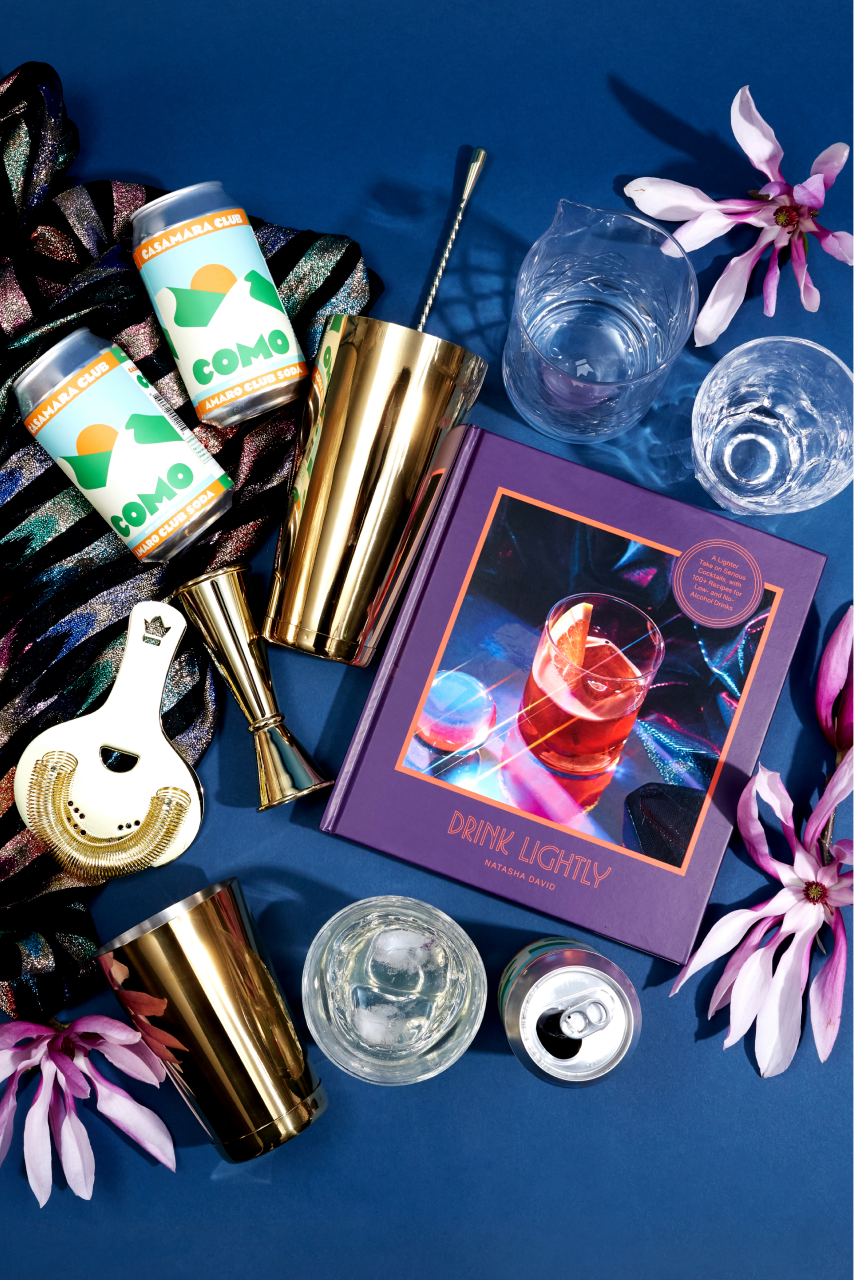 In the book you reference the lingo of apéritif, what it is, where it originated (Italy) and how apéritif culture (pairing the end of daylight with some light imbibing and friends) can be found not only throughout Europe but also Japan and Mexico. And it seems like we are suddenly experiencing the birth of apéritif culture here in the United States thanks to your work and others who are pushing the "cocktails of joy" culture. Why do you think is happening now and how do you see it growing?

I'm really excited to see apéritif-style, drinking culture sort of taking hold in the United States. It's a style of drinking that I think encourages community and it encourages connection. It encourages socializing. And I think we're seeing a sort of really big spike in interest in the style of drinking because the past two years have been all about losing connection with our friends and our family. And so now we're all really eager to regain that.

The wine spritz seems tantamount to your madeleine de Proust. Can you share what that drink means to you and why you wanted to capture those moments and emotions in a cocktail book?

To me, the sort of best cocktails are ones that are tied to memories or that evoke some sort of emotion inside of you. And the sort of ultimate drink that does that for me, happens to be the white wine spritz, which seems kind of silly, but it's a drink that my mother has drunk her whole life. It just brings back a lot of really great memories for me. So it's kind of become this beacon, this guiding force for me when I thought about this book.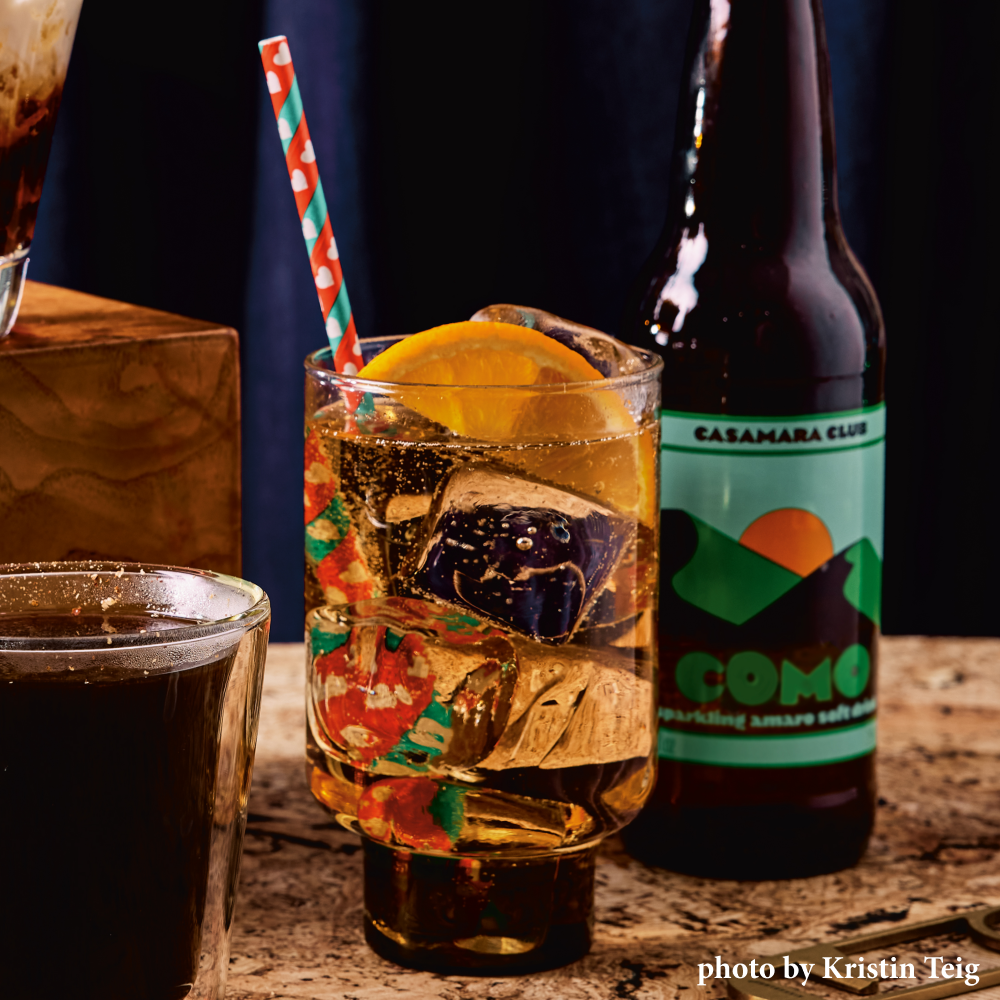 Coco Madeira and Como
Serves: 1
Glassware: Highball
Ice: Cubed
Garnish: Orange crescent

2 ounces Toasted Coconut Madeira (see below)
4 ounces Casamara Club Como soda

In a highball glass with cubed ice, add the coconut-infused madeira and soda. Gently stir to incorporate. Garnish with an orange crescent. Serve with a straw.
Toasted Coconut Madeira
50 grams unsweetened coconut chips
1 (750 ml) bottle H&H Rainwater Madeira

Preheat the oven to 350°F. Meanwhile, fill a basin with water and set an immersion circulator to 130°F. Spread the coconut chips on a baking sheet. Toast until fragrant and golden brown, 4 to 5 minutes. Let cool. Combine with the madeira in a sealable, heatproof silicone bag, making sure to push out all the air. Once the circulator has reached the desired temperature, place the sealed bag in the water bath. Let cook for 2 hours. Once done, transfer the infusion to an ice bath until it reaches room temperature. Strain through a cheesecloth-lined chinois. Rebottle and store in the fridge for up to 2 weeks.

No sous vide?
In a large sealable container, combine the toasted coconut chips with the madeira. Cover and let sit at room temperature for 24 hours. Strain through a cheesecloth-lined chinois. Rebottle and store in the fridge for up to 2 weeks.
Reprinted with permission from Drink Lightly. Copyright © 2022 by Natasha David. Photographs copyright © 2022 Kristin Teig. Illustrations copyright © Andrés Yeah. Published by Clarkson Potter/Publishers, an imprint of Penguin Random House.