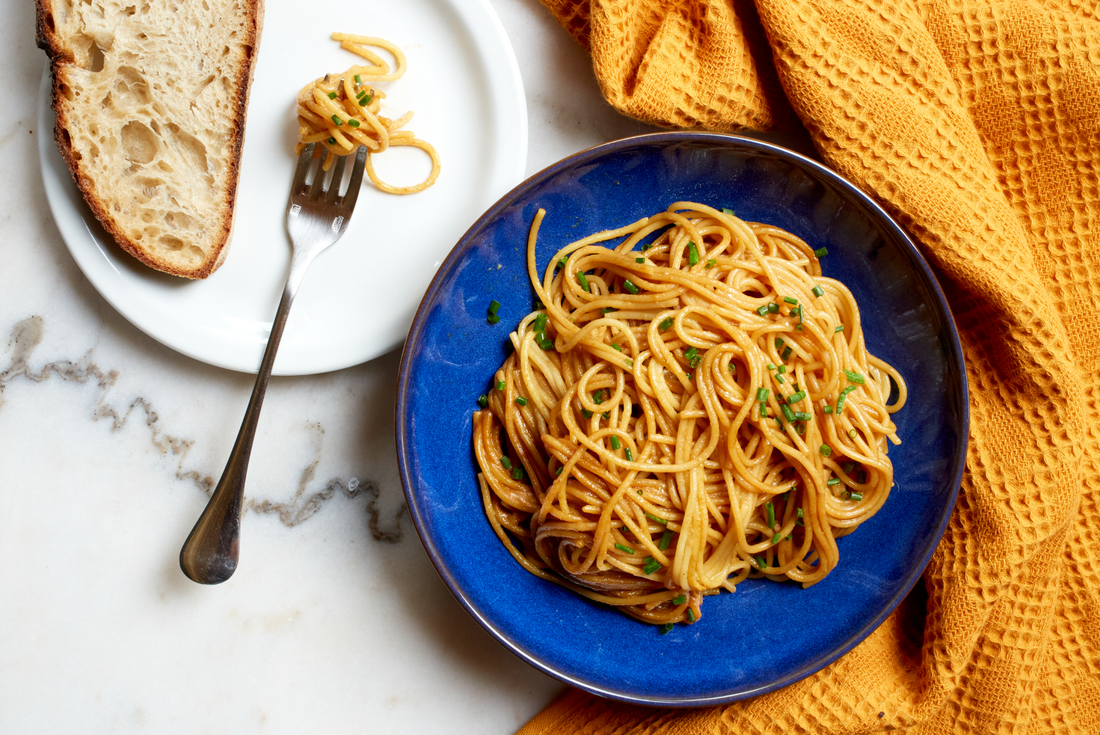 Garlic Noodles
5 minutes prep
15 minutes active cooking
20 minutes total
Helene An came to San Francisco from Vietnam in the 1970s.
When she took over an Italian deli that evolved into Thanh Long, likely the first Vietnamese restaurant in San Francisco, An combined Chinese and European flavors to introduce things like fish sauce to wean customers off the red sauce.

She wasn't sure if American diners were ready for the food she grew up with, but An knew they loved a bowl of pasta. A plate of the classic Italian pasta aglio e olio on a night off at a local trattoria failed to impress An, but she knew she could do better with a few more intense flavors.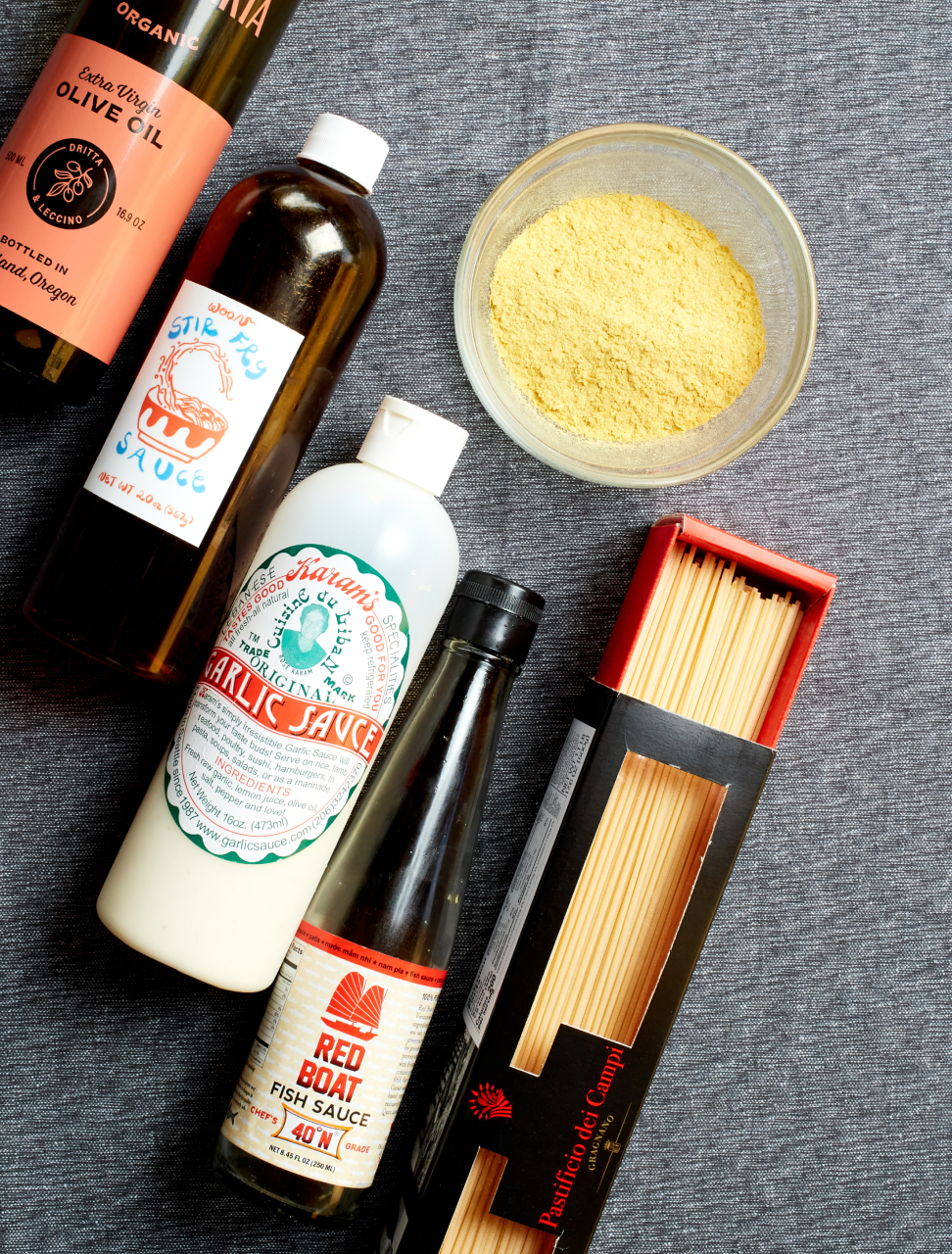 She tossed spaghetti with butter and garlic, then added oyster and fish sauces along with a shower of Parmigiano Reggiano cheese. She called it garlic noodles, and the cross culture pasta became her restaurant's most popular dish. These days you'll find garlic noodles on the menus at most bay area Vietnamese restaurants.

I've been eating Vietnamese food in Portland since the fall of Saigon, but I'd never heard of garlic noodles until I saw this article by J. Kenji López-Alt. Italian spaghetti tossed with butter, a trio of Asian sauces, handfuls of garlic, and Parmigiano Reggiano cheese doesn't sound Vietnamese, and it's not. But it is delicious. Inspired by An's creative take, I made my own version of garlic noodles.
Photo of Helene An via @crustaceanbh
What You'll Need
Ingredients
For the shopping list
1 pound of spaghetti
2 tablespoons of nutritional yeast
2 tablespoons of Woon Kitchen Stir Fry Sauce
Equipment
From the kitchen
1 Large Saucepan with Lid
1 Colander
Measuring Cups
Measuring Spoons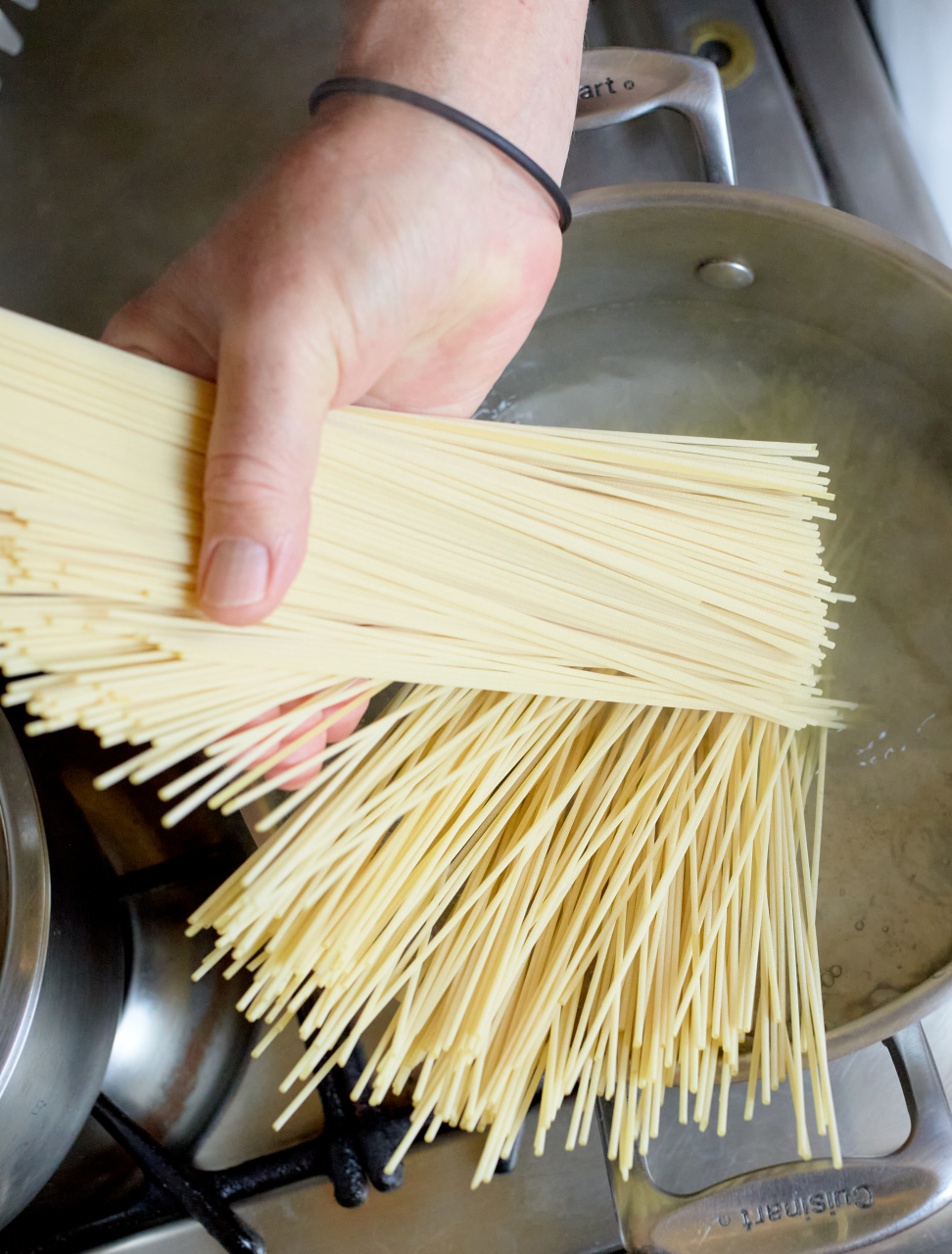 Like its inspiration, the simple pasta dish uses a few ingredients loosened with a splash of the starchy pasta cooking water to coat the noodles, putting the pasta itself up front. This is my favorite kind of pasta, so I wanted to make it. But I've been experimenting with nutritional yeast lately, looking for outlets for its umami-boosting power beyond popcorn, so I tried using nootch instead of Parmigiano.

And instead of the chopped garlic, I pulled out a bottle of Karam's garlic sauce. This Lebanese-style toum, the mayo-like emulsion of garlic, olive oil, and lemon juice, is perfect when you want a quick hit of garlic without chopping a single clove. I think of Woon's stir fry sauce as oyster sauce on steroids, so a shot of it along with our favorite fish sauce provided another umami boost.
~ Jim Dixon, founder Wellspent and Real Good Food
What you'll have to do
Step 1
Bring a large pot of well-salted water to a boil and cook the pasta. Drain, reserving at least a cup of the cooking water, and return the noodles to the pot.
Step 2
While still hot, add 1/4 cup olive oil and about 1/4 cup of the cooking water while stirring vigorously. Add 2 tablespoons nutritional yeast, stir again until it dissolves, then add 2 tablespoons stir fry sauce, 2 tablespoons garlic sauce and 1 teaspoon fish sauce then stir well.
Step 3
Add more of the pasta cooking water a spoonful at a time to loosen the sauce if it seems too thick. Taste and add salt if needed. Serve immediately.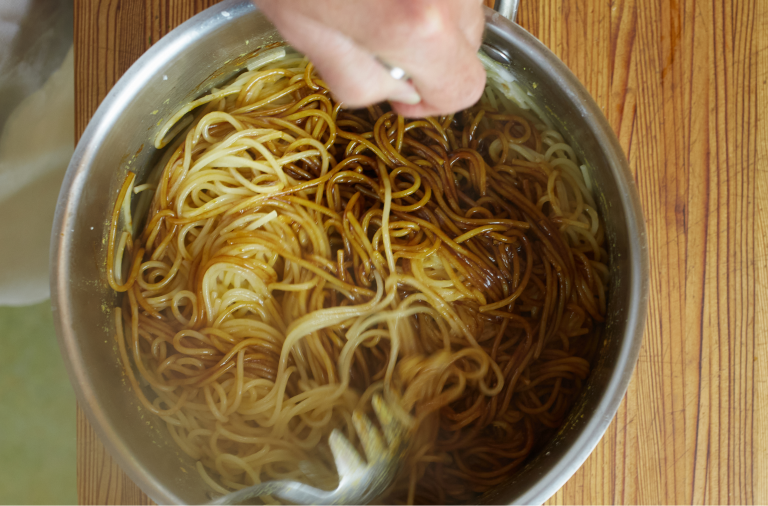 Shop this recipe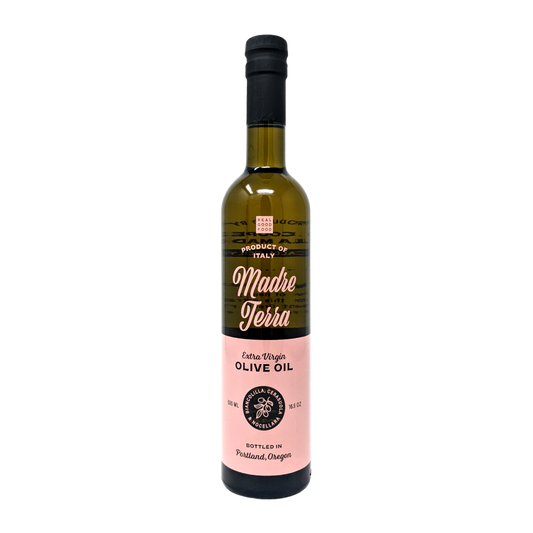 Olive Oil
Vendor:
Madre Terra
Sicily - Italy
Sale price
$25
Regular price
Unit price
per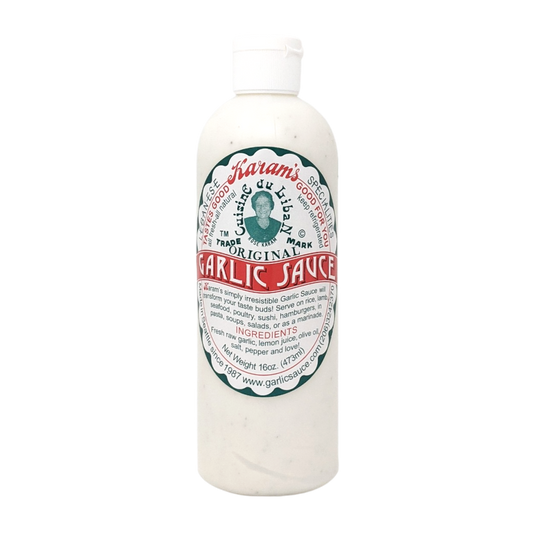 Sauces & Condiments
Vendor:
Karam's
Seattle - Washington
Sale price
$12
Regular price
Unit price
per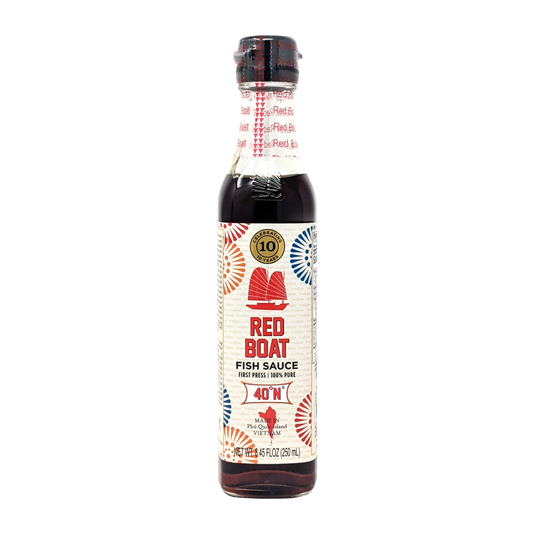 Sauces & Condiments
Vendor:
Red Boat
Hayward - California
Sale price
$8
Regular price
Unit price
per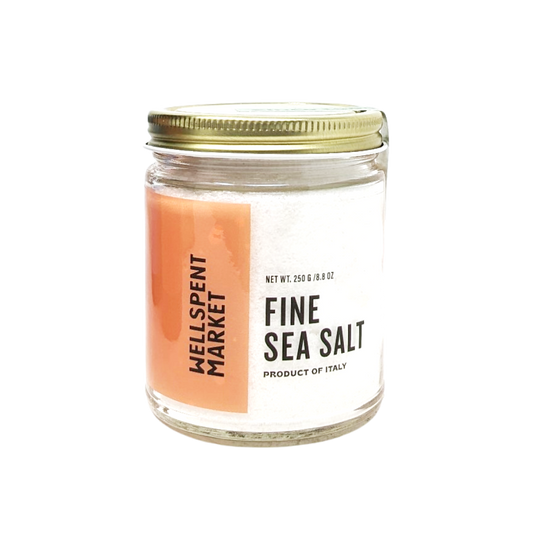 Salt, Herbs, & Spices
Vendor:
Gucciardo Vincenzo
Trapani - Sicily
Sale price
$7
Regular price
Unit price
per
More recipes
Caramelized Albacore with Nong's Sauce
A can of tuna, a handful of dried shrimp, a bottle of Kao Man Ghai sauce, and spaghetti make a quick, tasty meal inspired by SE Asian flavors.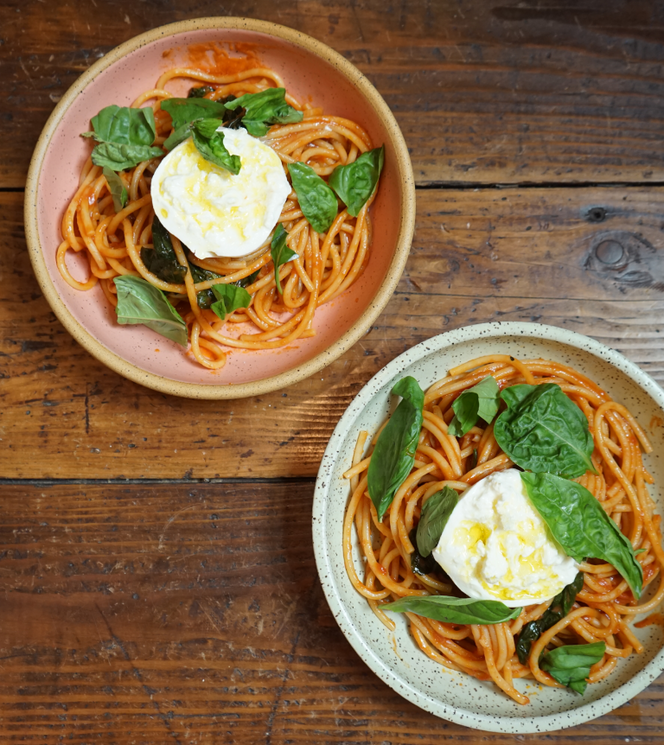 The Perfect Pasta
Fellini's said that "life is a combination of magic and pasta." Here's the pasta part.