Celeriac with Kimchi Remoulade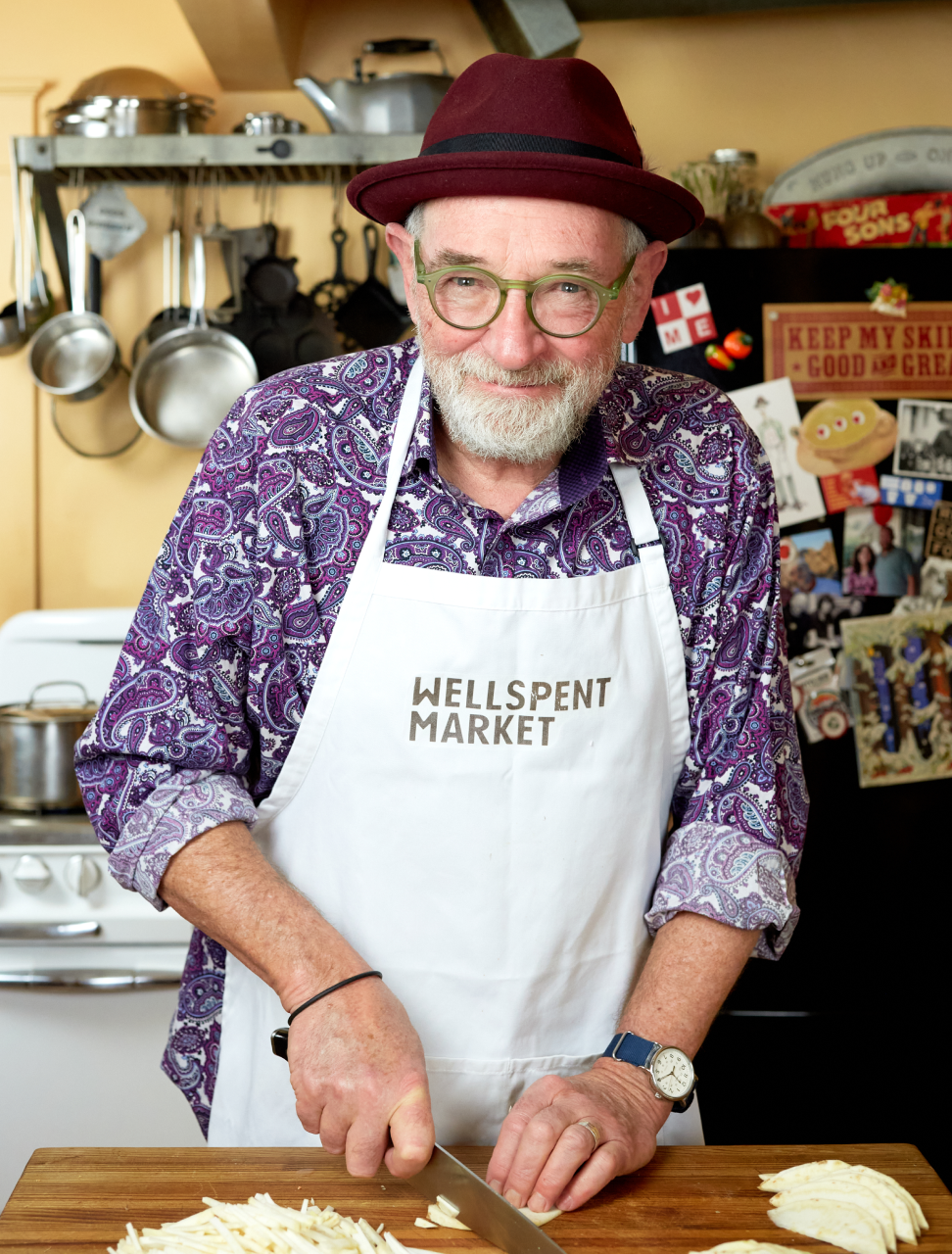 Celeriac, aka celery root, are not attractive.
They're lumpish brown globes with the farm's soil clinging to the hairy root at one end and, sometimes, a clump of short, leafy, and tough celery-like stalks protruding from the other. But they are delicious.

When I started importing olive oil I had to sell some to cover the costs. My friends could only buy so much, so I would walk around the farmers market passing out vegetable recipes that featured olive oil. If anyone seemed especially interested, I'd pull a bottle of oil out my backpack and try to sell it to them.

The recipes used the vegetables shoppers could find in the market, so I bought whatever was in season and looked for an appropriate recipe. I'd never eaten celery root and they looked daunting. But I bought one, took it home, and learned how to make the gnarly thing edible.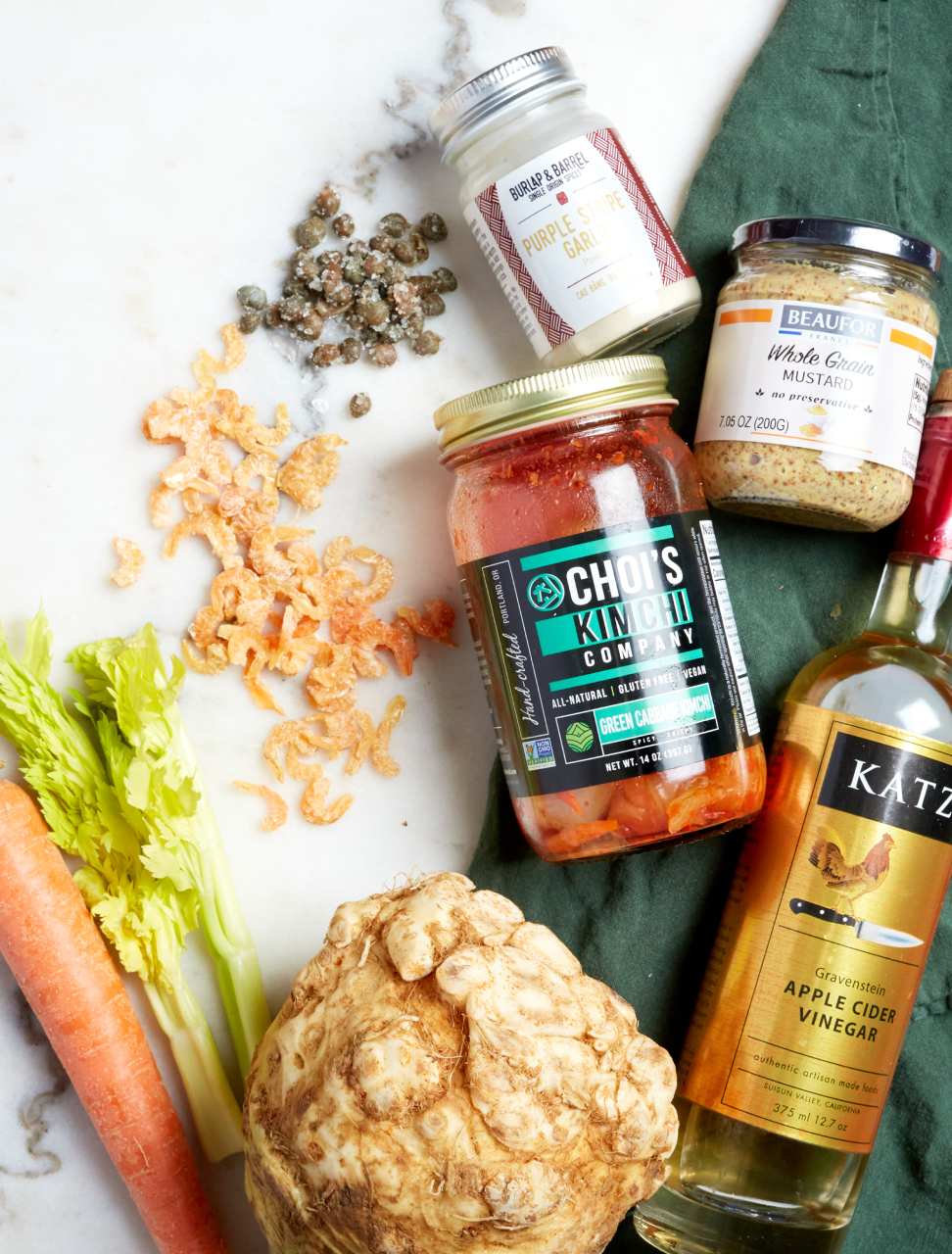 Google was a relative infant back then, but the top result from a search for 'celery root recipes' was always celeriac remoulade. This French bistro classic combines thinly cut celeriac, aka celery root, with an herby mayonnaise flavored with Dijon mustard. For my farmers market version, I doctored up mayo from the jar with olive oil, mustard, and parsley.

When we first went to New Orleans a few years later, I discovered another remoulade. In the American South it gets spicier and more colorful, and I adapted my version to include horseradish, Crystal hot sauce, Worcestershire, pickled peppers, and a shot of ketchup. I was making some not long ago, and when I reached for the jar of Mama Lil's peppers, the Choi's kimchi was right next to it. And that's how I got to kimchi remoulade, with no apologies to Larousse.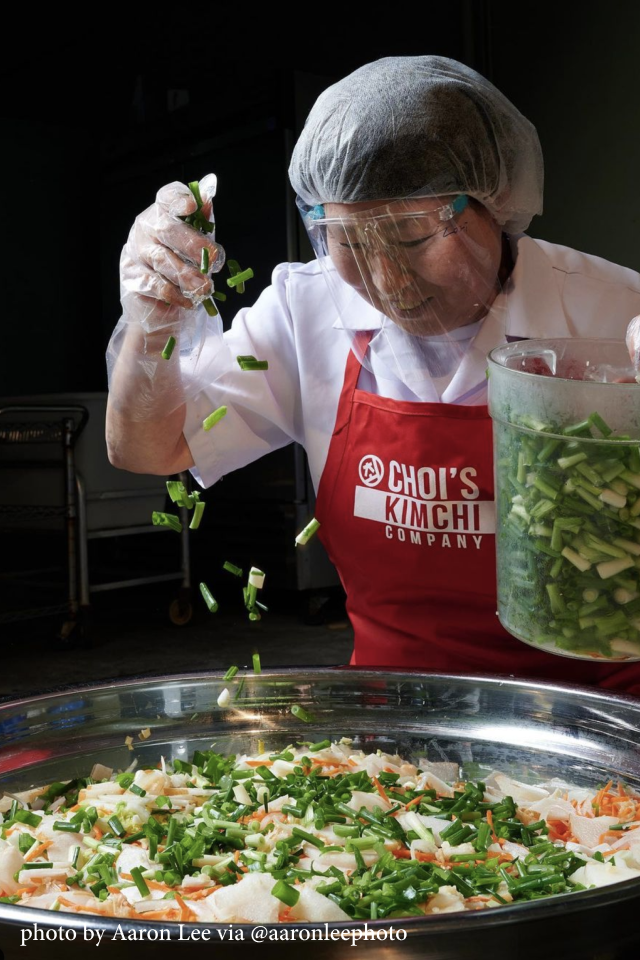 Choi's Kimchi
Chong Suk Choi grew up helping her mother make kimchi in Korea, and now she makes it here in Portland.
Read more
What You'll Need
Ingredients
For the shopping list
1/2 teaspoon of sugar
1/2 cup, chopped Choi's green cabbage kimchi (optional)
1/4 cup, finely chopped dried shrimp
1 celeriac (celery root), trimmed, peeled, cut into matchsticks*
1 medium carrot, cut into matchsticks
1 celery stalk, preferably with leaves, finely chopped
1 tablespoon of grated fresh horseradish (substitute 1 teaspoon prepared horseradish)
2 cloves garlic, crushed or grated (substitute ¼ teaspoon Burlap & Barrel Purple Stripe garlic)
1 tablespoon of ketchup
*If you must grate, know this: box grater will shred the celeriac too finely, so use the large hole grating disc on a food processor.
Equipment
From the kitchen
1 Large Mixing Bowl
1 Chef's Knife
1 Cutting Board
Measuring Cups
Measuring Spoons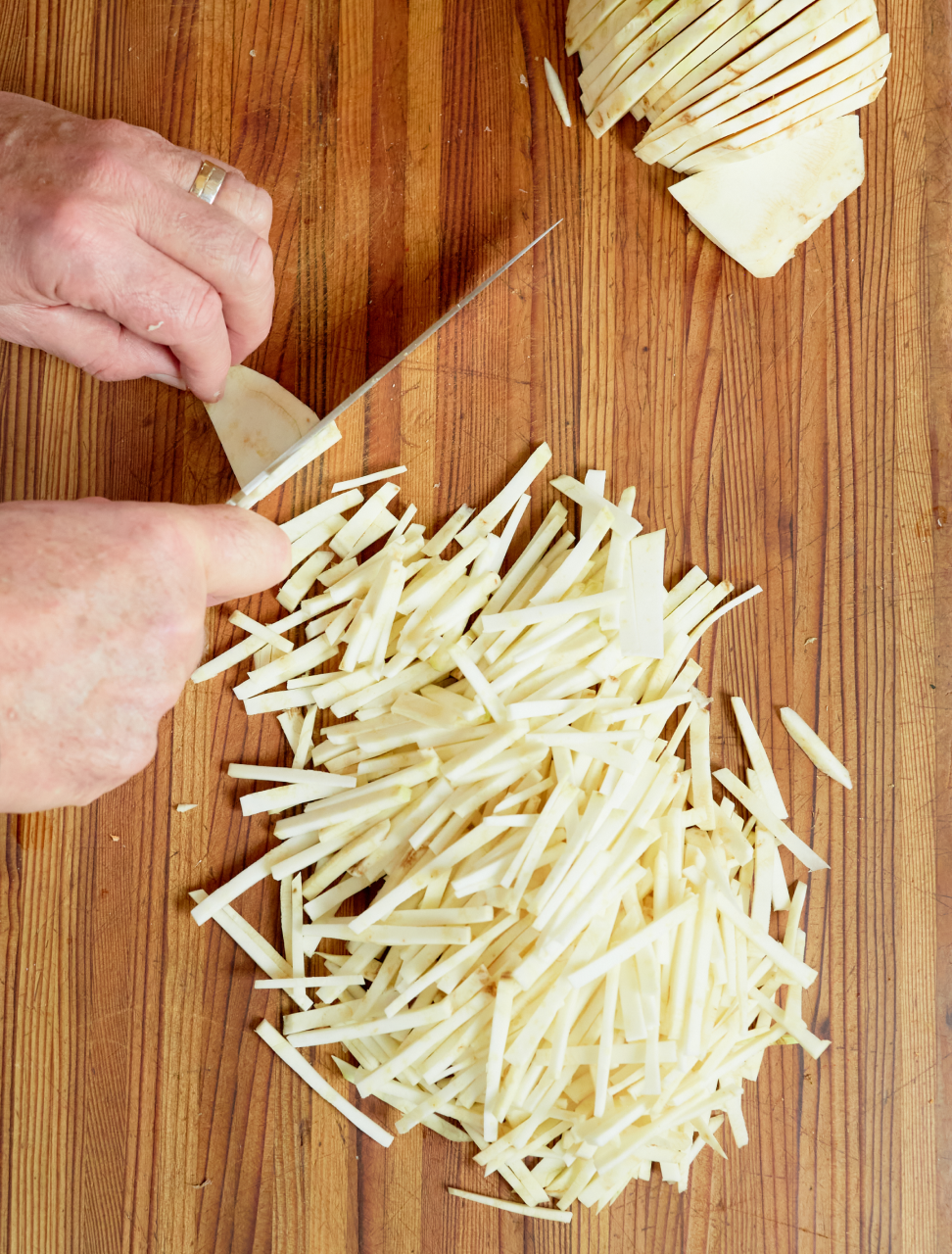 "While some versions of this salad call for grating it, I think the texture suffers if the pieces are too fine.
It takes longer, but it's worth it to cut the celeriac (and carrots) into matchsticks, pieces roughly 1/8 inch square and about an inch and half long. Don't worry if they're not perfectly uniform, it's just a salad."
~ Jim Dixon, founder Wellspent and Real Good Food
What you'll have to do
Step 1
Soak 2 tablespoons capers in cold water for 15 minutes, drain, and chop coarsely.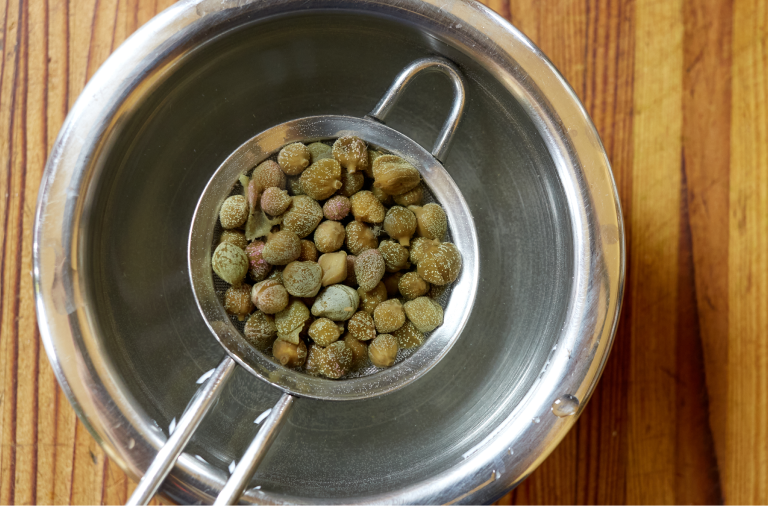 Step 2
Dissolve 1/2 teaspoon salt and 1/2 teaspoon sugar in 1 tablespoon vinegar in a large bowl, then mix in the rest of the ingredients - 1/4 cup dried shrimp, 2 tablespoons olive oil, 1/2 cup chopped Kimchi, 2 tablespoons capers, 1 tablespoon mustard and 1/4 cup mayo.
Step 3
Add the celeriac, carrot, and celery and toss. Taste and add salt if needed. Best at room temperature.
Shop this recipe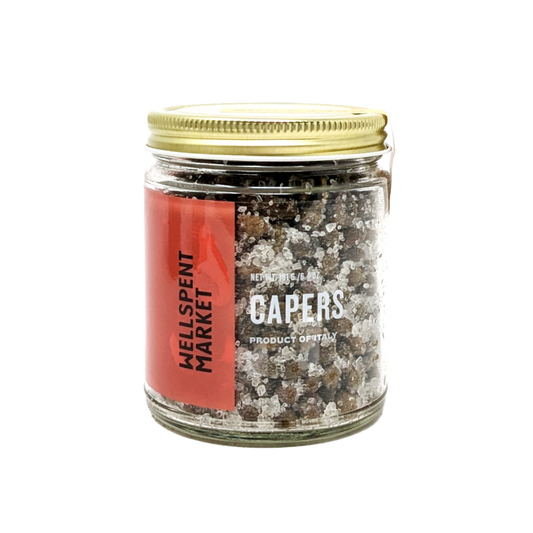 Capers, Pickles, & Peppers
Vendor:
Bonomo and Giglio
Pantelleria - Sicily
Sale price
$17
Regular price
Unit price
per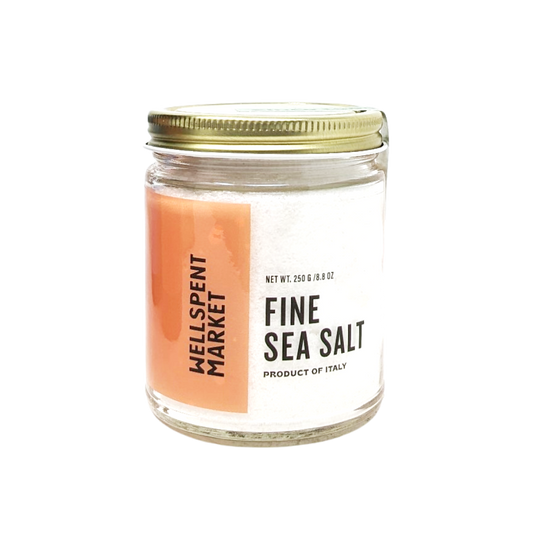 Salt, Herbs, & Spices
Vendor:
Gucciardo Vincenzo
Trapani - Sicily
Sale price
$7
Regular price
Unit price
per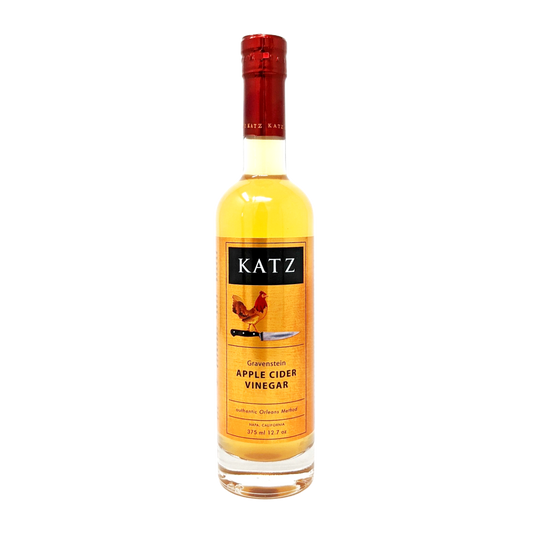 Vinegar
Vendor:
Katz Farm
Napa - California
Sale price
$16
Regular price
Unit price
per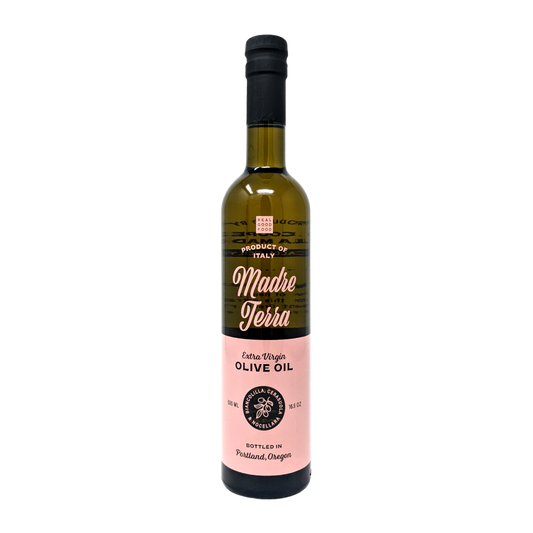 Olive Oil
Vendor:
Madre Terra
Sicily - Italy
Sale price
$25
Regular price
Unit price
per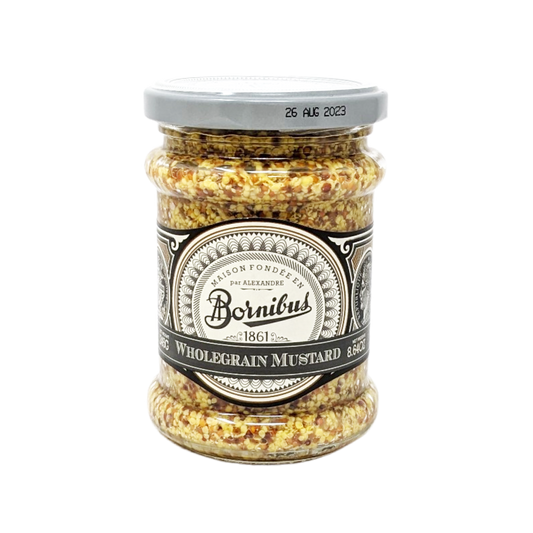 Sauces & Condiments
Vendor:
Bornibus
Saint-Maurice - France
Sale price
$8
Regular price
Unit price
per
Sauces & Condiments
Vendor:
Duke's
Greenville - South Carolina
Sale price
$7
Regular price
Unit price
per
More recipes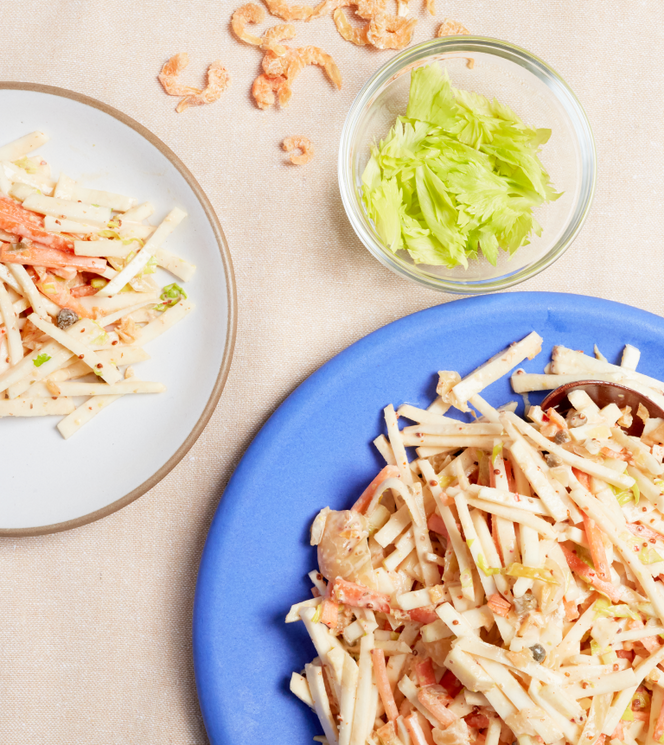 Celeriac with Kimchi Remoulade
This take on the French bistro classic gets a little kick from the Korean pickle called kimchi.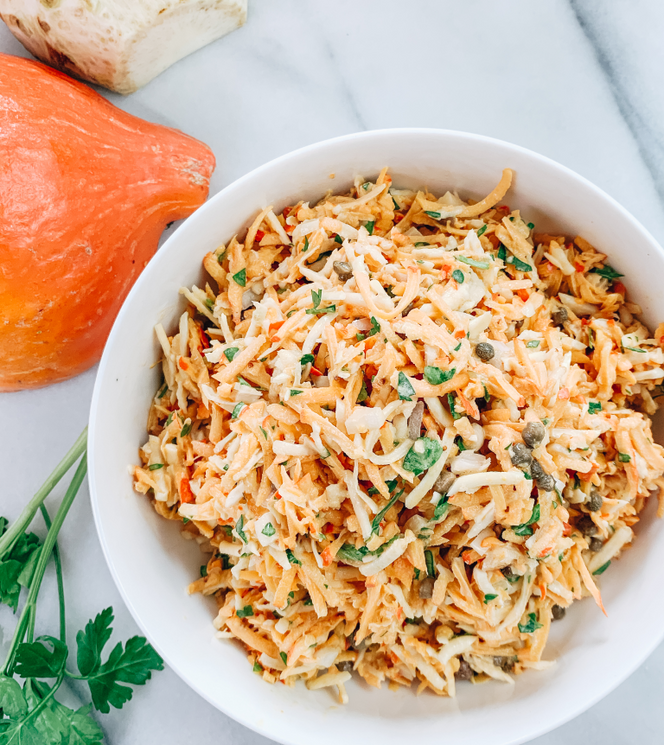 Raw Squash Salad
It's not just for baking with brown sugar. Grating winter squash and eating it in a salad is like discovering a whole new vegetable.